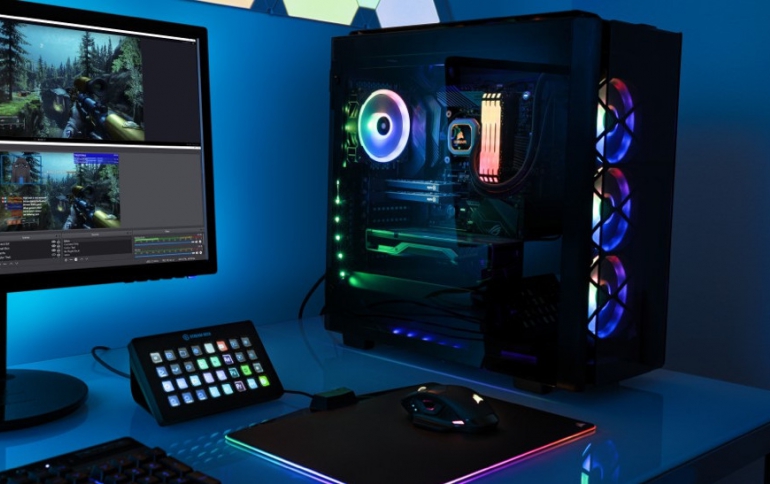 CORSAIR Launches K57 RGB Wireless Gaming Keyboar, 4K60 Pro MK.2 Capture Card
CORSAIR today launched the new CORSAIR K57 RGB Wireless Gaming Keyboard an the Elgato 4K60 Pro MK.2 capture card.
The first gaming keyboard from CORSAIR to include the technologies CAPELLIX RGB LEDs and SLIPSTREAM WIRELESS, the K57 RGB Wireless boasts bright per-key RGB LED lighting and the convenience of a wireless connection.
The K57 RGB Wireless is lit up by per-key dynamic RGB backlighting, without sacrificing performance thanks to its CAPELLIX RGB LEDs. First debuted in CORSAIR DOMINATOR PLATINUM RGB DDR4 Memory, CAPELLIX LEDs shine up to 60% brighter and are up to 60% more efficient than conventional LEDs, giving the K57 RGB Wireless a long-lasting battery life of up to 35 hours on a single charge even with RGB lighting enabled.
Boasting a sub-1ms wireless latency and up to 33ft of range, the K57 RGB Wireless lets you play your own way, whether from your desk, couch, or beyond. SLIPSTREAM WIRELESS features Intelligent Frequency Shift (IFS), ensuring a stable signal even in heavy wireless traffic by continuously detecting and hopping to the fastest available channel on-the-fly. The K57 RGB Wireless also offers additional connections to your PC via USB wired or low-latency Bluetooth, giving you the flexibility to connect to a multitude of devices including mobile devices and smart TVs.
Six programmable macro keys give you an in-game advantage with powerful macros and key remaps, while dedicated volume and media controls let you control your audio without interrupting your game. A detachable palm rest provides comfort through even through the longest gameplay session, while quiet and responsive keys make for effortless typing during both work and play.
Fully customize and command your K57 RGB Wireless with CORSAIR iCUE software, enabling dynamic RGB lighting control along with sophisticated macro programming and key remaps. iCUE unites all the hardware in your setup, allowing you to create fully-synchronized light shows across all your iCUE-compatible CORSAIR devices, including fans, DRAM, keyboards, mice, LED light strips, and more.
The K57 RGB Wireless is backed by a two-year warranty.
Feature
Description
Wireless Connectivity
Hyper-fast, sub-1ms 2.4GHz SLIPSTREAM CORSAIR WIRELESS TECHNOLOGY, Bluetooth® 4.2 + LE
Wired Connectivity
USB 3.0 or USB 3.1 Type-A
Backlight
Individually lit and per key programmable, built-in lighting modes
LED Color
RGB
USB Pass-through
No
Wireless Encryption
128-bit AES
Battery Type
Single, cylindrical rechargeable lithium-ion, built-in, 68.6mm x 18.5mm, 1-cell, 3200mAh nominal capacity, 3.67V nominal voltage, 11.7Wh (watt-hours), max. weight 49g, HAZMAT UN3481.
Battery Charging
Charges via USB to computer
Battery Life
2.4GHz SLIPSTREAM: Up to 35hrs w/standard lighting and 175hrs w/out backlighting.
Bluetooth: Up to 40hrs w/standard lighting and 200hrs w/out backlighting
Media Keys
Dedicated (MUTE, VOL DOWN/UP, STOP, PREV, PLAY/PAUSE, NEXT)
USB Report Rate
1000Hz
Key Matrix
Rubber dome, Tactile; Anti-ghosting with selective 8-key roll-over (8KRO) + modifier keys
CORSAIR iCUE Software
Supported
Windows Lock Key
Yes
Palm Rest
Full-length with soft touch finish, detachable
Cable
1.8 m / 6 ft, tangle-free rubber, detachable
Elgato 4K60 Pro MK.2 Capture Card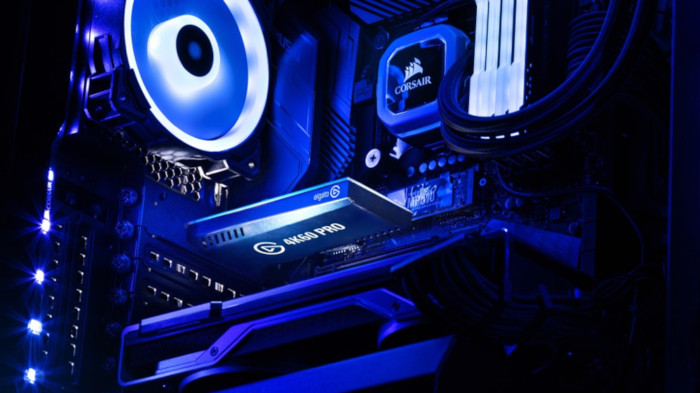 Elgato also announced the launch of Elgato 4K60 Pro MK.2. The card sports 4K60 HDR10 capture, low latency Instant Gameview technology, up to 240Hz passthrough, and more. Fitting easily into small form factor cases, this compact PCIe capture card is less than half the size of its predecessor, and has an MSRP of $249.99.
Building upon the original 4K60 Pro, 4K60 Pro MK.2 empowers content creators to capture gameplay in the highest resolution and dynamic range possible. 4K HDR10 capture at 60 fps (frames per second) lets you play high-fidelity games while simultaneously streaming to Twitch in 1080p at 60 fps and recording 4K60 HDR10 footage to your hard drive. Instant Gameview technology lets you monitor your capture feed with ultra-low latency, syncing your broadcast with your gameplay. Support for an impressive array of resolution and refresh rate combinations, such as 1080p 240Hz and 1440p 144Hz, enables high frame rate gameplay while capturing via a dual-PC setup.
Play in HDR while capturing in SDR thanks to hardware tonemapping, ensuring perfect color reproduction without putting stress on your CPU. Support for multiple capture feeds means you can simultaneously send video to multiple apps, such as OBS and Elgato's 4KCU recording software. And multi-device support enables several 4K60 Pro MK.2 cards to be slotted into the same PC – so you can capture video from multiple cameras, consoles, and computers at once.
Elgato's 4KCU software works side by side with 4K60 Pro MK.2. Flashback Recording enables you to save your gameplay retroactively with DVR-like controls, and Live Commentary allows you to record microphone audio as a separate track.
Elgato 4K60 Pro MK.2 is available immediately from the Elgato worldwide network of authorized retailers and distributors. It is backed by a two-year warranty.