Samsung Launches 240Hz G-Sync Compatible Curved CRG5 Gaming Monitor
Samsung Electronics today announced the European launch of its new CRG5 gaming monitor, the latest of Samsung's Curved Gaming Monitors, at gamescom 2019.
The CRG5, which was first unveiled at E3 2019, delivers a combination of 240Hz refresh rate with a curved display and NVIDIA G-SYNC Compatible.
The 27-inch CRG5 combines a lightning-fast refresh rate through 240Hz RapidCurve technology and 1500R curvature. The 240Hz refresh rate allows a swift, smooth response to screen transitions and quickly changing situations, while the 1500R curved screen offers a wider view with just one glance.
To eliminate tears, stuttering and any delay in the action, G-sync Compatible from NVIDIA synchronizes the Graphics Processing Unit (GPU) and panel.
A 3000:1 contrast ratio means Samsung's latest curved gaming monitor delivers deeper blacks and brighter whites. Samsung's CRG5 has a curved vertical alignment (VA) panel display tailored to the user's range of view for increased concentration during critical gameplay moments.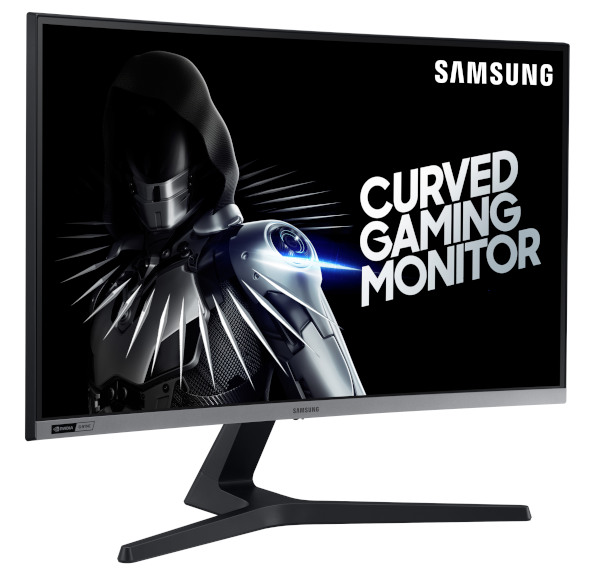 The bezel-less design of Samsung's CRG5 gives gamers even more screen space, while a Y-stand and game dashboard-style On Screen Display (OSD) menu enhance any gaming environment. Samsung's CRG5 also offers optimal gaming modes. Game Mode is an optional setting that automatically and optimally adjusts black gamma levels, contrast, sharpness and color for all types of games. Low input Lag Mode can also minimize delays between a user's input devices and display, while Virtual Aim both increases and enhances accuracy when playing a first-person shooter. Finally, Eye Saver Mode minimizes the blue light emitted by the display to keep eyes comfortable during extended periods of gaming.
First unveiled at gamescom 2019, the 32″ Space Gaming Monitor (SR75Q) has a 144Hz refresh rate with AMD Radeon FreeSync.
The Space Gaming Monitor will be available in a 32-inch, QHD (2560 x 1440) resolution model, featuring Samsung's design that allows users to push the monitor flat against the wall. The Space Gaming Monitor can also be pulled forward and adjusted to fit a variety of viewing preferences and positions.
The screen also boasts a three-sided bezel-less design. The Space Gaming Monitor comes with an integrated clamp that ensures quick installation, allowing it to be attached to any desk or table.
CRG9 49″ Gaming Monitor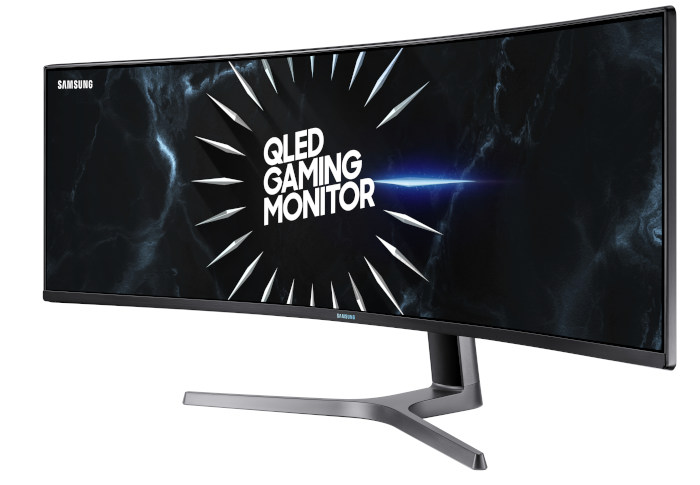 The CRG9 49″ monitor boasts an HDR 1000 and dual Quad High Definition (QHD) resolution (5,120 x 1,440) – equivalent to placing two 27-inch 16:9 monitors side by side without bezels impeding the view. The CRG9 also delivers one billion colors with 95% DCI-P3 color space to present realistic visuals, while reaching a peak brightness of 1,000 nits.
In addition, the CRG9 offers a 120Hz refresh rate, whle AMD Radeon FreeSync 2 HDR technology reduces stutter, screen tearing and input latency. Virtual Aim gives players enhanced accuracy when playing a first-person shooter, while the CRG9's screen curvature provides gamers with an ultra-wide field of view.
Samsung's CRG5 and the CRG9 49″ are now available globally, while the Space Gaming Monitor (SR75Q) will be available globally from Q4.