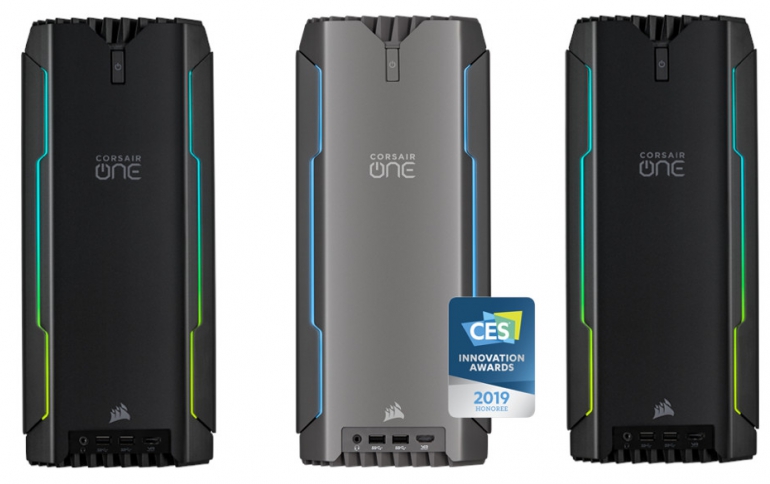 CORSAIR ONE PRO i180 Compact Workstation PC Released
CORSAIR launches a complete new range of its award-winning CORSAIR ONE all-in-one PCs, led by the powerful CORSAIR ONE PRO i180.
Developed in partnership with Intel and clad in a 2mm-thick bead-blasted aluminum gunmetal housing, the CORSAIR ONE PRO i180 delivers massive performance in a compact size for content creators, from game designers to video editors and beyond. With a 12-core processor delivering incredible 24-thread performance at speeds up to 4.5GHz, and a GeForce RTX 2080 Ti GPU for cutting-edge graphics and real-time ray tracing, the CORSAIR ONE PRO i180 easily handles today's most demanding applications, from video encoding to photo editing, rendering 3D graphics and more. Complete with 32GB of quad-channel CORSAIR DDR4 memory, support for up to four 4K monitors and VR, 960GB of high-speed M.2 SSD storage and 2TB of HDD capacity, the system comes equipped with everything necessary for professionals.
A redesigned internal layout, in conjunction with a patented convection-assisted liquid cooling system for both the processor and graphics card, expels hot air through a vent in the top of the chassis, allowing the CORSAIR ONE PRO i180 to efficiently disperse heat while maintaining a compact 12-liter volume. Smaller than a backpack, the CORSAIR ONE PRO i180 is at home right on top of your desk – not under it. Integrated RGB light pipes incorporated into the chassis round out the system's style, and also work in tandem with CORSAIR iCUE software for fully customizable real-time system monitoring.
Also debuting at CES 2019 are the new CORSAIR ONE i160 and CORSAIR ONE i140. Finished in black and also benefiting from the full internal redesign of the CORSAIR ONE PRO, both machines offer all the power of a modern gaming PC. The CORSAIR ONE i160 is powered by an Intel Core i9-9900K processor and GeForce RTX 2080 Ti graphics card, while the CORSAIR ONE i140 features an Intel Core i7-9700K processor and GeForce RTX 2080 graphics card, with liquid-cooling for both the processor and graphics card on both models. With 32GB of CORSAIR DDR4 memory, multi-monitor and VR support, 480GB of high-speed M.2 SSD storage and 2TB of HDD capacity, either model of the new CORSAIR ONE packs the power to master today's most demanding games at their highest settings.
The CORSAIR ONE i140 is available today in North America. The CORSAIR ONE i160 and CORSAIR ONE PRO i180 will be available from the CORSAIR webstore early in 2019.
The CORSAIR ONE PRO i180, CORSAIR ONE i160, and CORSAIR ONE i140 are backed by a two-year warranty.
Three New Gaming Mice
CORSAIR also today launched three new performance gaming mice: HARPOON RGB WIRELESS, IRONCLAW RGB, and M65 RGB ELITE. Debuting in HARPOON RGB WIRELESS is CORSAIR's new proprietary wireless standard, SLIPSTREAM CORSAIR WIRELESS TECHNOLOGY. Delivering sub-1ms latency to the receiver and a stronger than ever wireless signal, SLIPSTREAM WIRELESS is set to power the next generation of CORSAIR wireless gaming peripherals.
HARPOON RGB WIRELESS takes one of CORSAIR's most popular mice and cuts the cord, powered by SLIPSTREAM CORSAIR WIRELESS TECHNOLOGY for wired-caliber performance. SLIPSTREAM WIRELESS delivers hyper-fast 2.4GHz gaming grade wireless speed, transmitting twice the packets of previous generation wireless devices. With a wireless range up to 33ft, SLIPSTREAM WIRELESS lets you play your way, whether from the desktop or the couch.
HARPOON RGB WIRELESS doesn't stop at just SLIPSTREAM WIRELESS – gamers can also choose to connect using low-latency Bluetooth or a USB wired connection, making it easy to connect to any desktop gaming PC, laptop, or even mobile device. Weighing in at just 99g, HARPOON RGB WIRELESS comes equipped with a rechargeable internal Lithium-Polymer battery for up to 60 hours of wireless battery life, a 10,000 DPI optical sensor, six fully programmable buttons, and integrated RGB lighting configurable in CORSAIR iCUE software.
Designed specifically for larger hands and palm grips, IRONCLAW RGB is boasting CORSAIR's most advanced optical sensor yet, a custom PMW3391 developed in conjunction with Pixart. Users can adjust sensitivity up to a native 18,000 DPI in 1 DPI steps. It also offers seven fully programmable buttons, two-zone dynamic RGB lighting, and onboard profile storage while still weighing only 105g.
The M65 RGB ELITE upgrades the iconic CORSAIR M65 design with a wealth of new enhancements. Now equipped with the same next-generation 18,000 DPI optical sensor as IRONCLAW RGB, M65 RGB ELITE is more precise and accurate than ever, with sensitivity adjustable in 1 DPI increments. Sporting an aluminum frame, the M65 RGB ELITE's base weight has been reduced by over 15% to 97g, with a tunable weight system that can both increase weight up to 115g and adjust its center of gravity. With a redesigned side button cluster with a sniper button that instantly reduces sensitivity on-the-fly, two-zone dynamic RGB lighting, 50 million click-rated Omron switches and onboard profile storage, M65 RGB ELITE is an update to the most celebrated and enduring CORSAIR mouse.
The HARPOON RGB WIRELESS, IRONCLAW RGB, and M65 RGB ELITE are available now. They are
backed by a two-year warranty.
Elgato Products at CES 2019
Elgato, the provider of hardware and software for content creators, today unveiled Elgato Key Light, Screen Link, Stream Deck SDK, and Thunderbolt 3 Pro Dock.
Elgato Key Light is a LED light panel developed for modern content creators. Key Light easily clamps to your desk, adding professional lighting to your setup while taking up a fraction of the space of traditional light boxes or lamps. Key Light wirelessly communicates with your PC or Mac, letting you control lighting brightness and warmth via Elgato's Control Center app or a key press on Elgato's Stream Deck. Key Light shines with 80 OSRAM LEDs that output a massive 2,500 lumens while generating practically no heat.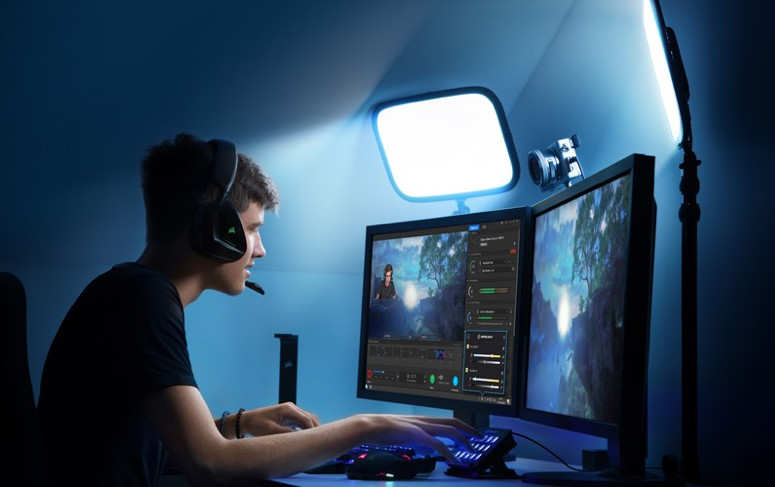 Elgato Screen Link is a new app for iOS devices, helping content creators share their mobile gameplay or camera. Screen Link uses proprietary wireless technology to transmit your mobile device's screen or camera to a computer for capture, enabling live streaming and recording with just two touches. Screen Link streamlines production by linking your mobile device to your desktop studio, connecting directly with popular apps such as OBS Studio and Streamlabs OBS. Share mobile gameplay for a full AR app experience on stream, or use your phone as a wireless camera to make content more personal. Screen Link is available as a free download, able to stream for up to fifteen minutes per session, with the option to upgrade to the unlimited full functionality of Screen Link Pro for a one-time purchase of $9.99 coming soon.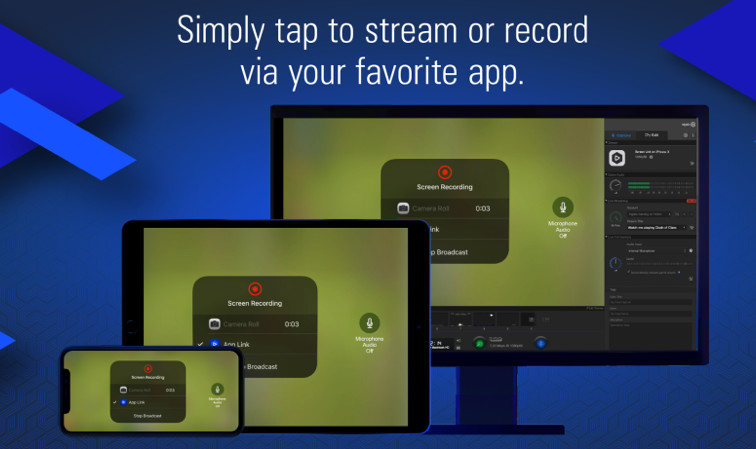 The Stream Deck SDK unleashes the full power of Elgato Stream Deck. Since launching the broadcast controller in May 2017, Elgato has continued to integrate apps and platforms into its software, but Stream Deck SDK opens up boundless possibilities. Available as part of Stream Deck's free 4.0 update, now anyone can develop custom actions for Stream Deck and Stream Deck Mini, giving them increased capabilities. Elgato is launching Stream Deck SDK with five partners: NewBlueFX, Voicemod, StreamElements, Soundflow and vMix. All users can download plugins developed by these partners starting today, with many more on the way soon.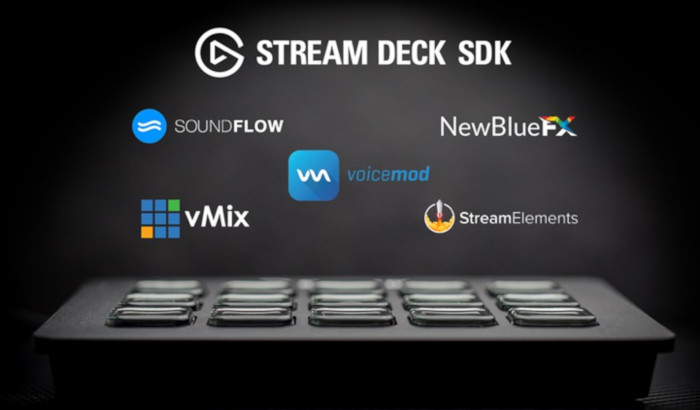 Elgato Thunderbolt 3 Pro Dock helps you make the most of your Mac or PC's Thunderbolt 3 port, letting you connect all your devices with a single cable at their full power with 40Gb/s throughput. Thunderbolt 3 Pro Dock is equipped with 2x USB 3.1 Gen 2 Type C ports, 2x USB 3.1 Gen 1 Type A ports, 2x Thunderbolt 3 ports, DisplayPort 1.2, a Gigabit Ethernet port, and 3.5mm headset and audio jacks. A new SD/micro SD card reader will also prove a welcome addition for content creators and camera users.
Elgato Key Light and Elgato Thunderbolt 3 Pro Dock are available immediately. Elgato Screen Link is available immediately from the Apple App Store. Elgato Stream Deck SDK is available as part of Elgato Stream Deck's free 4.0 software update.