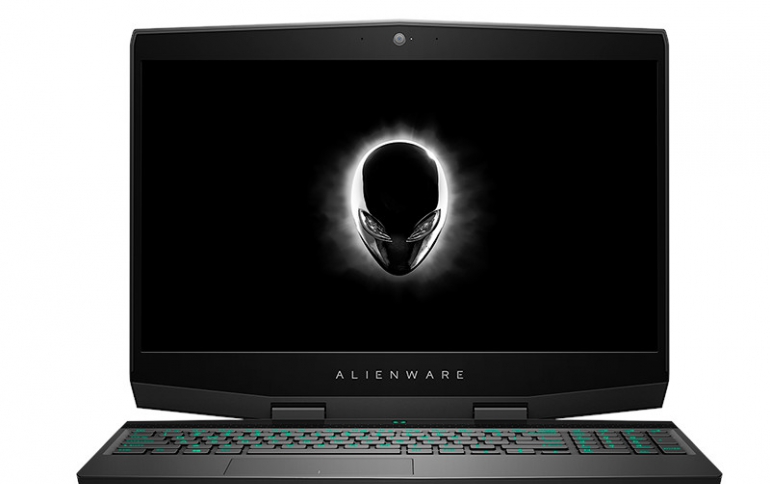 Dell Alienware m15 Gets Core i9, GeForce RTX, and 4K HDR400 Display
Starting late January, Dell will offer updated versions of its Alienware m15 notebooks that powered by up to Intel's latest mobile CPUs and NVIDIA's GeForce RTX 2060, RTX 2070 Max-Q, or 2080 Max-Q graphics processors.
Dell's Alienware m15 gaming laptop comes with a 15.6-inch display and has been designed for gamers.
The updated Alieware m15 will also come with up to a 1 TB PCIe SSD in a single-drive builds (up from 256 GB SATA SSDs today) as well as up to two 1 TB PCIe SSDs in dual-drive configurations (up from 1 TB PCIe SSD + 1 TB HDD today).
The Alienware m15 models will come with a 4K HDR 400-rated display panel, which will be able to hit up to 500 nits brightness in HDR mode. Dell will continue to offer Full-HD and Ultra-HD IPS LCDs with cheaper models, as well as Full-HD 144 Hz TN panels to hardcore gamers seeking the highest refresh rates.

The laptops are 20.99 mm (0.8264 inch) thick and weigh 2.16 kg (4.76 lbs). The upcoming laptops will also keep using a 60 Wh battery that will be installed by default and is rated for 7.1 hours of video playback, with an optional 90 Wh upgrade for build-to-order configurations (obviously, such builds will weigh more than 2.16 kilograms).
The new Alienware m15 laptops will hit the market on January 29, 2019. Prices will start at $1,580.