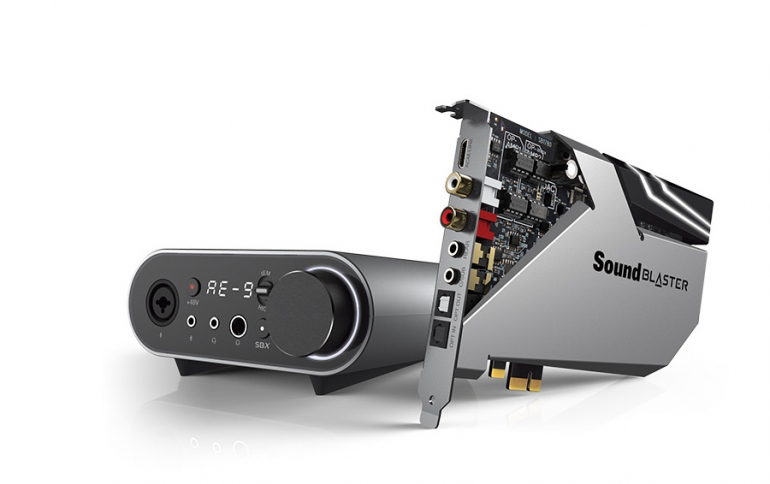 Creative Releases the the Sound Blaster AE-9 and Sound Blaster AE-7 Sound Cards
Creative Technology is launching its most advanced PCI-e sound cards ever - the Sound Blaster AE-9 and Sound Blaster AE-7.
Up till 1989, the only sounds coming out of the PC were mere beeps. The same year, Sound Blaster was born, and PC audio was transformed. Since then, over 400 million Sound Blasters have been sold; and the Sound Blaster brand has become synonymous with the term 'sound card' and high-quality PC audio - for gaming, and then movies and music.
Sound Blaster AE-9 is Creative's flagship PCI-e sound card, designed for pro-gamers and pro-audio users. It uses audiophile-grade components such as the top-of-the-range ESS 9038 SABRE-class reference DAC that delivers up to 129 dB DNR, PCM 32-bit 384 kHz sampling, DSD64 playback of lossless audio with ultra-low distortion and jitter elimination, and boasts Nichicon Fine-Gold capacitors, WIMA film/foil audio capacitors and swappable op-amps.
CleanLine Technology is a new breakthrough in filtering a microphone path for clear voice communication. This latest technology features specially-designed circuitry and components which eliminates voltage rail issues and isolates unwanted noise caused by power supply ripple from high-performance GPUs. Sound Blaster AE-9 is the first ever to integrate this technology in its core, allowing users to forgo the need for a desktop mixer while still enjoying the benefits of having one.
It may seem to sport slightly 'lesser' specs compared to the Sound Blaster AE-9, yet Sound Blaster AE-7 is very much a powerful sound card in its own right, being equipped with a hi-res ESS SABRE-class 9018 DAC that boasts up to 127 dB DNR, with 32-bit 384 kHz sampling and DSD64 playback. Audio clarity is the order of the day, with a THD of 0.0001% which represents an upgrade over its predecessor Sound BlasterX AE-5.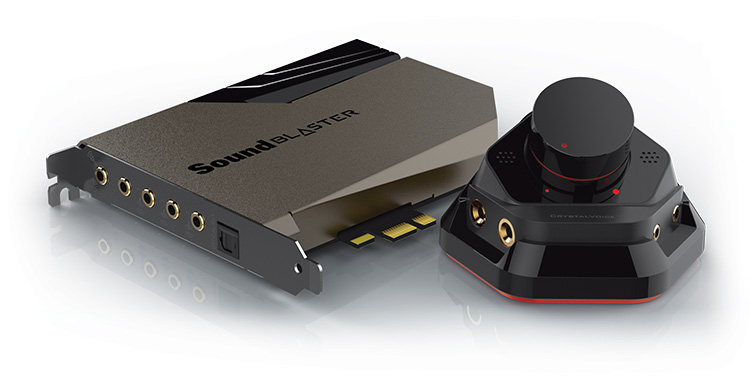 Common Features for Sound Blaster AE-9 and Sound Blaster AE-7
5.1 and 7.1 surround virtualization along with Dolby Digital Live encoding and DTS Connect encoding.
Custom-designed, fully discrete Xamp headphone amplifier with push-pull design.
Both sound cards feature ACMs built with user-friendliness in mind. Sound Blaster AE-9's ACM stands out with a display unit for direct and easy volume control, a headphone selector switch supporting different types of headphone impedance, a multi-function microphone input port with +48V Phantom power and a built-in amplifier
The newly designed Sound Blaster Command software sports a revamped interface which drives Creative's signature Sound Blaster Acoustic Engine through achieving more audio control customizations with lesser clicks.
Creative is offering a promotion to its fans - the opportunity to upgrade from their old sound cards with an attractive 15% discount off the latest Sound Blaster products. This promotion will be valid for all upcoming Sound Blaster products launched between now and the end of the year. For more information, visit creative.com/upgrade.
Sound Blaster AE-9 (on pre-order) and Sound Blaster AE-7 are priced at SGD439 and SGD299 respectively, and are available at Creative.com.