6. RW Writing Tests
CyberDrive CW038D IDE CDR-W - Page 6
RW Writing Tests
We used Nero 5.5.4.0 for writing CDs in maximum RW writing speed for all the tested drives. The CyberDrive supports up to 12x (CLV) writing, which of course doesn't apply to the HS-RW format. The drive's original firmware (0.97c) produced un-readable CDs at 12x, but the newer v1.00c seems to solve all the problems we had faced. In order to achieve the increased 12x re-writing speed, you can use normal 4-10x HS-RW media. We asked Ricoh if the increased 12x writing speed can cause integrity problems to both the written data and the physical status of the medium and the answer was negative. As it seems the already produced 4-10X HS-RW media can withstand higher re-writing speeds, but in order for other manufacturers to support it, the specifications must be officially published first. Therefore, in the near future we should be able to experience and use re-writing speeds much higher than 10x :-)
The drive doesn't support 10x re-writing speed at all, as Nero 5.5.4.0 shows:
As you might have expected the CyberDrive CW038D is the fastest re-writer around and the following graph proves: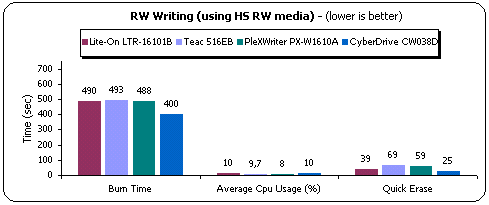 The CyberDrive needs exactly 400secs to finish the task, due to increased 12x re-writing speed. The Average CPU Usage is also in the same levels as the rest of the recorders, and the most impressive is the low quick erase time (only 25secs!).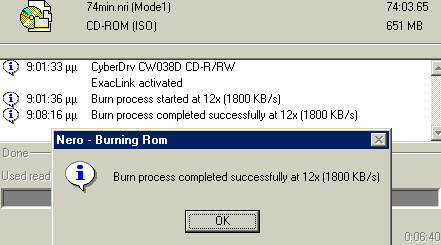 - Packet Writing Tests:
We used Ahead InCD v2.26 for all Packet Writing tests. We used TDK HS-RW media and we formatted it. The formatted disc revealed 530mbs of free space. We copied a 403 MB file (403.147 kbs) from a Hard Disk (on the same PC as the writers) to the formatted RW media-using explorer (we dragged and dropped) and we completed the test twice to eliminate any possible time measurement faults and user errors: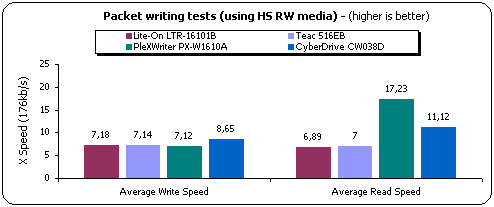 The CyberDrive CW038D leads the packet writing test, due to its increased (12x) re-writing speed. The drive's average writing speed, in packet writing mode, was 8.65X. That is the fastest writing time you can find! Reading speed is also good, compared to what both LiteOn and TEAC can do.