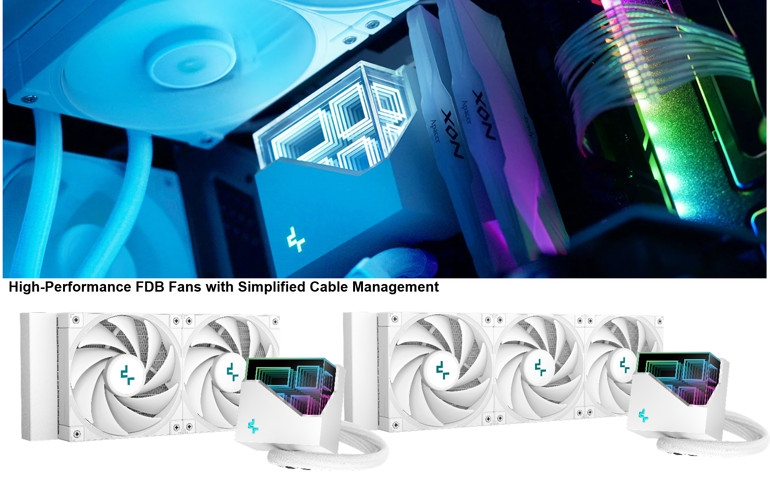 DeepCool Launches the LT WH Premium AIO Liquid Cooler Series – A Unique Design, Now Available in All-White
DeepCool announces the launch of the popular LT series all-in-one (AIO) liquid coolers in all-white that provides exceptional cooling performance the LT520 WH and LT720 WH. Featuring a unique multidimensional pump design with vibrant A-RGB lighting, powerful FK120 WH fans and DeepCool's 4th Generation water pump for exceptional cooling performance.
Advanced Heat Dissipation with a Unique Multidimensional Aesthetic
The LT WH series is built on DeepCool's 4th Generation water pump design that maximizes cooling performance. The new pump features an improved microchannel layout for optimal coolant flow, a powerful 3-phase motor of up to 3100RPM and a thick solid copper base. The square pump features a multidimensional infinity mirror in all-white, the geometric reflections light up with vibrant A-RGB lighting for a unique aesthetic. Easily synchronize lighting across your entire system through the 5V A-RGB header and supported motherboard software.
High-Performance FDB Fans with Simplified Cable Management
Designed with precision, the high-performance DeepCool FK120 WH fans maximize airflow and static pressure while keeping noise low due to a dynamic PWM range of 500~2250 RPM. The included FK120 WH fans have been specifically tuned for the LT series and feature 85.85CFM of airflow and 3.27 mmAq of static pressure. The FDB bearing ensures increased stability and reliability with a long operational lifespan.
Excellent Compatibility and Easy Installation
Installation is quick and easy with newly designed mounting brackets, ensuring that the liquid cooler is securely mounted on multiple platforms supporting the latest sockets from both Intel and AMD.
Pricing, Availability and Warranty
LT520 WH MSRP Incl. VAT (€) €119.99 – 124.99 / LT720 WH MSRP Incl. VAT (€) €139.99 – 144.99
The LT520 WH / LT720 WH will be available in middle of May 2023 and are backed by a five-year warranty. For more information, please visit the LT520 WH https://global.deepcool.com/products/Cooling/cpuliquidcoolers/LT520-WH-2... & LT720 WH https://global.deepcool.com/products/Cooling/cpuliquidcoolers/LT720-WH-3...