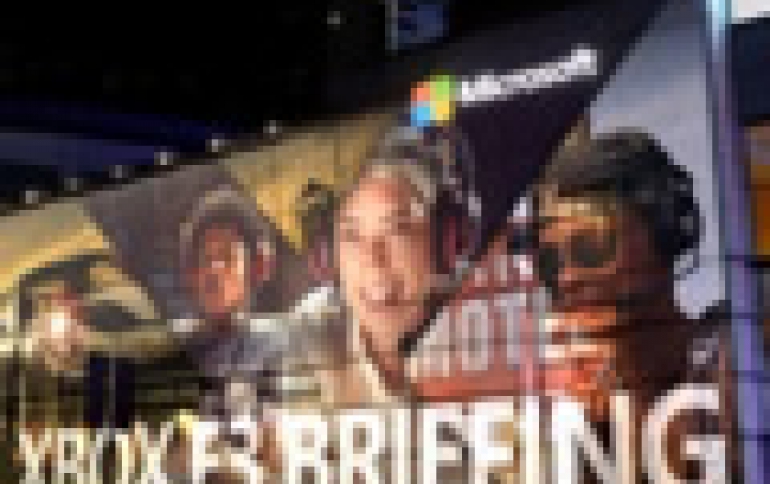 E3 2018: Microsoft 'Halo Infinite' Trailer Unveiled, Ninja Theory, Undead Labs, Playground Games, Forza Horizon, and Gears of War 5
Master Chief will return in Halo Infinite, presumably with a larger role this time given how it was rather ill-received that he was sidelined in Halo 5, but it seems that 343 wants to make this more than just another sequel.
Pitched as a "New Halo experience" this may be something other than a straight sequel like Halo 6 would have been.
A "game engine demonstration" featured scenes of exotic alien animals over lush rain-soaked caves, forests, and savannah. As four tired-looking marines limp along a beach featuring broken Halo gates, the brief tease concludes with a shot of Master Chief holding his iconic helmet at his waist before driving off into the sunset on a Warthog.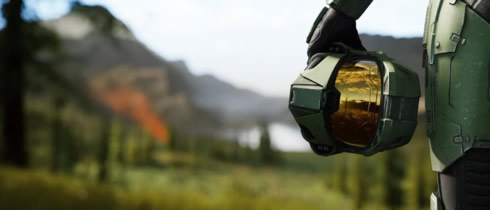 Here is the trailer:
Microsoft's Phil Spencer also today took the stage at E3 to announce that Microsoft is investing in new games for its platform, and that includes the acquisition of a number of high profile developers to further established series and build new games.
Ninja Theory, which is now a Microsoft Studio after producing one of the most critically acclaimed games of last year, Hellblade: Senua's Sacrifice.
Undead Labs is responsible for State of Decay, which Microsoft has been impressed enough with to fully bring the studio into the fold. Playground Games is responsible for the most well-reviewed, beloved games in Microsoft's stable, the Forza Horizon series, and it's now a full Microsoft studio as well. Spencer hinted that Playground is working on something open world and big, which everyone pretty much knows is Fable 4, but he didn't say it outright. Finally, Microsoft also acquired We Happy Few's Compulsion games, and showed a new trailer for the game. Microsoft also announced a brand new studio, "The Initiative," though didn't comment on its projects.
World premiere for the Tom Clancy's The Division 2. In-game footage showed team working their way through overgrown, jungle-like world before heading into an intense firefight around a crashed plane. Enemies seem to be a mix of drones, tankier armoured fellows, and classic grunts.
Microsoft also showed the trailer for Forza Horizon - set in Britain. Some nice little British beauties in there along with some stunning scenery.
Ralph Fulton from Playground Games explained it's a shared open world with seasons which change the world around you.
This follow-up to 2016's breakout hit Forza Horizon 3 brings players dynamic seasons in a shared open-world that change every week. Experience beautiful, historic Britain in native 4K and HDR, collect over 450 cars, and become a Horizon Superstar. Forza Horizon 4 will launch worldwide on Xbox One, Windows 10 and Xbox Game Pass on October 2, 2018 as an Xbox Play Anywhere title.
Appearing on the cover of Forza Horizon 4 is the McLaren Senna - named for legendary Formula 1 driver, Ayrton Senna - which will make its North American debut via Mixer on June 12 at E3.
Also joining the McLaren Senna on the cover of Forza Horizon 4 is the 1997 Land Rover Defender 90, a four-wheel driving experience specifically designed for exciting off-road adventures.
Forza Horizon 4 is due for release October 2 and will be available on Xbox Games Pass.
Bethesda
Seperately, video game publisher Bethesda hosted a rollicking pre-E3 press conference on Sunday evening with a number of game reveals from franchises like Doom, Fallout, The Elder Scrolls, Rage, and the long-rumored game series Starfield.
Starfield, was described as "a brand-new, next-generation, single-player game. This one is in an all-new epic franchise. Our first wholly original franchise in 25 years."
Following that quick teaser, Howard decided to slip the crowd one more goodie: "the game after [Starfield], and it's the one you keep asking about." What followed was an incredibly short trailer that showed a rolling camera shot over a giant, lush mountain range, and then a logo that got the crowd roaring: Elder Scrolls VI. No subtitle or release window was included.
A new mobile entry in the Elder Scrolls series is Elder Scrolls: Blades. a a fully fledged first-person RPG that resembles Skryim, made up of a mix of pre-made and procedurally generated worlds, that will come to PCs, consoles, iOS, Android, and PC VR systems this fall in free-to-play form.
In a return for the Doom series, the" Doom Eternal" will have "twice as many enemies".
Two other Elders Scrolls spin-off series, Elder Scrolls Online and Elder Scrolls Legends, each received teases of new content. In particular, the card game Legends has been announced as coming to Switch, Xbox One, and PlayStation 4 later this year.
Bethesda' Todd Howard described Fallout '76, mentioning the wide breadth of characters in Fallout games of the past. "One big difference with this game: each of those characters is a real person," Hines said. "Yes, Fallout '76 is entirely online"-and is powered by Bethesda's private servers, Howard later confirmed.
"Of course you can play this solo," Howard told the crowd. "Be who you want, explore the huge world doing quests, experiencing a story, and leveling up. We love those things about our games, too, and would not have it any other way."
Rage 2's mid-May gameplay teaser confirmed development duties were largely handed to the open-world game designers at Avalanche-and that the game combined technicolor-punk aesthetics with the first Rage game's love of Mad Max. "We've admired the open-world chaos in all of Avalanche Studios' games," id Software studio director Tim Willits told the E3 conference crowd. Whether Willitts appreciates Avalanche's reputation for uneven frame rate performance on consoles, however, is another matter-and the "real pre-alpha gameplay" video had its fair share of stutters and sloppy anti-aliasing.