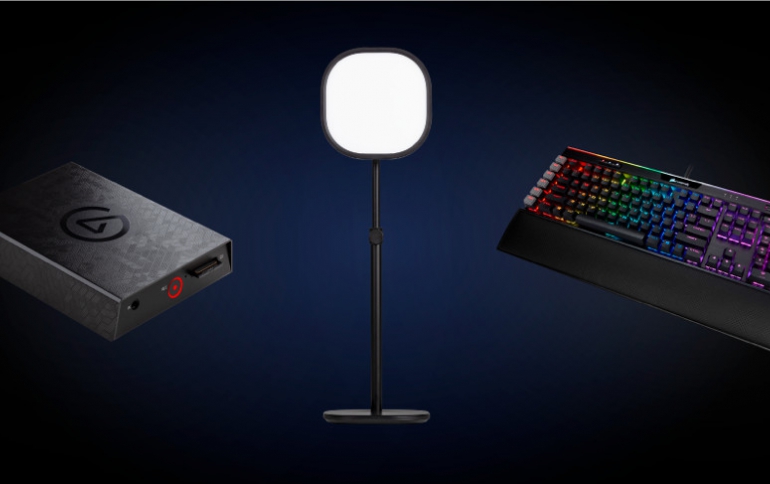 Elgato and CORSAIR Launch New Products at CES 2020
Elgato today announced the launch of both Elgato 4K60 S+external 4K60 HDR10 capture solution, the Elgato Key Light Air LED panel, the K95 RGB PLATINUM XT mechanical gaming keyboard, new A500 air CPU cooler and the iCUE RGB PRO XT liquid CPU coolers.
The 4K60 S+ debuts as Elgato's most powerful external capture device yet. In addition to USB 3.0 connectivity for live streaming via a PC, 4K60 S+ features a memory card slot to record 4K60 HDR10 gameplay directly to an SD card without the need for a connected computer. Onboard HEVC encoding keeps file sizes manageable, while true zero-lag passthrough displays high-fidelity Xbox One X and PS4 Pro games in their original format.
When connected to a PC, 4K60 S+ records unlimited footage directly to a hard drive and takes advantage of Elgato software features such as Flashback Recording to easily save gameplay retroactively and Live Commentary to record microphone audio as a separate track. It is compatible with PC broadcasting software such as OBS Studio.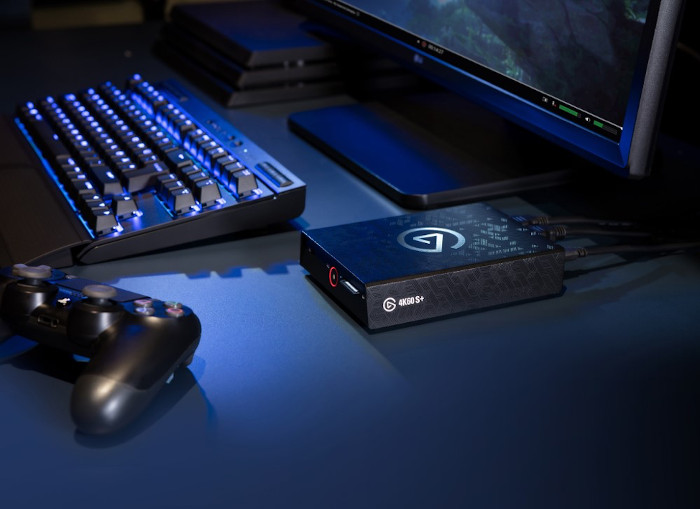 Following the release of the Elgato Key Light, launched at CES 2019, Key Light Air offers the same customizable LED studio lighting in a compact form factor that fits into any setup. Equipped with 80 OSRAM LEDs and multi-layer diffusion technology, the edge-lit LED panel outputs 1,400 lumens and a wide range of warm to cold color temperatures between 2,900-7,000K. A free app available on iOS, Android, Windows, and Mac enables wireless control of Key Light Air, making it easy to turn on/off, dim, and adjust on the fly. Key Light Air mounts using a telescopic pole attached to a freestanding base, or via Elgato Multi Mount (not included), while Stream Deck compatibility enables studio integration.
The K95 RGB PLATINUM XT is the first keyboard to leverage both Elgato Stream Deck software and CORSAIR iCUE software out of the box. It is fully equipped with all the features that made the original K95 RGB PLATINUM, such as dynamic per-key RGB backlighting with an iconic 19-zone LightEdge, a brushed aluminum frame, and 100% CHERRY MX mechanical keyswitches.
With Elgato Stream Deck software, users can program custom streaming commands onto the K95 RGB PLATINUM XT's dedicated macro keys, just as they would for the Stream Deck broadcast controller. The keyboard comes with an alternate set of blue S-key keycaps for the macro keys to visually denote streaming commands, and the remaining keys feature PBT double-shot keycaps. The K95 RGB PLATINUM XT provides plush comfort with a cushioned leatherette detachable palm rest, and is available with three different types of keyswitches: CHERRY MX Brown and SPEED Silver – both now guaranteed for 100 million keystrokes – or standard CHERRY MX Blue keyswitches.
Elgato 4K60 S+, Key Light Air, and the CORSAIR K95 RGB PLATINUM XT are available now. The CORSAIR K95 RGB PLATINUM XT is only available in North American (NA), British (UK), Nordic (ND), or Chinese (CN) layouts.
Elgato 4K60 S+, Key Light Air, and the CORSAIR K95 RGB PLATINUM XT are backed by a two-year warranty.
CORSAIR also today launched a range of new additions to its lineup of CPU coolers, able to handle the rising temperature demands of powerful desktop processors. The A500 Dual Fan CPU Cooler utilizes a quad direct-contact heat pipe design for ultra-high heat dispersion, with a slide-and-lock fan mount system to adjust fan height. The iCUE RGB PRO XT Series is the latest family of CORSAIR's all-in-one liquid CPU coolers, combining powerful and quiet cooling with dynamic RGB lighting in radiator sizes up to 360mm.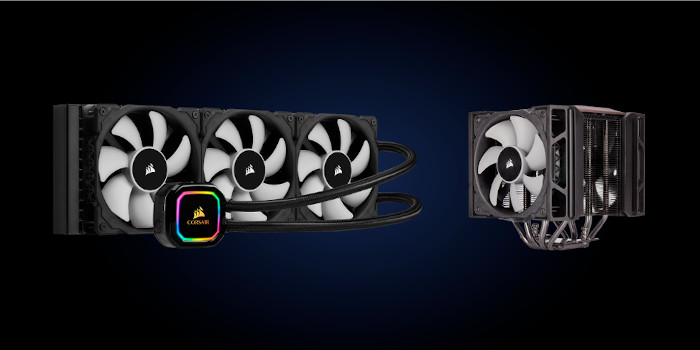 The A500 Dual Fan CPU Cooler is a high-performance air cooler, combining low-noise operation with dark styling and a new fan mounting system. Able to cool CPUs up to 250W TDP, the A500 is equipped with four direct-contact heat pipes and two CORSAIR ML120 magnetic levitation bearing fans, controllable via PWM for precise adjustment of fan speeds between 400 RPM and 2,400 RPM. The fans sit within a ratcheting slide-and-lock fan mount, allowing for a variable fan height to accommodate a wide range of DRAM. The A500 is easy to install and stays firmly in place thanks to the CORSAIR HoldFast retention system, and is compatible with AM4, AM3, FM2, LGA115x, and LGA20xx CPUs.
For those looking to liquid cool their processors, including the latest high-end desktop CPUs from AMD, the new iCUE H100i RGB PRO XT, H115i RGB PRO XT, and H150i RGB PRO XT offer extreme cooling performance with a 240mm, 280mm, and 360mm radiator respectively. As with the A500, each of the new PRO XT all-in-one liquid coolers is fitted with CORSAIR ML Series PWM fans for complete control over fan speeds – up to 2,400 RPM on 120mm models and 2,000 RPM on the 140mm model. The H150i RGB PRO XT, features three fans and a massive radiator surface area.
CORSAIR iCUE software enables full customization of the RGB lighting on the pump head from 16 individually addressable RGB LEDs, and synchronizes that lighting with all other iCUE-compatible components and peripherals in an entire setup. Users can also use iCUE to control both fan and pump speeds to strike a balance between quiet operation and powerful cooling.
The CORSAIR A500 and iCUE RGB PRO XT Series coolers are available now. The A500 is backed by a five-year warranty and the iCUE RGB PRO XT Series coolers are backed by a two-year warranty.