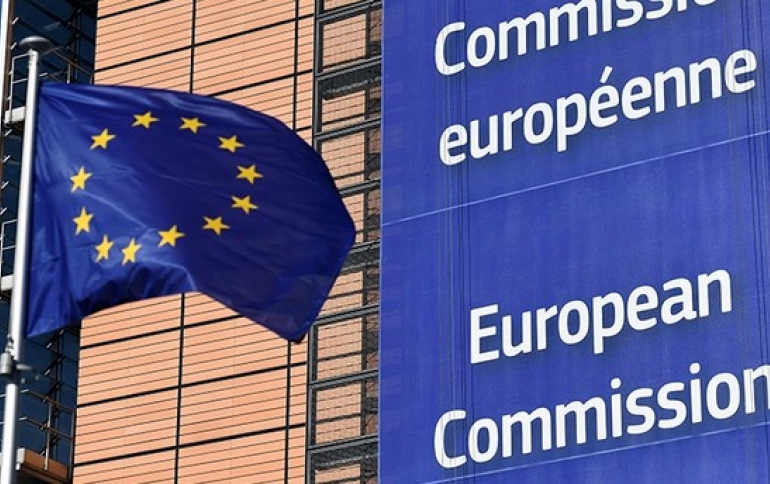 EU Agrees on New Copyright Rules, Curbs Unfair Practices by Tech Giants
EU countries, the European Commission and EU lawmakers clinched a deal late Wednesday to curb the powers of companies such as Google and Apple with new rules.
Unveiled by the Commission in April last year, the platform-to-business (P2B) law seeks to prevent unfair business practices by app stores, search engines, e-commerce sites and hotel booking websites in a bid to ensure a level playing field between the tech companies and traditional businesses.
Vice-President for the Digital Single Market Andrus Ansip said: "To finally have modern copyright rules for the whole of EU is a major achievement that was long overdue. The negotiations were difficult, but what counts in the end is that we have a fair and balanced result that is fit for a digital Europe: the freedoms and rights enjoyed by internet users today will be enhanced, our creators will be better remunerated for their work, and the internet economy will have clearer rules for operating and thriving."
The rules target Amazon Marketplace, eBay, Apple's App Store, Google Play, Facebook Marketplace, Booking.com and Leboncoin.fr, among others.
Online platforms will be required to compensate publishers and creators for the content that appears on their websites.
The new rules mean music producers and publishers could come gunning for more money from Google and Facebook Inc. to compensate for the display of their songs, video and news articles.
If artists and music producers refuse to grant platforms licenses, tech firms will be required to remove or block uploads. And if platforms don't negotiate licenses with publishers, or if publishers don't waive their rights, web firms won't be able to display longer fragments of news articles under headlines.
In response to the copyright agreement, Google spokesman Damien Roemer said in a statement: "We'll be studying the final text of the EU copyright directive and it will take some time to determine next steps." He added that "the details will matter, so we welcome the chance to continue conversations across Europe."
The search giant said recently it may pull its Google News service from Europe in response to the law, particularly if publishers aren't allowed to waive their rights. It said it would take the decision reluctantly and only after analyzing the final text. Google has already deactivated the product in Spain.
The Computer and Communications Industry Association, which represents Facebook and Google, said in a statement the rules are a "lost opportunity to achieve a balanced and future-proof EU copyright reform," adding it could "harm online innovation, scaleups, and restrict online freedoms in Europe."
As part of the new rules, the EU is requiring tech firms to negotiate licenses for songs or video clips before publishing user uploads of content that incorporates them. In situations where no licenses are concluded, they are required to make "best efforts" to obtain authorization, according to the EU. Platforms also have to do everything in their power to remove or block material that rights holders have flagged in advance and quickly remove any unauthorized content once notified.
The bloc also agreed to grant publishers new legal rights to help them seek compensation from all types of online services that display longer fragments of their articles. "Very short" snippets and individual words, such as in hyperlinks, are not covered by the law, the EU said. And publishers, which often get significant internet traffic to their sites from search and social, are allowed to waive their rights and let platforms display the content for free.
The rules create new liabilities for tech firms, chipping away at previous protections that absolved them of legal responsibility for what users posted on their sites. Those carve-outs were designed to help web firms grow in the early days of the internet but now officials want them to shoulder more responsibility for the material their users create, such as terror content, hate speech, and fake news.
The agreement needs now to be confirmed by the European Parliament and the Council of the EU in the coming weeks.
Europe's view on the updated copyright rules
According to the European Commission, the new Directive brings:
Benefits to all creative sectors, specifically creators and actors in the audio-visual and musical sectors, by reinforcing their position vis-à-vis platforms to have more control over the use of their content uploaded by users on these platforms and be remunerated for it
The principle of an appropriate and proportionate remuneration for authors and performers will be laid down for the first time in European copyright law.
Authors and performers will enjoy access to transparent information on how their works and performances are exploited by their counterparts (publishers and producers). This will make it easier for them to negotiate future contracts and to receive a fairer share of the generated revenues.
If publishers or producers fail to exploit the rights that authors and performers have transferred to them, authors and performers will be allowed to revoke their rights.
European press publishers will enjoy a new right, which aims to facilitate the way they negotiate how their content is re-used on online platforms. It will give journalists the right to receive a greater share of the revenues generated by the online uses of press publications. This right will not affect citizens and individual users, who will continue to enjoy and share news hyperlinks as they do today.
Users will benefit from the new licencing rules which will allow them to upload copyright protected content on platforms like YouTube or Instagram legally. They will also benefit from safeguards linked to the freedom of expression when they upload videos that contain rightholders' content, i.e. in memes or parodies. The interests of the users are preserved through effective mechanisms to swiftly contest any unjustified removal of their content by the platforms.
The European Commission says that the Directive will ensure wider access to knowledge by simplifying copyright rules in the areas of text and data mining for research and other purposes, education and preservation of cultural heritage:
Research organisations, universities and other users will be able to make the most of the increasing number of publications and data available online for research or other purposes as they will benefit from a copyright exception to carry out text and data mining on large sets of data. This will also enhance the development of data analytics and artificial intelligence in Europe.
Students and teachers will be able to use copyrighted materials in online courses, including across borders, for the purposes of illustration for teaching.
The preservation of cultural heritage in the collections of European museums, archives and other cultural heritage institutions will have no copyright restrictions.
Users will also have access to works, films or music records that are no longer commercially available in Europe today, as well as wider variety of European audiovisual works on video-on-demand (VoD) platforms. They will be completely free to share copies of paintings, sculptures and other works of art in the public domain with full legal certainty.