Everspin Demonstrates Gbit MRAM and New SSDs at FMS 2017
Everspin announced it is sampling a Gbit MRAM chip and will be in production this year with 1-2 Gbyte cards based on its 256 Mbit chip.
At this year's Flash Memory Summit, August 8-10th at the Santa Clara Convention Center, Everspin will launch the 1 and 2 Gigabyte nvNITRO NVMe SSDs.
Everspin wants to its new products to replace DRAM in solid state drives and flash-storage arrays as a non-volatile buffer and write cache. The cards will deliver up to seven million I/O operations/second and 2 microsecond latencies using special Windows and Linux drivers Everspin is releasing as open source.
The company said it has one pilot customer for the chips that it hopes will take them to production within a year.
Intel became the first to launch a new memory chip into mainstream storage markets with its 3DXP now shipping in SSDs. Western Digital has promised resistive RAMs before 2020, and Everspin gained an MRAM competitor late last year in Spin Transfer Technologies, which says it will sample a Gbit-class product next year.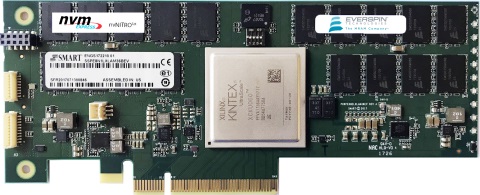 "In the future, all memory will be persistent - it may be 5-7 years from now or sooner, but it's an expectation that everything is live and backed up and the highest performing memories with the highest capacities will win," said Patrick Patla, senior vice president of marketing for Everspin.
Each new memory type is likely to stake out its own market position, but so far MRAM is tracking closest to DRAM performance, said Joe O'Hare, Everspin's director of marketing.
Everspin is showing a prototype card for the GenZ interface at the event, although the link is not expected to see use in commercial products for about two years.
Everspin's Gbit chip uses a DDR4 interface and is made in Globalfoundries' 28nm process. The cards use a 40nm 256M chip. They ride the PCIe Gen 3 bus, supporting the NVMe interface and will be available at the end of the year as U.2 or half-height, half-length PCIe cards with prices starting at $2,200.
Key features & highlights include:
1GB and 2GB storage capacities
PCIe Gen3 x8, half-height, half-length or U.2 form factor
NVMe 1.1+ for block level access
Memory mapped IO (MMIO) for byte level access
6µS Ultra-low access latency (as low as 2µS with SPDK drivers)
Consistent latency (short tail)
Customer-defined features using own RTL with programmable FPGA
Inherently power fail safe; no system enablement required
PCIe peer-to-peer communication for minimum processor overhead and lower latency
ES1GB-N03 and ES2GB-N03 HHHL form factor
ES1GB-U201 and 2GB ES2GB-U201 U.2 form factor
Pricing starting at $2,200