Firefox To Set Yahoo As Default Search Engine
Yahoo struck a deal with Firefox maker Mozilla to replace Google as the default search engine on the Firefox Web browser in the United States, a move that Yahoo Chief Executive Marissa Mayer said she hopes to help boost Yahoo's search market share. The deal represents the most significant partnership for Yahoo in five years. As part of this partnership, Yahoo will introduce an enhanced search experience for U.S. Firefox users which is scheduled to launch in December 2014.
"We're thrilled to partner with Mozilla. Mozilla is an inspirational industry leader who puts users first and focuses on building forward-leaning, compelling experiences. We're so proud that they've chosen us as their long-term partner in search, and I can't wait to see what innovations we build together," said Marissa Mayer, Yahoo CEO. "At Yahoo, we believe deeply in search – it's an area of investment, opportunity and growth for us. This partnership helps to expand our reach in search and also gives us an opportunity to work closely with Mozilla to find ways to innovate more broadly in search, communications, and digital content."
"Search is a core part of the online experience for everyone, with Firefox users alone searching the Web more than 100 billion times per year globally," said Chris Beard, Mozilla CEO. "Our new search strategy doubles down on our commitment to make Firefox a browser for everyone, with more choice and opportunity for innovation. We are excited to partner with Yahoo to bring a new, re-imagined Yahoo search experience to Firefox users in the U.S. featuring the best of the Web, and to explore new innovative search and content experiences together."
Google has been the Firefox global search default since 2004 and the agreement was set for renewal this year.
"In evaluating our search partnerships, our primary consideration was to ensure our strategy aligned with our values of choice and independence, and positions us to innovate and advance our mission in ways that best serve our users and the Web. In the end, each of the partnership options available to us had strong, improved economic terms reflecting the significant value that Firefox brings to the ecosystem. But one strategy stood out from the rest," Mozilla said.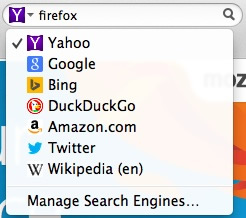 But Mozilla will not have a single global default search provider. For the U.S., Yahoo Search will become the default search engine. Yahoo will also support Do Not Track (DNT) in Firefox. Google, Bing, DuckDuckGo, eBay, Amazon, Twitter and Wikipedia will continue to be built-in as alternate search options.
Yandex Search will become the default search experience for Firefox in Russia, with
Google, DuckDuckGo, OZON.ru, Price.ru, Mail.ru, and Wikipedia to continue to be built-in as alternate search options.
Baidu will continue to be the default search experience for Firefox in China with Google, Bing, Youdao, Taobao and other local options to remain alternate search options.