First Look at Pioneer's KURO LCD TVs, KURO plasma TVs, New Blu-ray Disc Players
Pioneer's Autumn line of products include the first-ever KURO LCD TVs, KURO plasma TVs and screens that are just 64mm thick, four new Blu-ray disc players and new Blu-ray Home Cinema Systems.
Full HD KURO LCD flat screen TVs debut
Three KURO-branded Full HD LCD TVs will be available in Europe from August.
The LCDs feature an upscale design and come with a high-contrast front filter, three HDMI ports and 100Hz processing to offer a better fast-moving picture performance. The line-up includes the 32-inch KRL-32V, the 37-inch KRL-37V and the 46-inch KRL-46V.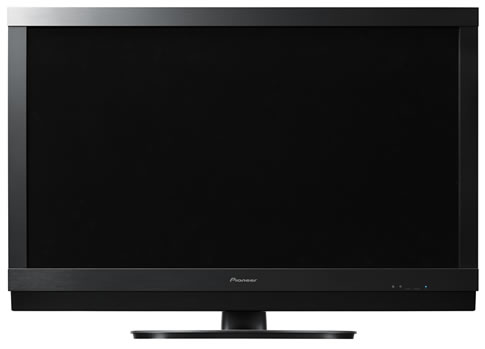 By taking full advantage of Pioneer's extensive plasma know-how, the new LCD TVs promise to deliver industry-leading black levels and 1080p performance. Pioneer claims that the result is an LCD picture that closely matches the visual experience of a plasma picture. An automatic backlight adjustment function results in enhanced black levels and deep, accurate colours, while an additional ambient light sensor optimises on screen images according to the brightness of the room.
The series boasts a viewing angle of 176 degrees from top to bottom and from left to right. The KURO LCD range features three HDMI inputs, with the KRL-46V sporting one on the side for straightforward connectivity. The HDMI inputs are compatible with 1080p/24 signals from Blu-ray players, giving access to the latest in high definition video.
A PC input turns the TV into a computer monitor, allowing for working, gaming and more on a large screen. With the combined analogue/digital terrestrial tuner a host of TV programmes can be received.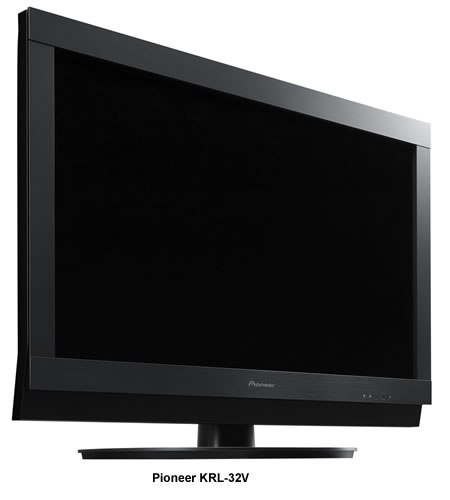 The KRL-32V and KRL-37V rest upon a matte removable black swivel stand that provides a 15-degree swivel, which makes it easy to move the screen for optimal viewing.
Both models can be operated by a hidden set of buttons on top, or using an aluminium preset remote control. The series integrate under-mounted speakers that blend into the design.
The KRL-32V and KRL-37V LCD TVs will be available in August. The 46-inch version will become available later this year.
Specifications
100Hz Mode
HDMI input x 3
HD ready 1080p
KURO Link
176° wide viewing angle
PC input
6ms response time ( KRL-46V : 4ms)
Aluminium preset remote control
High-contrast filter
Program timer
Colour temperature: 5 steps
Sleep timer
Pure Cinema
Swivel stand (included)
Room Light Sensor
KRL-46V : fixed stand
Four New Blu-ray Players
Pioneer's new line-up of Blu-ray Disc players include the BDP-LX91 (BD-Live / Profile 2.0), the BDP-LX08 (BonusView / Profile 1.1), the BDP-LX71: (BonusView / Profile 1.1) and the BDP-51FD BonusView / Profile 1.1).
The BDP-LX71 will be available in September. The BDP-51FD and the BDP-LX08 will arrive in October; the BDP-LX91 later on in winter.
The players support next-generation high resolution audio and feature a redesigned chipset.
These Blu-ray disc players feature a double-layered chassis and dedicated audio and video boards and stable player mechanism.
The new BD players are able to handle 1080p 24 frames per second (fps) reproduction rate, matching the sequence of the original film.
HDMI 12-Bit Deep Colour support guarantees smooth transitions between different shades and delivers a wide range of colour tones.
A Video Adjust Mode, which includes predefined settings and allows detailed manual adjustment of most video parameters, enables users to customise their viewing experience.
Additional support of lossless digital audio formats DTS HD Master Audio and Dolby TrueHD is included in the players' list of specifications, giving up to 7 channels of audio.

Connected to a new Pioneer SC-LX71 or SC-LX81 A/V receiver via HDMI, the Blu-ray disc players perfect CD playback with the Precision Quartz Lock System (PQLS). This feature transmits music data coming from the Blu-ray Disc player to the receiver.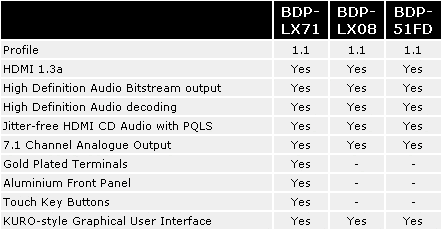 New KURO plasma televisions and monitors

Available in Europe from September, Pioneer's new line of plasma TVs and monitors include the 50-inch KRP-500A and the 60-inch KRP-600A, both coming with a separate media receiver, as well as the 50-inch KRP-500M and 60-inch KRP-600M.
All new models are 'HD ready 1080p'. With a thin depth of 64 mm the screens look more sleek and elegant than ever, be it wall-mounted or on a stand.
The new 64 mm TV models with separate media receiver have inherited the inner workings and features of the recently launched one-body Full HD KURO plasma TVs promising to deliver uncompromised quality, finely-tuned performance and intelligent design.
The KRP-600M will be available as of August followed by the KRP-600A in September. The KRP-500A and KRP-500M will be in shops by October.
An advanced Optimum AV mode is responsible for automatic image adjustment, ideal in case of varying content and changing viewing conditions. In addition, the new PURE AV selection mode reproduces images as faithfully as possible to the original source material, bypassing all typical picture enhancement processing.
The KRP-500A and KRP-600A not only feature an integrated analogue tuner, but also a digital terrestrial (DVB-T) tuner and a digital satellite (DVB-S/DVB-S2) tuner. Both KURO models are compliant with the EICTA "HD TV 1080p" minimum requirements, support MPEG-4 high definition decoding and include two integrated common interface slots.
The KRP-500A and the KRP-600A come with a media receiver.
All 64 mm models offer a wide array of options when it comes to connectivity. The separate media receiver models boast 4 HDMI inputs. An integrated KURO LINK function enables the user to operate compatible connected devices through the plasmas? remote control.
The monitors incorporate a variety of additional features and functions. IP control allows operation via a PC or other controller through a network, while the Web server function even enables user access and control via a remote PC web browser.
New Full HD home cinema systems available in October
Pioneer is also expanding itshome cinema product portfolio with four new systems.
The portfolio includes:
LX01BD: Blu-ray Disc Home Cinema System with Omni-Directional Speakers
LX03BD: Blu-ray Disc Home Cinema System with 5.1 AV Receiver and Satellite Speakers
LX08BD: Blu-ray Disc Home Cinema System with 5.1 AV Receiver
LX03: DVD Home Cinema System with Satellite Speakers
The LX03, LX03BD and LX08BD home cinema systems will be available in October; the LX01BD in November.
All four home cinema systems sport the same clean lines and characteristic piano black finish.
With a combined glossy black/brushed aluminium front and top panel the LX03, LX03BD and LX08 feature intelligent touch sensor buttons that are automatically lit by a motion sensor whenever your hand approaches. The LX01BD benefits from an LCD touch screen remote and a separate display.

The LX01BD includes a profile 1.1, BonusView Blu-ray Disc Player with 1080p true 24 movie frames per second playback, 12-bit HDMI Deep Colour support, a dual-drive subwoofer receiver and four 3-dimensional shaped satellite speakers.
The LX03 comprises a DVD player system, allows SACD/DVD-audio playback and comes with compact satellite speakers, as does the LX03BD.
The LX03BD and LX08BD combine the BDP-LX08 stand alone design Blu-ray Player with a 5.1 channel A/V receiver.
The LX08BD can be complemented by a number of 5.1 speaker sets from tallboy to compact satellite with active subwoofer.
With two-in, one-out HDMI connections all home cinema systems are ready for the latest sources.
Focusing on media friendliness, the LX03, LX03BD and LX08BD are iPod digital compatible, which means you can connect your iPod directly to the receiver with the supplied USB cable and control it with the receiver?s remote.
The Advanced Sound Retriever function will enhance compressed music formats such as MP3, Windows Media Audio or MPEC-4 AAC. To eliminate the fluctuations in volume level of different MP3 recordings Auto Level Control keeps the dynamic of all content and sources at a constant level.
The LX01BD system incorporates a unique dodecahedron - a geometric shape with 12 sides ? speaker concept, which allows the speakers to generate sound fields in all directions.
The LX01BD comes with two compact combined front/centre satellite speakers and two rear speakers which can also be positioned in the front for a minimalist look.
The LX03 and LX03BD allow flexible speaker set-up, with the Front Stage Surround function enabling the most neat and elegant integration by placing all speakers directly alongside the TV to free up space and eliminate the visual clutter of cables.
Potential standing waves are effectively minimised using Standing Wave control. Additionally, the LX01BD features a uniquely designed subwoofer-receiver with dual-drive subs, which enables more powerful handling of lower frequencies.