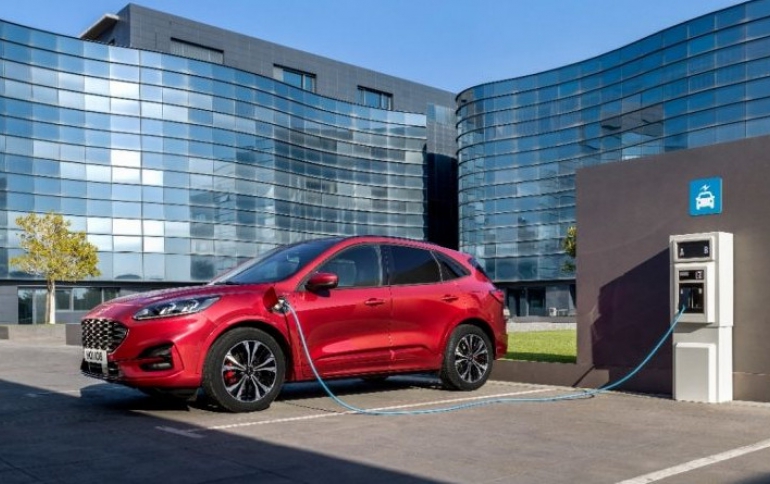 Ford Announces All-electric, Mustang-inspired SUV and Transit Van
Ford today unveiled an extensive range of new vehicles that are designed to help make cities cleaner and quieter by increasingly using more environmentally friendly electric power.
At a special "Go Electric" experience in Amsterdam, the company announced a line-up of 16 electrified models, which mostly includes hybrids ranging from small family cars to SUVs and people-movers under a new Ford Hybrid banner. But the company also announced a Mustang-inspired performance SUV and fully electric Transit van on the way.
Ford announced that a new all-electric Transit will join its line-up of electrified commercial vehicles in 2021. The all-electric Transit will be available in multiple body styles, with a competitive payload and built-in connectivity. The electric powertrain is being engineered to provide a practical daily driving range for city-based businesses, to be maintained in all weather conditions and throughout the working life of the vehicle.
In adition, Ford's Mustang-inspired all-electric performance SUV will arrive in 2020, with a pure-electric driving range of 600 km (370 miles).
Hybrids
The new Kuga mid-size SUV will offer a wide range of hybrid options the company has ever made available and will deliver a pure-electric driving range in excess of 50 km (31 miles) with the Kuga Plug-In Hybrid model; the same range being targeted by the new Tourneo Custom Plug-In Hybrid eight-seat people-mover. The line-up of hybrid SUVs will be complemented by the new seven-seat Explorer Plug-In Hybrid.
Ford also revealed new electrified passenger vehicles – the Fiesta EcoBoost Hybrid and Focus EcoBoost Hybrid models – that feature mild-hybrid technology for reduced CO2 emissions and better fuel‑efficiency.
Ford also is exploring solutions to optimise the energy efficiency and driving range of its electrified vehicles by testing a Ford Transit Smart Energy Concept 10-seater minibus. Delivering a 150-km (93-mile) range from a 4-hour charge, the concept uses a Ford Transit chassis fitted with battery-electric technology.
To date, Ford Hybrid models available on the market include its Mondeo model, Tourneo Custom people-mover, and Transit and Transit Custom vans.
A new Tourneo Custom people-mover model is coming to Europe in late 2019. It will come equipped with a new plug-in hybrid powertrain. The Tourneo Custom Plug-In Hybrid's front wheels are driven exclusively by an electric motor/generator, powered by a 13.6 kWh lithium-ion battery pack. Ford's 1.0‑litre EcoBoost petrol engine acts as a range extender, working alongside regenerative braking enabled by the motor/generator to recharge the battery. The hybrid powertrain targets a zero-emission driving range of up to 50 km (31 miles) or 500 km (310 miles) using the range extender.
Services
Ford also announced that it is developing a predictive usage-based maintenance solution with the aim of delivering 100 per cent uptime for vehicles. The first stages of this service will be launched later in 2019.
The new solution will enable maintenance to be tailored for each vehicle, rather than being determined by fixed service intervals. Sensors on key systems provide real-time data, so service attention is only given when required, and action is taken before problems become serious enough to cause a failure.
Using an app, business owners can check on the status of every individual vehicle, and drivers can see live and predicted vehicle health data.
For larger operators, the Ford Telematics product being introduced this year provides fleet managers with key decision-making data to optimise business performance.
Providing real-time manufacturer-grade information sourced directly from the connected Ford vehicles in the fleet, routed through Ford's Transportation Mobility Cloud, Ford Telematics enables managers to view data about the health, efficiency, productivity and safety of each vehicle using a desktop application, and assess where action needs to be taken.