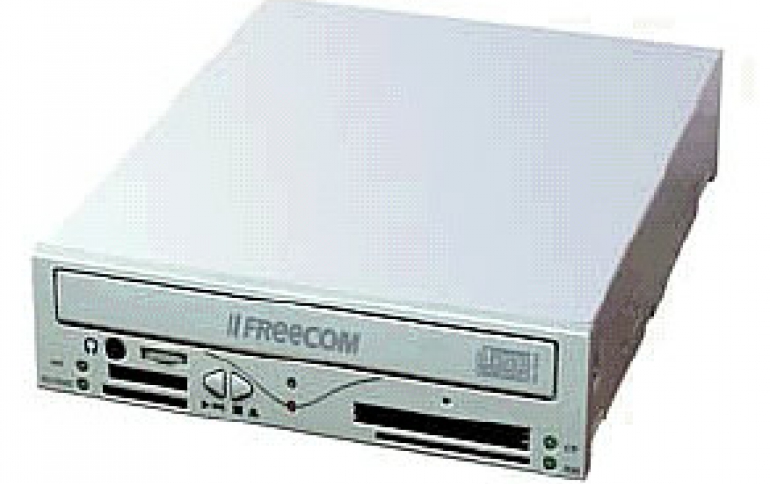 Freecom FC-1 52x32x52 CD-RW burner with 7-in
The Freecom FC-1 52x32x52 CD-RW burner with 7-in-1 card-reader is the new flagship of the Internal range. The drive is available as an internal version for PCs, and is connected via the IDE and USB interface. This high-speed burner writes CD-Rs at 52x speed, and rewrites CD-RWs at 32x speed. With the ultra-fast Freecom CD burner, a complete 80-minute CD (700 MB) can therefore be written in approximately 1.5 minutes. The built-in buffer underrun prevention technology ensures absolute reliability when writing or rewriting CD blanks. This ultimate drive for the power-user boasts not only an ultra-fast CD, but also an integral 7-in-1 card-reader. The card-reader supports CompactFlash, MicroDrive, Smart Media, Memory Stick, Memory Stick Pro, Secure Digital and MultiMediaCard. Simple installation and operation make the Freecom FC-1 the optimum drive for both the professional user and the discerning private user, enabling the fast and reliable saving and storage of data, production of audio, video and MP3 CDs and the reading or writing of memory cards from digital cameras, MP3 players or PDAs. With the enclosed version of the ROXIO Easy CD Creator 6 VCD Edition software, the user can edit digital images or movies and add music tracks. The edited materials can then be saved as a video CD (VCD) and played back on a home DVD player.

Freecom supplies the internal FC-1 52x32x52 CD-RW burner complete with integral 7-in-1 card-reader and the latest ROXIO Easy CD Creator 6 VCD Edition software. The package also includes: the connection cables, a CD-R and the multi-lingual manual. The Freecom FC-1 is available in the shops for 79,- Euro (suggested street price), and comes with the usual Freecom 2-year manufacturer's warrenty.

Freecom Technologies is a leading manufacturer of easy to use multimedia hardware. We offer portable solutions for digital storage. Smart and innovative solutions for digital freedom and freedom to move. Our products are ultra compatible and connect everywhere. At any place and on every computer. From our headquarters in Delft (the Netherlands) we operate on a worldwide basis. You will find Freecom offices in Belgium, France, Germany, Italy, United Kingdom, Switzerland, Spain, Sweden, the Netherlands and the United States of America.