Gigabyte And ViewSonic Showcase Tablets At Computex 2011
Gigabyte will have on display the S1080 10.1" multi-touch slate PC that is designed for business and professional users at Computex 2011. In addition, ViewSonic will be showcasing the dual-OS ViewPad 7x and the ViewPad 10Pro tablets. The S1080 by Gigabyte is a 10.1" multi-touch slate PC that is designed for business and professional users. Based on Windows 7, the slate is powered by an Intel Atom N570 dual core processor and has a 320GB of built-in storage. Weighing under 0.90kg and coming equipped with a 3.5G antenna built-in, the slate offers portability and connectivity while on the go. The device also includes a mouse-like navigation button that lets users move the cursor around the screen to easily edit documents and access programs. The slate also includes USB 3.0, Bluetooth 3.0 and a 1.3mp webcam. There is also an optional docking station, which comes with an ODD, dual speakers, and a keyboard. An optional extended battery can also be used.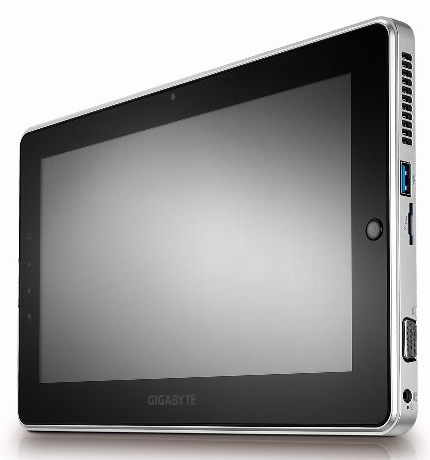 Formally making its official appearance is also the ViewSonic ViewPad 7x - 7-inch HoneyComb tablet that utilizes a NVIDIA Tegra dual-core processor and features 4G Internet connectivity. Weighing only 380g, with front and back cameras this device provides high-quality video conferencing on the go. The device is also incorporating an HDMI port , DLNA support , SRW TruMedia, a capacitive 10-point multi-touch display and HSPA+ connectivity.
ViewSonic will also showcase the ViewPad 10Pro, a dual-boot OS tablet that has Windows 7 Professional and Android. It is also one of the first tablets to use the latest Intel Oak Trail processor. The tablet allows for an instantaneous switch between the two OSes without turning off the tablet - Android for simple tasks such as Web browsing and Windows 7 for business applications.