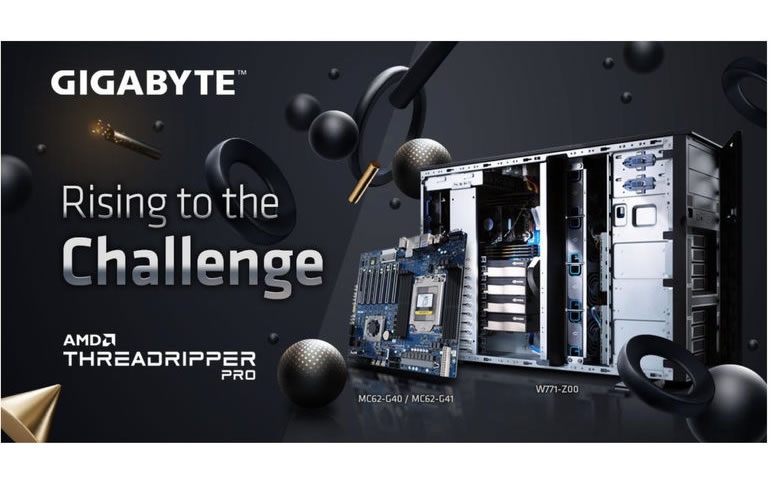 GIGABYTE Enterprise Products Support AMD Ryzen Threadripper PRO 5000WX Series Processors
GIGABYTE Technology, (TWSE: 2376), an industry leader in high-performance servers and workstations, today announced support for AMD Ryzen Threadripper PRO 5000WX Series processors on GIGABYTE motherboards, MC62-G40 and MC62-G41, and a workstation, W771-Z00; additionally, a BIOS update is available now to support the new CPU series. The Threadripper PRO line of CPUs is designed for the best in productivity at professional workstations. These GIGABYTE workstation products have enterprise-class reliability and have been in the market supporting the prior generation Threadripper PRO 3000WX series, and now these products will support the 5000WX series for fast rendering, encoding, compiling, modeling, simulating, and more.
Overview of AMD Ryzen Threadripper PRO 5000WX Series Processors
19% IPC improvement (compared to prior-gen)
Full spectrum of products: 12 cores (24 threads) to 64 cores (128 threads)
Accelerated workflow with 128 lanes of PCIe 4.0
8 memory channels, up to DDR4-3200, and 2TB of memory supported
AMD PRO technologies: AMD PRO Security, AMD Memory Guard, and Manageability
Product Details
With enterprise-rich features, GIGABYTE has created a high-performance workstation and offers choices of motherboards that target diverse applications, from media & entertainment to architecture and design. These products are tailored for the Threadripper PRO 5000WX and 3000WX series of processors on the sWRX8 chipset. The motherboards, MC62-G40 and MC62-G41, differ in only the LAN ports. The -G41 has a single 1GbE LAN port, whereas the -G40 has an additional dual 10GbE LAN ports. The product differentiation came as a result of there being two market segments with one that prefers fast onboard ethernet and the other that prefers less thrills at a lower price. Also, the -G40 is the same motherboard in the W771-Z00.
Model
W771-Z00
MC62-G40
MC62-G41
Product Type
Workstation
Motherboard
CPU
AMD Ryzen Threadripper PRO 5000WX & 3000WX
Memory
8 x DDR4 (ECC and non-ECC) DIMMs
Expansion Slots
6 x PCIe 4.0 x16 and 1 x PCIe 4.0 x8 slots
Storage
2 x M.2 slots,
up to 8 x SATA 3.5"/2.5" drives
2 x M.2 slots, 4 x SATA III ports, 3 x SlimSAS ports
BMC
ASPEED AST2600
LAN
2 x 10GbE, 1 x 1GbE, and 1 x mLAN
1 x 1GbE and 1 x mLAN
Power Supply
2+0 2000W 80+ Platinum
NA
NA
BIOS Update
Current owners of these GIGABYTE enterprise-grade products are able to apply a simple update of the BIOS to support the 5000WX series. On the respective GIGABYTE product pages, if you select the Support tab and go into the BIOS section, you'll see the BIOS update is available to be downloaded.
Remote and Multiple Server Management
As part of GIGABYTE's value proposition, GIGABYTE provides GIGABYTE Management Console (GMC) for BMC server management via a web browser-based platform. Additionally, GIGABYTE Server Management (GSM) software is available for download on product pages. This software can monitor and manage multiple servers without requiring an additional license fee. GMC and GSM offer great value while reducing TCO and customer maintenance costs.
To submit a query: Contact Sales
Follow GIGABYTE on Twitter: twitter.com/GIGABYTEServer
Follow GIGABYTE on Facebook: facebook.com/gigabyteserver