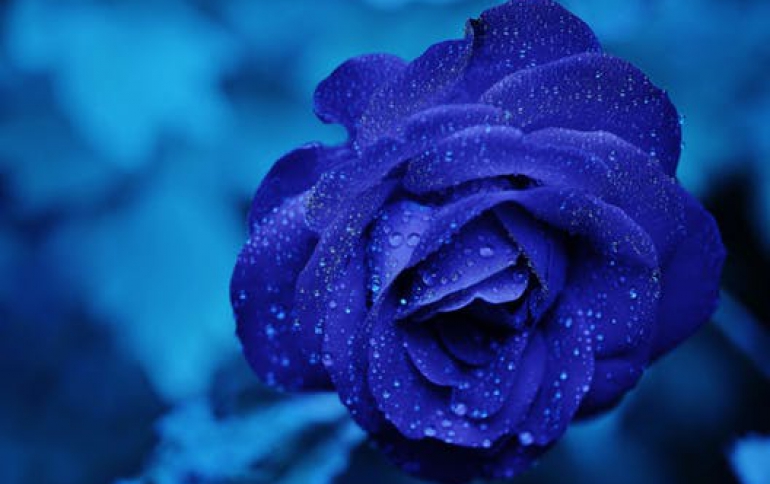 GIGABYTE Introduces New Server and Workstation Motherboards
GIGABYTE today announced two new models of workstation motherboards and one new model dedicated to mission critical server applications. All the motherboards are based on the Intel Xeon processors E5-2600 product family and support 1600F 16GB RDIMM 1.35V modules clocked at 1600 MHz - a feature achieved through GIGABYTE's capabilities in design, PCB layout and BIOS fine-tuning.
Also, these three models are built with GIGABYTE?s digital PWM controllers, guaranteeing a dynamic power supply to the processor(s) and memory with an ultra-fast response time. When the CPU workload varies in function of the applications running, the Intel Turbo Boost Technology will do a dynamic overclock of the CPU cores, where the digital PWMs outshine the previous analog solutions. This way the CPU operations are much more stable.
The GA-7PESH3 gives the possibility to build a workstation within a standard full tower desktop case. With up to 16 cores, 32 threads, 4 double slot GPU/co-processors, and connections for a storage array of up to 13 drives, the user's workflow can be accelerated with many Teraflops of pure computing power.
The GA-7PESH3 can be equipped with up to four NVIDIA Tesla and Intel Xeon Phi co-processing cards, or with up to four NVIDIA Quadro or AMD FirePro cards working together in SLI/CrossFire modes.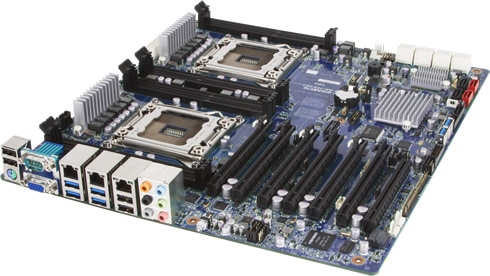 It features the LSI 2008 controller, which provides SAS support for up to eight SAS 6Gbs drives.
The GA-7PESH3 can receive 128GB of DDR3 RDIMM ECC memory running at 1600MHz.
The GA-7PESH4 is a reliable base for business grade server applications. Built with the latest generation of network controller, optimized for virtualization, iSCSI and management related traffic, the GA-7PESH4 is designed to free the processors as much as possible from the network transfer loadings. Intense transfers will typically occupy up to 30% less computing resources compared to traditional LAN solutions. Also consumes less energy thanks to EEE and DMA coordination and supports OS2BMC and MCTP.
The GA-7PESH4 can receive 256GB of DDR3 RDIMM ECC memory running at 1600MHz.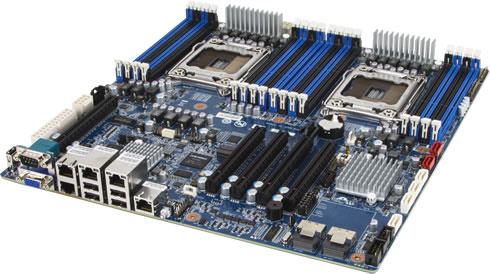 Although the GA-6PXSV4 ATX model is suitable for tower workstation builds, the placement of its components and its airflow design has been optimized for rack integration. With a quad LAN solution and a remote management controller, the GA-6PXSV4 is ready for computing intensive applications in virtualized environments.
With three PCI-Express x16 Generation 3.0 slots supporting 3-way NVIDIA SLI and AMD CrossFireX modes, this motherboard can receive a trio of GPUs working together.
The GA-7PESH3 can receive 128GB of DDR3 RDIMM ECC memory running at 1600MHz.
GA-6PXSV3
Dimension
EEB
330W x 305H (mm)
CPU
Dual LGA2011 Socket
Supports Intel® Xeon® processor E5-2600 product family
Chipset
Intel® C602
Memory
8 x DIMM slots support Registered or ECC Unbuffered memory
Quad channel memory architecture
Up to 256GB RDIMM ECC
Up to 64GB UDIMM ECC
1066/1333/1600 MHz
LAN
Dual Gigabit Ethernet LAN ports (Intel® 82574L)
Management LAN
Video
Integrated in Aspeed AST2300
2D Video Graphic Adapter with PCIe bus interface
1920x1200@60Hz 32bpp

Audio
7.1+2 HD audio channels
SAS
8 x SAS 6Gbs ports
LSI SAS 2008 controller
SATA
2 x SATA III 6Gb/s ports
4 x SATA II 3Gb/s ports
RAID Function
Intel SATA RAID 0/1/10/5
LIS SAS RAID 0/1/10/1E
Expansion Slots
4 x PCIe x16 (@Gen3 x16 bus) slots
3 x PCIe x16 (@Gen3 x8 bus) slots
Support 4-way NVIDIA SLI and AMD CrossFireX technologies
Internal I/O Connectors
1 x 24 pin power connector
2 x 8 pin power connectors
2 x CPU fan headers
4 x System fan headers
2 x USB 3.0 vertical type A ports
1 x USB 3.0 header
1 x USB 2.0 header
1 x Front audio header
1 x Front panel header
2 x SATA 6Gb/s connectors
4 x SATA 3Gb/s connectors
8 x SAS 6Gb/s connectors
1 x TPM module connector
Back Panel Connectors
4 x USB 3.0 ports
4 x USB 2.0 ports
1 x PS/2
6 x Audio jacks
3 x RJ45
1 x VGA
1 x COM
1 x ID check button
Server Management
Aspeed AST2300
IPMI 2.0
iKVM
PSU Connector
1 x 24 pin power connector
2 x 8 pin power connectors
GA-7PESH3
Dimension
EEB
330W x 305H (mm)
CPU
Dual LGA2011 Socket
Supports Intel® Xeon® processor E5-2600 product family
Chipset
Intel® C602
Memory
16 x DIMM slots support Registered or ECC Unbuffered memory
Quad channel memory architecture
Up to 512GB RDIMM ECC
Up to 128GB UDIMM ECC
1066/1333/1600 MHz
LAN
Quad Gigabit Ethernet LAN ports (Intel® I350)
Management LAN
Video
Integrated in Aspeed AST2300
2D Video Graphic Adapter with PCIe bus interface
1920x1200@60Hz 32bpp

SAS
2 x Mini-SAS ports for 8 x SAS 3Gbs
SATA
2 x SATA III 6Gb/s ports
4 x SATA II 3Gb/s ports
1 x Mini-SAS connector for 4 x SATA II 3Gb/s ports
RAID Function
Intel RAID 0/1/10/5
Expansion Slots
3 x PCIe x16 (@Gen3 x16 bus) slots
2 x PCIe x16 (@Gen3 x8 bus) slot
or
4 x PCIe x16 (@Gen3 x16 bus) slots via PCIe switch
Internal I/O Connectors
1 x USB 2.0 Type A connector
1 x 24 pin power connector
2 x 8 pin power connectors
1 x PMBus connector
4 x System fan connectors
2 x CPU fan cable connectors
1 x HDD back plane board header
1 x Front panel header
1 x SATA1 port DOM support jumper
1 x SATA2 port DOM support jumper
2 x SATA 6Gb/s connectors
4 x SATA 3Gb/s connectors
1 x USB 2.0 connector
1 x Serial port cable connector
3 x Mini SAS cable connectors
1 x S3_MASK jumper
1 x Flash descriptor security jumper
1 x Clear CMOS jumper
1 x ME recovery jumper
1 x Skip supervisor password jumper
1 x BIOS recovery jumper
1 x Force to Stop FRB3 Timer jumper
1 x BIOS write protect jumper
1 x TPM module connector
1 x SATA SGPIO header
1 x IPMB connector
1 x Chassis intrusion header
Back Panel Connectors
4 x USB 2.0 ports
5 x RJ45
1 x VGA
1 x COM
1 x ID check button
Server Management
Aspeed AST2300
IPMI 2.0
iKVM
PSU Connector
1 x 24 pin power connector
2 x 8 pin power connectors
GA-6PXSV4
Dimension
ATX
244W x 305H (mm)
CPU
Single LGA 2011 socket
Supports Intel® Xeon® processor E5-1600/2600 product families
Supports Intel® Core® processor series
CPU TDP up to 150W
Chipset
Intel® C604
Memory
8 x DIMM slots support Registered or ECC Unbuffered memory
Quad channel memory architecture
Up to 256GB RDIMM ECC
Up to 64GB UDIMM ECC
1066/1333/1600 MHz
LAN
Quad Gigabit Ethernet LAN port (Intel® 82574L NIC)
Management LAN port
Video
Integrated in Aspeed AST2300
2D Video Graphic Adapter with PCIe bus interface
1920x1200@60Hz 32bpp

SAS
4 x SAS 3Gb/s ports
SATA
2 x SATA III 6Gb/s ports 4 x SATA II 3Gb/s ports
RAID Function
Intel® RAID 0/1/10/5
Expansion Slots
2 x PCIe x16 (@Gen3 x16 bus) slots
1 x PCIe x16 (@Gen3 x8 bus) slots
1 x PCIe x1 (@Gen2 x1 bus) slot
1 x PCI
Supports NVIDIA SLI and AMD CrossFireX technologies (2-way, 3-way)
Internal I/O Connectors
1 x CPU fan connector
4 x Systen fan connectors
1 x 24 pin power connector
1 x 8 pin power connector
1 x Power management connector
2 x SATA 6Gb/s connectors
4 x SATA 3Gb/s connectors
1 x Front panel header
1 x SATA SGPIO header
1 x SATA port 1 DOM support jumper
1 x SATA port 0 DOM support jumper
1 x Clear password jumper
1 x Chassis intrusion jumper
1 x Clear CMOS jumper
1 x USB 2.0 Type A connector
1 x Back plane board header
4 x SAS 3Gb/s connectors
1 x BIOS Recovery jumper
1 x USB 3.0 header
1 x USB 2.0 header
1 x SAS SGPIO header
1 x BIOS Write Protect jumper
1 x Force to Stop FRB3 Timer jumper
1 x TPM module connector
1 x Serial port cable header
1 x ME Recovery jumper
Back Panel Connectors
1 x PS/2
4 x USB 3.0 ports
2 x USB 2.0 ports
5 x RJ45
1 x VGA
1 x COM
1 x ID check button
Server Management
Aspeed AST2300
IPMI 2.0
iKVM
PSU Connector
1 x 24-pin ATX main power connector
1 x 8-pin ATX 12V power connector