Google To Bring Android To Wearables, Cars, Autos, TVs
Google today gave a preview of Android L, the next version of the Android OS, Android Wear supported by new smartwatches by LG, Samsung and Motorola, Android Auto and Android TV. Google wants badly us to start talking to our gadgets. Voice search and commands can be really helpful in certain situations, -- especially in the car and living room -- but the information that Google disclosed today is way too much in our opinion and it could be difficult to see all these applications actually becoming popular in practice.
Google's I/O 2014 event started with Sundar Pichai, Google's senior VP of Android, Chrome and apps on stage. He started by saying that "Google is beginning to think and evolve in platforms beyond mobile."
Android One was an iniative annunced today from Google. The company will produce reference mobile devices that run stock Android, have auto installed and locally relevant apps, and competent features. The design will be used by OEMs to make phones mainly for emerging markets, with cost less than $100. Micromax is one of the first hardware partners that will make an Android One handset in India this fall.
Pichai also announced the new L Developer Preview of Android, which would introduce "a fresh, new, bold look." With more than 5,000 new APIs (for non-techies, that stands for application programming interfaces) and a new, consistent design approach called material design, Google continues to evolve the Android platform.
Matias Duarte, who heads up Android software design, took the stage to talk more about how Android L will look. He said Google challenged itself to create "one consistent vision for mobile, desktop and beyond" – "something simple and intuitive." Duarte said Google wondered what the company could do with a touch screen material that responded to touch. In a video showed of Android L, it looked bright and colorful, with lots of rich blues and reds. Duarte said the inspiration for Android L comes from paper and ink. He also mentioned this version of Android for laptops, so there will be a bigger push for this software into laptops.
Duarte said Android L would make it easier for developers to decide on one design that can carry across tabelts, phones and laptops — any device. He also mentioned that Android L has been developed by the Android team in concert with other parts of Google, such as Chrome.
The "material support" in L sounds like it won't actually introduce touchscreens that physically respond to you, but rather design elements that developers can use that mimic physical elements and objects. Android will get new ripple effects and "elevations" that make it look like buttons on screen are floating.
Polymer, a UI design library for Android that Google introduced at I/O last year, was made to make it easier for developers make consistently styled apps for Android phones and tablets. It will be expanded to include design guidelines for the Web.
Dave Burke, an Android design director, announced the introduction of 5,000 new APIs. He showed off Android L's new phone dialer and contacts app, which featured a minimal design with bright colors.
Notifications on Android L will be improved too, Burke said. He showed off notifications that pop up at you when you touch them. For instance, when you swipe down on your lock-screen notifications, you'll be able to scroll through all of your notifications. Burke said this is possible because Google "merged" the notification shade and the lock screen.
Android L will also introduce a new concept called "personal locking." This will let you open your phone without a pattern lock or passcode by recognizing when you're in a location you've designated as safe - say the home or office.
Your Android L phone will also be able to recognize when devices you own and wear are nearby. For example, if you're wearing your Android Wear watch, your phone will recognize this and let you unlock your phone with a swipe up rather than a passcode, since your phone knows that you wear your watch.
Regarding hardware, a new runtime called ART has been written from the ground up for devices that run on ARM, x86 and MIPS chipsets. This means that Android L should run and behave on different Android devices more consistently and smoothly. ART, Google said, would help Android and apps run more efficiently on smartphone CPUs. And that Android L will improve GPU performance with a new developer tool called the "Android Extension Pack." With AEP, Google puts game developers on the fast track to bring modern game engines to mobile devices. AEP adds new extensions to OpenGL ES, the mobile graphics standard, bringing PC and console-class features like tessellation and compute shaders to Android.
Google worked with graphics chip makers such as Nvidia to improve graphics rendering on smartphones and tablets. During the event, a game demo from developer Epic Games looked near console quality - lots of lighting details and impressive 3D graphics. Google made a bold claim saying that new phones and tablets coming in the fall, running Android L, would offer graphics on par with PC gaming.
Android L is also bringing some tweaks coming at the system level in order to save battery power and use it to drive bigger, higher-res screens.
The L Developer Preview will be available for download at developer.android.com tomorrow morning.
Avni Shah, the director of Chrome product management, appeared on on stage to talk about designing for the mobile Web. She showcased a new version of Chrome for Android with a grayed out URL bar up top, and a gray menu bar on the bottom. The back, home and menu buttons on Android L are new – they're now a triangle (instead of a back arrow), a circle (instead of an icon that looks like a little house) and a square (instead of the old menu button that was a square with three lines in it).
She demoed the new view that Chrome users see when looking at all of their Chrome tabs. No longer are Web pages floating in Chrome, in a black screen. Instead, they're now floating as tiles over the top of your home screen, alongside other Android apps you have open in the background.
The tab multitasking looked nice, but it looked also similar to what is in Apple's iOS.
Links on the Web can now open up Android apps. Shah showed a demo where she searches for a restaurant and an Open Table link opened up the Open Table app, rather than its mobile site, since the app was already installed on the demo device.
Pichai moved on to talk about security, saying that Google takes it seriously and is adding new malware protections to Android through Google Play services, and new "factory reset protection" that will let people reset lost or stolen phones remotely.
In L, Google is introducing "foundational principles" that will inform the development of Android going forward — Chrome as well.
Pichai said Android will be contextually aware, voice enabled, and seamlessly linked to wearables and other connected screens like your car. He said the idea is that your car, watch, home, TV, laptop, phone and tablet will all be in sync and offer you the information you need at the time and place you are at.
David Singleton, an Android Engineering Director, talked about Android Wear. He said that style is important when it comes to wearables, and because of that, Android will support both square and circular screens.
Since your watch will be voice activated, it will offer answers to your questions. Singleton said your Android Wear watch will be "your key to a multiscreen world."
He showed a demo of the LG G Watch. It has an always-on screen. Any time your Android phone gets a notification, it'll be sent to your Android Wear watch - which means buzzing, and possibly an audio alert too.
Android Wear will use location tracking to know when you are at home or at work, and it will do this by staying in sync with your phone.
During a demo, Singleton asked his LG G Watch to play music and it plays Chromeo, with album art popping up over a tile with the song's title and a play-pause icon. Android Wear will be also able to also track your heart rate and display your boarding pass.
The Android Wear interface looks quite clean and similar to Google Now.
Singleton says Android Wear apps should offer important information at a glance and, so far, the stuff he's showing seems to have that "glanceability" nailed. That said, if you pick up an Android Wear watch, you'll be swiping your wrist a lot. Want to pull up a new app? You'll swipe to it. Want to dismiss a notification? That's a swipe too.
Singleton said that a full Android Wear software developer kit (SDK) will be made available to developers so they can get started on building their own apps. He also demoed an Eat 24 app that let him swipe to the pizza place he wanted to order from, then swipe to decide what he wants to order, and then tap to pay. He ordered a pizza in about 20 seconds.
Another feature for Android Wear: activating a time on your wrist with swipes or voice actions.
"Android Wear will offer e information at a glance . Just say "Ok Google" to ask questions or to get stuff done. Get alerted when it's time to leave for dinner. Call a cab to take you there. See the traffic on the way. Text a friend once you're seated. It's all right there, on your wrist, easy to see, right when you want it."
Singleton said the Samsung Gear Live and LG G Watch - two Android Wear wearables - will go on pre-order later today on Google Play.The Motorola Android Wear watch won't go on sale until later this summer.
The Samsung Gear Live features Samsung's signature Super AMOLED display. it offers easy customization of the clock face and utilizes simple one-touch device wakeup for instant access. The Gear Live meets IP67, protecting the device against the effects of dust and water immersion, and comes with a standard 22mm band, so you can change the band. Finally, the watch allows you to better manage your health and fitness with a built-in heart rate monitor that works with multiple fitness apps.
Android Wear shows targeted information and suggestions in real-time. The variety of Android applications compatible with the Gear Live means you can receive the latest posts and updates from social apps, chats from preferred messaging apps, and regular notifications from shopping, news or even photography apps.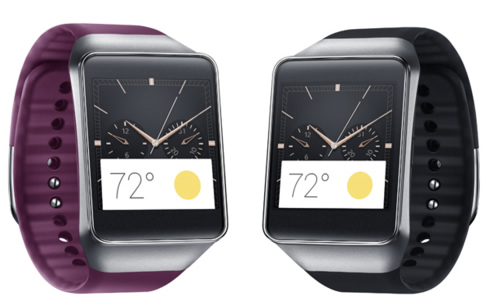 The new device also offers voice commands; just say "Ok Google" to ask questions like what time your flight leaves or the score of the game, or to get stuff done, like calling a taxi, sending a text, making a restaurant reservation or setting an alarm. The Gear Live can be paired with any Android device running Android 4.3 or higher.
The Gear Live will be offered in Black and Wine Red with interchangeable strap options. It will be available to order from June 25th through the Google Play Store and will subsequently go on sale in Samsung Retail Stores.
The LG G Watch is featuring a button-less design, a Qualcomm Snapdragon 400 processor clocking in at 1.2GHz paired with a low power consuming Always-On 1.65-inch IPS display. The Always-On screen makes it easy to tell the time with a quick glance. Connected via Bluetooth, the LG G Watch displays messages, shows who's calling, controls music play-back and more without the smartphone ever having to be removed from a pocket or bag.
And with an Ingress Protection rating of IP67, the LG G Watch is designed to be protected from dust and water resistant for up to 30 minutes to a depth of one meter. The LG G Watch will be available in two colors - Black Titan and White Gold - and is constructed of PVD (Physical Vapor Deposition) coated stainless steel with a rugged silicone wristband in matching color.
The LG G Watch will be available for pre-order on the Google Play Store starting June 25 in 12 countries including key markets such as the United States, Canada, UK, France, Germany, Italy, Spain, South Korea and Japan. The LG G Watch will also be available soon after at retailers in 27 markets such as Australia, Brazil, Mexico, New Zealand, Singapore and Russia.
It seems Google wants any type of app to be available on your wrist. That's a risky move. Many apps make sense, others don't.
Google also moving on to Android in the car. Patrick Brady appeared on stage talking about Android in your dashboard. He says Google wants to stamp out the number of people who use their phones while driving, introducing Android Auto.
Android Auto will focus on navigation, communications (phone calls) and music. Android Auto will be completely voice enabled. And it'll be contextually aware.
"Just connect your Android phone to a car with Android Auto, and you'll have what you need at your fingertips such as turn-by-turn navigation from Google Maps, your curated playlists and radio stations through Play Music, simple-to-use voice search, and reminders from Google Now. This is accessible through your car's controls," Google said.
Android Auto, on a display built into the dashboard, connects to your phone to bring up Google Now cards with navigation and music suggestions. Android Auto looks a lot like Android Wear, which looks a lot like Google Now on your phone.
Turn-by-turn navigation, traffic and other Google Maps features show up in Android Auto because your phone powers the software. Brady said that the more powerful your phone is, the more capable Android Auto will be.
For developers, Android Auto will make developing apps for the car much like making apps for the phone. An Android Auto SDK will be released soon, Google said.
"With just a few lines of code," Brady said, developers will be able to make apps that work on Android Phones — and Android Wear watches work in cars, too. He said the first Android Auto compatible cars will roll off the lot later this year.
Some 40 new automakers have signed up for Android Auto including:
Honda (and its luxury brand Acura), Audi, Bentley, Chevrolet, Chrysler, Dodge and its parent company Fiat, Ford, Hyundai, Maserati, Mazda, Mitsubishi, Opel, Nissan, Seat, Subaru, Volkswagen and Volvo.)
Google's fourth or fifth try at the living room is Android TV, which is also based on the new L software version. Android TV brings Android apps and games to your living room. Android is baked directly into your TV-watching experience, through a set-top box or as part of your TV. You can use voice search to find a live TV show, a good flick from Google Play, or a music video on YouTube. Plus, because it's Android, you'll be able to play Android games, reimagined for TV and with a gamepad.
Burke demoed a user interface for Android TV that looks a lot like Netflix's website and PlayStation 4 apps. Large tiles here show movies and TV shows you can watch.
On Android TV's home screen, the first thing you see are recommendations, but beneath that you can see what you've recently viewed so you can pick up where you left off.
Of course, Android TV has search. Burke spoke into his Nexus 5 smartphone and searched for "Breaking Bad." It returned cast info, YouTube clips and, of course, the show itself so you can watch.
Android TV will also let you play games on your TV. It will support multiplayer games too - Burke played "NBA Jam" on his TV, using a controller, against a friend who is playing on a tablet.
Sometimes you just want to cast, or send content, music and movies from your phone, so Android TV will also have full support for Chromecast features.
Burke said that Sony, Sharp and TPVison will deliver Android TVs later this year and into next year. And that Asus and Razer will introduce streaming boxes powered by Android TV later this year.
Rishi Chandra, a Chromecast product manager, took the stage talking about Chromecast. He introduced the new "Chromecast ambient experience" that is essentially a screensaver for your TV. It'll feed your photos, or scenic nature shots that Google is supplying, on your TV screen when you're not watching TV.
"Your TV is now the biggest photo album in your house," Chandra said. "Grandparents everywhere are going to love this feature."
You also will be able to ask Google Now "what's on my Chromecast" when it is in ambient mode, and a Google Now card will show you the photo and a description of what the photo is. Chandra said these features will come later this year in Android L.
Google Chromecast update will also allow you to cast to your TV without needing to be on the same WiFi network, and cast exactly what is on your Android phone or tablet screen directly to the TV.
Pichai was back on stage to talk about Chromebooks. All 10 of the highest rated laptops on Amazon.com today are Chromebooks, he said.
So Google Now notifications will show up on Chromebooks. And, Android apps too. "We're in the early days," Pichai said of Android apps running on Chromebooks. He showed a demo of Evernote's Android app running on a Chromebook.
Pichai said that almost all Chromebook users have their phones on them, so Android L will introduce features that connect your phone to your laptop. If your Android L phone is near your Chromebook, your Chromebook will recognize it and unlock your laptop and automatically log you in.
Twitter's Vine app, were also demoed, poped up in a phone sized window, and worked just like the phone app. You can scroll up or down in the portrait view, watching videos as you'd like.
The point of all this, Pichai says, it to connect all of your devices to provide "one seamless computing experience."
In addition, Google Drive data will now be encrypted in transit and "at rest on our servers," which will make Drive ideal for the enterprise, Pichai said. And Drive will now be $10 a month per user for unlimited storage.
As part of that app testing, Google announced it is buying Appurify, a company that makes emulation software that let's developers test how their apps will work on a wide range of devices. It lets developers simulate the performance of different mobile networks.
Google is also rolling out a developer preview of Google Fit, so developers can make apps that'll take data from multiple sources (fitness bands, bike computers, smart scales) that work with Android apps. Fit functions similarly to recently introduced services from Apple and Samsung.
Google Fit should result in more comprehensive apps that give users a rounded picture of their health and fitness levels. "So if a user grants permission, apps can have access to a user's entire fitness stream to give better recommendations through this additional context," Google said.
Users will be able to choose who their fitness data is shared with and also delete this information at any time. The platform will also allow developers to tap into other fitness trackers and monitors; Nike has already pledged its support so other apps and wearables can leverage its unique NikeFuel information.
The Google Fit Platform Preview SDK will be available "in just a few weeks," Google added.
Samsung Gear Live specifications

Display

1.63" Super AMOLED (320 x 320)

OS

Android Wear

Processor

1.2 GHz Processor

Google Services

Google Now, Google Voice, Google Maps & Navigation, Gmail, Hangouts

AdditionalFeatures

Notification (SMS, E-mail, etc.)

Heart Rate Monitor

IP67 Dust and Water Resistant

Changeable Strap, Color Options: Black and Wine Red

Connectivity

Bluetooth v4.0 LE

Sensor

Accelerometer, Gyroscope, Compass, Heart Rate

Memory

RAM: 512MB

Storage: 4GB Internal Memory

Dimension /Weight

37.9 x 56.4x 8.9 mm, 59g

Battery

Standard Battery, Li-ion 300mAh
Key Specifications LG G Watch:
Chipset: Qualcomm Snapdragon 400 processor
Display: 1.65-inch LCD IPS (280 x 280)
Memory: 4GB eMMC / 512MB RAM
Battery: 400mAh
Operating System: Android Wear (compatible with smartphones running Android 4.3 and above
Size: 37.9 x 46.5 x 9.95mm
Weight: 63g
Connectivity: Bluetooth 4.0
Sensors: 9-Axis (Gyro / Accelerometer / Compass)
Color: White Gold/ Black Titan
Others: Dust and Water Resistant (IP67)