Google Clips AI-powered Camera and new Google Buds headphones with Google Assistant
Google's hardware announcements today continue with the new Pixel Buds headphones that combine Google smarts and great digital sound, along with the Google Clips tiny camera powered by machine learning and AI.
Google Pixel Buds wireless headphones
Google also today unveiled new Pixel Buds headphones, that combine Google smarts and digital sound. You'll get touch controls that put the Assistant just a tap away, and they'll even help you communicate in a different language.
These wireless headphones have a unique fabric loop, making them comfortable, secure, and quick to adjust without having to swap out pieces. All the audio controls are put into a touchpad on the right earbud, so there aren't any buttons hanging on the cord. Just swipe forward or backward to control volume and tap to play or pause your music. Charging and storing them is easy-they nestle right into a pocket-sized charging case that gives you up to 24 hours of listening time. And pairing them is a cinch. Just open the charging case near your Pixel or Android phone running Android 7.0 Nougat or higher with the Assistant, and your phone will automatically detect them and ask you if you want to connect.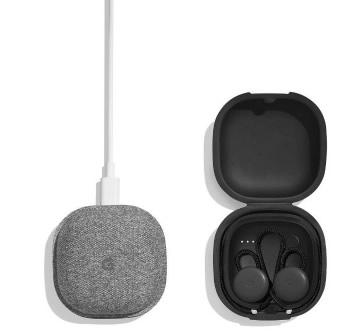 Touch and hold the right earbud to ask your Assistant to play music, make a phone call, or get directions, all without pulling out your phone.
Pixel Buds can even translate between languages in real time using Google Translate on Pixel. Say you're in Little Italy, and you want to order your pasta like a pro. All you have to do is hold down on the right earbud and say, "Help me speak Italian." As you talk, your Pixel phone's speaker will play the translation in Italian out loud. When the waiter responds in Italian, you'll hear the translation through your Pixel Buds.
Pixel Buds come in three colors-Just Black, Clearly White and Kinda Blue. They'll be available in November for $159 in the U.S. and are available to pre-order today. They're also coming to Canada, U.K., Germany, Australia and Singapore in November.
Google Clips camera
Google Clips is a new tiny camera that allows you to capture moments-all powered by machine learning and AI. This camera sends clips to your phone, and even edits and curates them for you.
The hands-free camera can be set down on the coffee table when the kids are goofing around or clip it to a chair to get a shot of your cat playing with its favorite toy. There's also a shutter button-both on the camera and in the corresponding app-so you can capture other moments or subjects.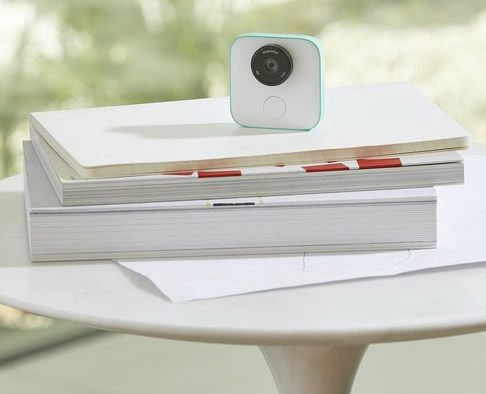 Google has put machine learning capabilities directly into Clips so when you turn it on, the camera looks for good moments to capture. You can help the camera learn who is important to you so when grandma comes in town, you'll capture the grand entrance.
The camera shoots short motion photos that last several seconds.These are called "clips". Your clips sync wirelessly and in seconds from the camera to the Google Clips app for Android or iOS. Simply swipe to save or delete your clips, or choose an individual frame to save as a high-resolution still photo. You can view and organize anything you've saved in Google Photos (or your favorite gallery app). And if you're using Google Photos, you can backup unlimited clips for free.
Google Clips is coming soon to the U.S. for $249. In this first edition, Clips is designed specifically with parents and pet owners in mind. It works best with Pixel, and also works with Samsung S7/8 and on iPhone (6 and up).
Google Clips tech specs
Operating System: Android 7.0 Nougat or higher
Length: 1.9 in (49 mm)
Width: 1.9 in (49 mm)
Height: 0.8 in (20 mm)
With clip stand:
Length: 2.1 in (54 mm)
Width: 2.1 in (54 mm)
Height: 1.4 in (36 mm)
Weight
Without clip: 1.5 oz (42.2 g)
With clip: 2.1 oz (60.5 g)
Clip: 0.65 oz (18.3 g)

Camera

Motion photos (JPEGs with embedded MP4s), MP4, GIF, JPEG. No audio.
Auto focus adjustment
1.55μm pixels
Low Lux/Night Mode: Auto
130-degree field of view
16 GB storage

Wireless

Wi-Fi Direct
Bluetooth LE

Port: Single USB-C
Color: White
Battery: Up to 3 hours of smart capture