Google Launches All Access Music Service, Updated Maps, New Android-based Samsung Galaxy S4 at Google I/O
This morning, Google kicked off the 6th annual Google I/O developer conference with over 6,000 developers at Moscone Center in San Francisco, and many new announcements. Google underlined its focus on its two open platforms: Android and Chrome. They enable developers to reach as many people as possible with their apps and services across multiple devices. Android started as a simple idea to advance open standards on mobile; today it is the world's leading mobile platform and growing rapidly. Similarly, Chrome launched less than five years ago from an open source project; today it's possibly the world's most popular browser.
Google made several announcements today designed to give developers even more tools to build great apps on Android and Chrome.
Here's a quick look at some of the announcements Google made at I/O:

- Android & Google Play:
In addition to new developer tools, Google unveiled Google Play Music All Access, a monthly music subscription service with access to millions of songs that joins Google's music store and locker. You can create a radio station from any song or artist you love, browse recommendations from Google's expert music team or explore by genre. And when millions of songs just aren't enough, Google Play Music lets you combine its collection with your own collection. You can store 20,000 songs for free in the cloud and listen to them alongside the All Access catalog.
All three major record labels - Vivendi's Universal Music Group, Sony Music Entertainment, and Warner Music Group Corp. - are part of the All Access service.
It's $9.99 a month, and you can try it free for the first month. Or better yet, start your trial by June 30 and you'll pay $7.99 a month.
Google music service is challenging smaller companies like Pandora and Spotify in the market for streaming music.
At $9.99 a month, Google's service is costlier than the $3.99 required for Pandora, but on par with Spotify.
- Google Play game services
with real-time multiplayer and leaderboards. For users, this means that you'll be able to challenge your friends on Google+ to real-time multiplayer competitions, or race against them to the top of the leaderboards.
Also, coming next month to Google Play is a special Samsung Galaxy S4, which brings together cutting hardware from Samsung with Google's latest software and services - including the user experience that ships with our popular Nexus devices. Google worked closely with Samsung to create a special Samsung Galaxy S4 exclusively for Google Play. Starting June 26, it will be available with no contract for $649, supporting both T-Mobile and AT&T, with LTE.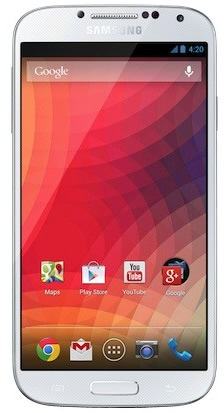 -
Chrome:
With over 750 million active users on Chrome, Google is now focused on bringing to mobile the speed, simplicity and security improvements seen on the desktop. Google previewed next-generation video codec VP9 for faster video-streaming performance; the request Autocomplete API for faster payments; and Chrome Experiments such as "A Journey Through Middle Earth" and Racer to demonstrate the ability to create immersive mobile experiences not possible in years past.
- Google+:
Google unveiled the newly designed Google+, which helps you easily explore content as well improve your online photo experience to give you beautiful photos - without the work. The photo-management tool will pick out the best shots from a wide assortment of photos. The automatic photo selection is done by calling upon Google's knowledge of the elements that make up a visually pleasing picture, coupled with facial recognition technology and a vast database that helps tie together the relationships of people appearing in a photo.
If the photos don't look quite right, Google is promising to enhance them. Editing tools will automatically remove red eyes, sharpen colors and adjust contrast.
Another new photo feature promises to stitch together a sequence of photos taken of the same group of people or a panoramic scene.
Google Plus will also start to display automatic hash tags to identify the main topic being discussed in a post or featured in a photo. Google is using its understanding of semantics and photo-scanning technology to figure out what is going on. Individuals will still have an option of editing or forbidding a hash tag from appearing if they don't agree with Google's automatic selection. Clicking on the hashtag will take Google Plus users to other posts and pictures bearing the same marker. Similar content being shared by family and friend is supposed to show up first, thanks to the same ranking system that Google's search engine uses to pick out the most relevant results.
Google also upgraded Google+ Hangouts - the popular group video application - to help bring all of your real-life conversations online, across any device or platform, and with groups of up to 10 friends.
Google claims that 190 million people are now active in the Google+ stream, and 390 million are active across Google (+1'ing apps in Google Play, making video calls in Gmail, sharing videos from YouTube...).
- Search:
Google added the ability to set reminders by voice and we previewed "spoken answers" on laptops and desktops in Chrome - meaning you can ask Google a question and it will speak the answer back to you.
Google also expanded it to make search more intelligent in other languages. And starting today, you'll get richer answers from the Knowledge Graph if you speak Polish, Turkish, and Traditional and Simplified Chinese.
- Maps:
Google previewed the next generation of Google Maps. Each time you click or search, Google's technology draws you a tailored map that highlights the information you need. From design to directions, the new Google Maps is smarter and more useful.
Like a friend drawing you a map to her favorite restaurant, with only the roads and landmarks you need to get there, the new Google Maps instantly changes to highlight information that matters most.
And the more you interact with the map, the better it gets. When you set your Home and Work locations, star favorite places, write reviews and share with friends, Google Maps will build even more useful maps with recommendations for places you might enjoy.
In addition to a customized map, Google also made it easier to uncover the best local gems. Search results are labeled directly on the map with brief place descriptions and icons that highlight business categories and other useful information - like restaurants that are recommended by your Google+ friends. Info cards provide information such as business hours, and ratings and reviews so you can quickly decide where to eat, drink and play.
The new carousel gathers all Google Maps imagery in one spot enabling you to fly through cities, walk canyon trails, climb mountains, and even swim the oceans. And on a WebGL-enabled browser, like Google Chrome, the carousel is also where you'll find the Earth view which directly integrates the 3D experience from Google Earth into the new maps.