Google Play Music App To Follow Your Mood
Starting today, Google's music-subscription service will find the right music for your mood through the updated Google Play Music app. This is Google's first integration with Songza, a company the search giant acquired this summer that gives you expert curated music stations based on what you're doing. So if you're a Google Play Music subscriber, next time you open the app you'll be prompted to play music for a time of day, mood or activity. You can choose an activity to get options for several music stations to make whatever you're doing even better - whether it's a station for a morning workout, songs to relieve stress during traffic, or the right mix for cooking with friends. Each station has been handcrafted - song by song - by our team of music experts.
Six different music mixes created for different emotions and activities - with such labels as "Jumping Out of Bed" or "In The Lonely Hour" - will be automatically displayed for All Access subscribers in the U.S. and Canada.
You can download these music stations to listen when you're offline, see what song is up next, and add, remove or re-order them to suit your taste. Or you can start a new station based on any song in the mix. You can also search for a particular station you want or activity you want to find music for.
As part of this update, Google also redesigned the "Listen Now" page so you can more easily discover new music. Now you'll see cards for all of your recently played music, new releases you might be interested in, and radio stations based on what you like to listen to.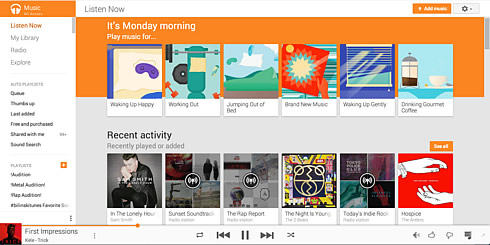 The new activity-based station recommendations are available today for subscribers in the U.S. and Canada (Android, iOS and the web). The redesigned "Listen Now" page is available in all 45 countries where Google Play Music is available (for Android, iOS and the web).
Google's All Access service launch just 17 months ago. The company hasn't disclosed how many people subscribe to its All Access service, which offers a music library spanning 30 million titles.
Pandora Media's free Internet radio station boasts 76 million monthly listeners, while Spotify has 40 million listeners, including more than 10 million subscribers to its $10-per-month service.
Combining human knowledge with a computer's analytical powers is similar to what Beat Electronics was doing with its own music-streaming service before Apple bought it earlier this year. Apple has said Beats' recommendation system eventually might be blended into its own music-streaming service.

Seperately Microsoft today intorduced the Microsoft Music Deals app, which brings hit music albums to your Windows PC, Tablet or Phone for $.99-$1.99.
Every Tuesday, 101 top albums can be yours for under $2 each with the Microsoft Music Deals app. You'll also be able to listen to debut albums at $.99 and classics for just $1.99. Just choose the album you want in the Microsoft Music Deals app and it'll take you to the Xbox Music app in Windows 8/8.1 or Windows Phone 8/8.1 to download-to-own. The app will give you Live Tile updates and push notifications when new deals become available.
The app is available from the Windows Store and from the Windows Phone Store.