G.Skill Ripjaws DDR4 Will Be Available Up to DDR4-3200
As the official release data of the Intel X99 platform approaches, memory manufacturers are showcasing their compatible DDR4 memory modules. The latest one announced is the Ripjaws 4 DDR4 from G.Skill, which comes with a new heatspreader design. According to the memory's specs, the 1.2 volts are standard on 2133 MHz to 2800 MHz kits, with the higher performance modules at >3000 MHz and above are requiring 1.35V.
G.Skill's 1.2 volt modules will be available in 16GB, 32GB and 64 GB kits. The DDR4-3000 C15 will be in 16GB or 32GB kits, DDR4-3000 C16 will be in a kit 32GB and the top line 3200 MHz C16 will be in a 16GB kit only:

G.Skill's modules are also fully supporting XMP 2.0 and their design matches the 40mm height of previous Ripjaws designs, allowing previous CPU coolers to be matched with this generation.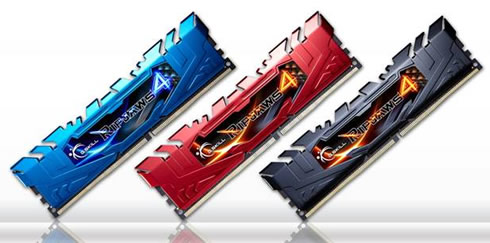 Preorder pricing puts these modules at:
DDR4-2133 C15 4x4GB: $260
DDR4-2400 C15 4x4GB: $280
DDR4-2666 C15 4x4GB: $300
DDR4-3000 C15 4x4GB: $400
DDR4-2133 C15 4x8GB: $480
DDR4-2400 C15 4x8GB: $530
DDR4-2666 C15 4x8GB: $550