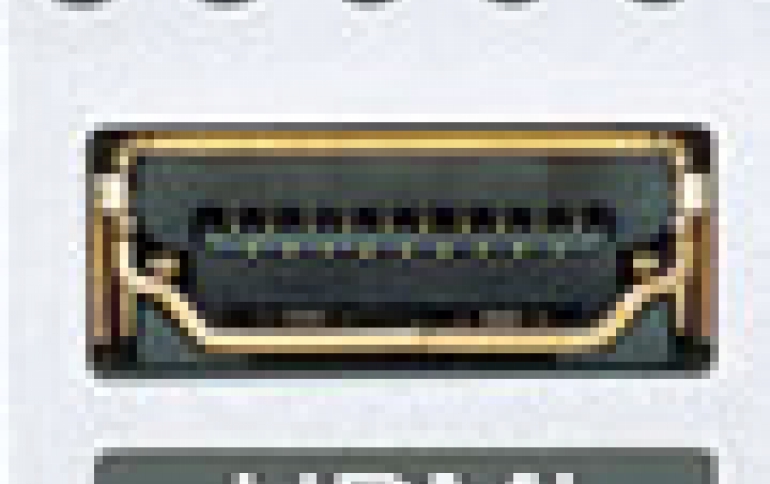 HDMI 1.3 Doubles Bandwidth, Adds Deep Color
The HDMI Founder companies released a major enhancement of the High-Definition Multimedia Interface (HDMI) specification, which will enable the next generation of HDTVs, PCs and DVD players to transmit and display content in billions of colors with high accuracy. The HDMI 1.3 specification more than doubles HDMI?s bandwidth and adds support for Deep Color technology, a broader color space, new digital audio formats, automatic audio/video synching capability (?lip sync?), and an optional smaller connector for use with personal photo and video devices. The update reflects the determination of the HDMI founders to ensure HDMI continues evolving ahead of future consumer demands.

The update arrives at a time of strong momentum for the HDMI standard. HDMI Licensing, LLC today announced that more than 400 makers of consumer electronics and PC products worldwide have adopted HDMI. Market researcher In-Stat expects 60 million devices featuring HDMI to ship in 2006.

"PLAYSTATION 3 will be the most advanced computer platform for enjoying a wide range of entertainment content, including the latest games and HD movies, in the home," said Ken Kutaragi, president and group CEO of Sony Computer Entertainment, Inc. "By introducing the next-generation HDMI 1.3 technology, with its high speed and deep color capabilities, PS3 will push the boundaries of audiovisual quality to the next level of more natural and smoother expression on the latest large flat panel displays."

With the adoption of Deep Color and the xvYCC color space, HDMI 1.3 removes the previous interface-related restrictions on color selection. The interface will no longer be a constraining pipe that forces all content to fit within a limited set of colors, unlike all previous video interfaces.

New HDMI 1.3 capabilities include:

- Higher speed: HDMI 1.3 increases its single-link bandwidth from 165MHz (4.95 gigabits per second) to 340 MHz (10.2 Gbps) to support the demands of future high definition display devices, such as higher resolutions, Deep Color and high frame rates. In addition, built into the HDMI 1.3 specification is the technical foundation that will let future versions of HDMI reach significantly higher speeds.

- Deep color: HDMI 1.3 supports 30-bit, 36-bit and 48-bit (RGB or YCbCr) color depths, up from the 24-bit depths in previous versions of the HDMI specification. It lets HDTVs and other displays go from millions of colors to billions of colors Eliminates on-screen color banding, for smooth tonal transitions and subtle gradations between colors, it enables increased contrast ratio and it can represent many times more shades of gray between black and white.

- Broader color space: HDMI 1.3 removes virtually all limits on color selection. Next-generation ?xvYCC? color space supports 1.8 times as many colors as existing HDTV signals, allowing HDTVs to display colors more accurately

- New mini connector: With small portable devices such as HD camcorders and still cameras demanding seamless connectivity to HDTVs, HDMI 1.3 offers a new, smaller form factor connector option.

- Lip Sync: Because consumer electronics devices are using increasingly complex digital signal processing to enhance the clarity and detail of the content, synchronization of video and audio in user devices has become a greater challenge and could potentially require complex end-user adjustments. HDMI 1.3 incorporates an automatic audio/video synching capability that allows devices to perform this synchronization automatically with accuracy.

- New lossless audio formats: In addition to HDMI?s current ability to support high-bandwidth uncompressed digital audio and currently-available compressed formats (such as Dolby Digital and DTS), HDMI 1.3 adds additional support for new, lossless compressed digital audio formats Dolby TrueHD and DTS-HD Master Audio.

Products implementing the new HDMI specification will continue to be backward compatible with earlier HDMI products.

The latest HDMI specification can be downloaded at no cost by visiting www.hdmi.org.