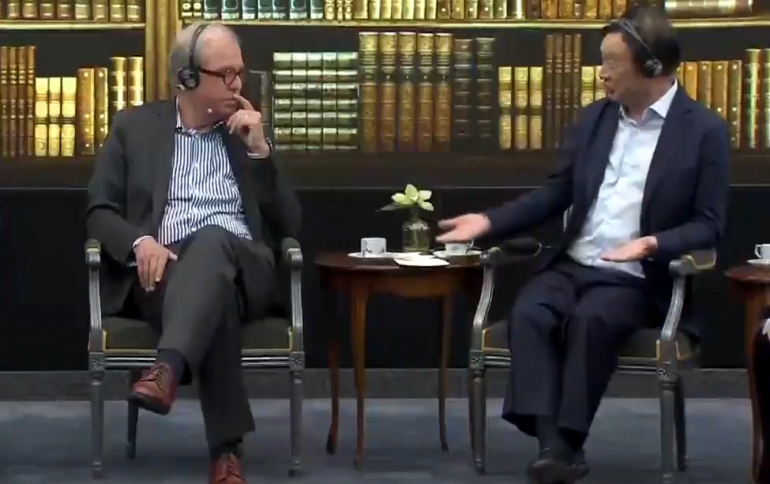 Huawei Braces for a Serious Drop in Smartphone Sales, Could Pull Honor 20 From the Market
Huawei Technologies is expecting a 40% drop in international smartphone shipments as the Trump administration's blacklisting hammers the company's important business.
Bloomberg reported on Sunday that the Chinese technology company is looking at options that include pulling the latest model of its marquee overseas smartphone, the Honor 20. The device will begin selling in parts of Europe, including Britain and France, on June 21, the report said. Executives will be monitoring the launch and may cut off shipments if the sales are poor, it said.
Mr. Ren Zhengfei, Huawei Founder and CEO, on Sunday sat down with two of the world's most prominent thinkers George Gilder and Nicholas Negroponte for 100 minutes of conversation and Q&A. The discussion was moderated by Ms. Tian Wei, host of China Global Television Network's World Insight.
Huawei had not expected that U.S. determination to "crack" the company would be "so strong and so pervasive", Ren said. Huawei's international smartphone shipments will drop 40%, Ren added, without specifying a period.
The Chinese telecom giant will reduce capacity but U.S. moves to restrict its business "will not stop us," Ren said. He said the company expected revenues of about $100 billion annually for the next two years, compared to $105 billion in 2018. In February, he said the company was targeting $125 billion in 2019.
The company had reported revenue of 721.2 billion yuan ($104.16 billion) last year, up 19.5 percent from 2017.
Ren said he expects a revival in the business in 2021.
The Chinese executive also repeated that there are no backdoors in Huawei's equipment that anyone could access, and that Huawei is willing to enter into a no backdoor agreement with any nation that wants one.
He said it never occurred to Huawei that the American government would be so determined to take such a wide range of what he called extreme measures against the company.
"I think both sides will suffer," he said. "No one will win."
"We cannot get components supply, cannot participate in many international organizations, cannot work closely with many universities, cannot use anything with U.S. components, and cannot even establish connection with networks that use such components." However, he added Huawei will not cut research and development spending despite the expected hit to the company's finances.
The United States has put Huawei on a blacklist that bans American companies from doing business with the Chinese firm. That includes updates for the Google Android system that powers all its smartphones abroad. Without that software, devices like the Honor 20 wouldn't be able to run critical apps like Google Maps and Gmail. The ban has also forced British chip designer ARM to limit or cease their relationships with Huawei.
Longer term, Huawei is developing more of its own chips and mobile software to reduce its reliance on foreign technology. The company is delving into higher-end areas such as foldable devices. But it's delaying the launch of the foldable Mate X to September to conduct more testing. Huawei has also touted a self-developed operating system as an Android alternative, but it will take time for the Chinese company to persuade developers across the globe to create separate apps tailored for the OS.
Huawei aims to grab as much as half of the smartphone market in China in 2019 to offset the decline overseas.
U.S. chipmakers try to ease Huawei ban
Meanwhile, Huawei's American chip suppliers, including Qualcomm and Intel, are reportedly pressing the U.S. government to ease its ban on sales to the Chinese tech giant.
Executives from top U.S. chipmakers Intel and Xilinx Inc attended a meeting in late May with the Commerce Department to discuss a response to Huawei's placement on the black list, according to Bloomberg.
Chip makers argue that Huawei units selling products such as smartphones and computer servers use commonly available parts and are unlikely to present the same security concerns as the Chinese technology firm's 5G networking gear.
Out of $70 billion that Huawei spent buying components in 2018, some $11 billion went to U.S. firms including Qualcomm, Intel and Micron Technology Inc.
Google also advocated so it can keep selling to the company, Huawei Chairman Liang Hua told reporters in China earlier this month.