Imagination Tech Brings MIPS Processors To Tablets
Imagination technologies wants to bring its MIPS processors to IoT devices and tablets, and has worked with Chinese Ingenicc to create a MIPS-based reference tablet. The platform is a a sub-$100 device that can run either Android 4.4 KitKat from Google or an experimental version of Firefox OS, Mozilla's own operating system.
It is featuring a 9.7" screen of 1024 x 768 resolution, a headphone socket, a Micro USB and a Mini HDMI port, two physical buttons (sleep/wake and back) and a DC power input, along with a microphone, volume controls and a pair of stereo speakers.
Hardware specifications include a 1.2 GHz dual-core, MIPS32-based Ingenic JZ4780 processor featuring a PowerVR SGX540 GPU, a H.264/VP8-capable video decoder (up to 1080p at 30 fps), and 802.11 b/g/n Wi-Fi and Bluetooth 4.0 support. The tablet also features front and rear cameras designed for WebRTC-based video conferencing or for casual photo taking and HD video recording. In addition, developers have access to the Firefox Marketplace so they can create, test and publish cross-platform HTML5 apps.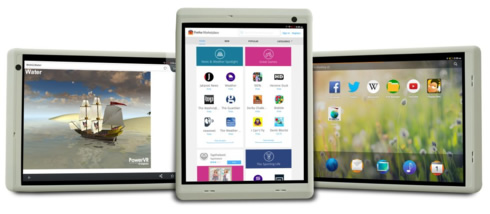 Firefox OS is built entirely on web-powered technologies such as HTML5. It is based on Gecko, a rendering engine designed by Mozilla to push pixels on mobile screens using a relatively new technology called WebGL.
WebGL is a graphics API from the Khronos Group that delivers native performance inside apps written using web-friendly technologies.
Imagination hopes that the new tablet could be used by application developers but also as ultra-affordable everyday computing devices - think sub-$50 smartphones or sub-$100 tablets.