Intel and Sinclair Build an All-Digital Hotel
Intel is collaborating with The Sinclair, Autograph Collection, in Fort Worth, Texas, on the world's first all-digital hotel.
A visit to The Sinclair is a step back in time. With the green marble entryway, the original elevator doors and the cigar boxes on display, it's 1929 again and this is a new office building. On check-in, the experience is anything but vintage.
However, with the help of Intel, the Sinclair utilizes Intel internet of things (IoT) functionality, including building and in-room sensors, IoT gateways, dashboards and restaurant sinks and appliances. Sinclair is delivering the next-generation connected guest experience through location-based analytics, as well as by utilizing the latest offerings from Cisco, SAS and other digital vendors.
Using a smartphone app, a hotel guest at The Sinclair can adjust the temperature of the room, the light settings in the bedroom and bathroom, the window shades, and even the shower temperature to the exact degree. And once The Sinclair's technology is added in hotels around the world, guests can count on their preferred settings personalizing their next hotel room before they ever step foot into it.
Intel-based technologies enable the hotel from the smart features to the reservation systems, point of sale, networking infrastructure back office, and guest services, such as mobile key and wireless charging. Intel is also providing NUCs to support the gateways, controllers, data aggregation and edge computing.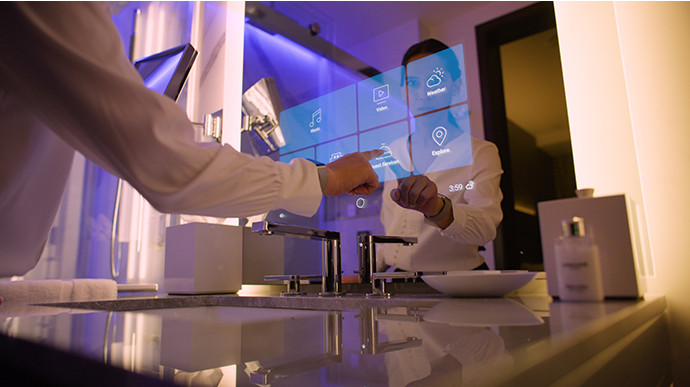 Farukh Aslam, CEO and president of Sinclair Holdings LLC, came up with the idea for the smart hotel when he had issues with an LED lighting system in a different building. He wanted a system for lights that didn't need to be connected by an electrician and didn't require proprietary software. He chose Voltserver's Power over Ethernet (PoE) to power Cisco switches. The system controls The Sinclair's more than 2,000 light fixtures, minibars and automated window shades. Each device has its own IP address and can be remotely controlled by staff and guests. The Sinclair is the first hotel to utilize this PoE technology, which is projected to cut energy consumption by 40%.
"We are great ecosystem builders and connectors, and so when we engage in a project like this, we bring that level of expertise to the table around who's the best partner to bring in to solve your business problem," says Stacey Shulman, chief innovation officer at Intel's IoT Retail Solutions Division.
Cisco's Meraki smart Wi-Fi cloud networking solution with SAS data analytics integration offers location-based analytics and personalized guest messaging. Guests who opt-in receive location-based text messages as they move around the hotel. For example, when a guest passes the bar, he may be sent a coupon for a free drink.
This technology also makes the hotel staff more efficient and improves the guest's quality of service. Mobile devices allow hotel staff to connect to reservation and property management software, so guests can check in or get their questions answered anywhere on the premises. Guests can also order food and drinks anywhere on the property through wireless point of sale systems. And for the meeting rooms, Intel Unite wireless collaboration technology allows guests and meeting attendees to collaborate on content from any of their devices.