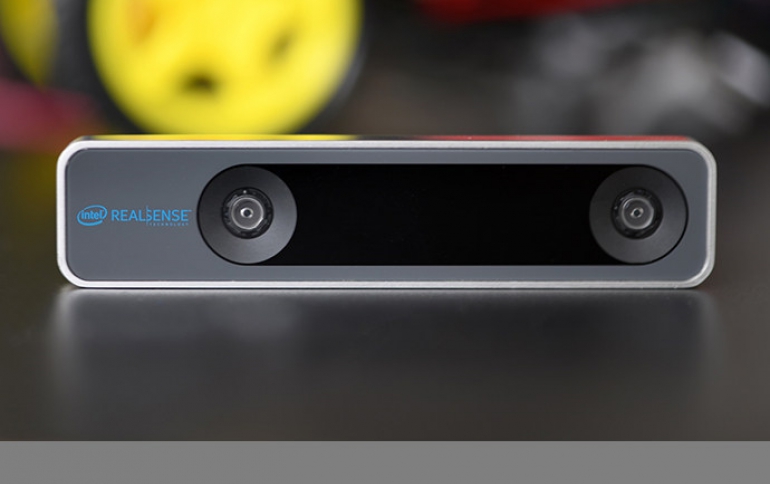 Intel Announces New RealSense Stand-Alone Inside-Out Tracking Camera
Intel today introduced the Intel RealSense Tracking Camera T265, a new tand-alone inside-out tracking device designed for autonomous vehicles, robotics, drones, augmented reality and virtual reality profucts.
The T265 uses proprietary visual inertial odometry simultaneous localization and mapping (V-SLAM) technology with computing at the edge and is key for applications that require a highly accurate and low-latency tracking solution.
The camera is powered by the Intel Movidius Myriad 2 vision processing unit (VPU), which directly handles all the data processing necessary for tracking on the machine. This makes the T265 a small footprint, low-power consumption solution that can be implemented into existing or new designs.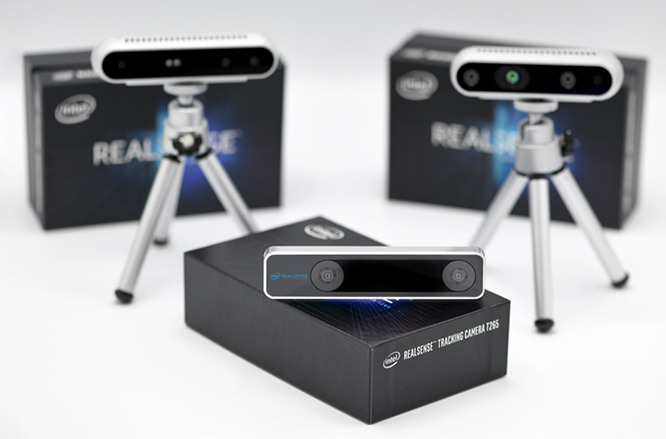 The T265 uses inside-out tracking, which means the device does not rely on any external sensors to understand the environment. Unlike other inside-out tracking solutions, the T265 delivers 6-degrees-of-freedom (6DoF) inside-out tracking by gathering inputs from two onboard fish-eye cameras, each with an approximate 170-degree range of view. The V-SLAM systems construct and continually update maps of unknown environments and the location of a device within that environment. Since all position calculations are performed directly on the device, tracking with the T265 is platform independent and allows the T265 to run on very low-compute devices.
The only hardware requirements are sufficient non-volatile memory to boot the device and a USB 2.0 or 3.0 connection that provides 1.5 watts of power.
The Intel RealSense Tracking Camera T265 is available for pre-order now, and will begin shipping Feb. 28 at $199.
| | |
| --- | --- |
| FEATURES  | BENEFITS |
| Proprietary V-SLAM | High precision Visual Inertial Odometry Simultaneous Localization and Mapping algorithms  |
| Intel Movidius Myriad 2.0 VPU  | Visual Processing Unit optimized to run V-SLAM at low power  |
| Two Fisheye lenses with combined 163 ±5° FOV  | The camera includes two OV9282 imagers with fisheye lenses for a combined, close to hemispherical 163° field of view for robost tracking even with fast motion  |
| BMI055 IMU | The Inertial Measurement Unit, allows for accurate measurement of rotation and acceleration of the device, to feed into the V-SLAM algorithms  |
| USB 3.1 Gen 1 Micro-B  | USB 2.0 and USB 3.1 Gen1 supported for pure pose data, or a combination of pose and images. Connection on the camera is Micro-B.  |
| 108 x 24.5 x 12.5 mm | Small form factor designed to mount on any device with ease  |
| 2 x M3 0.5mm post mounting sockets  | Securely attach the camera to your device with these standard mounting points on the rear of the camera  |