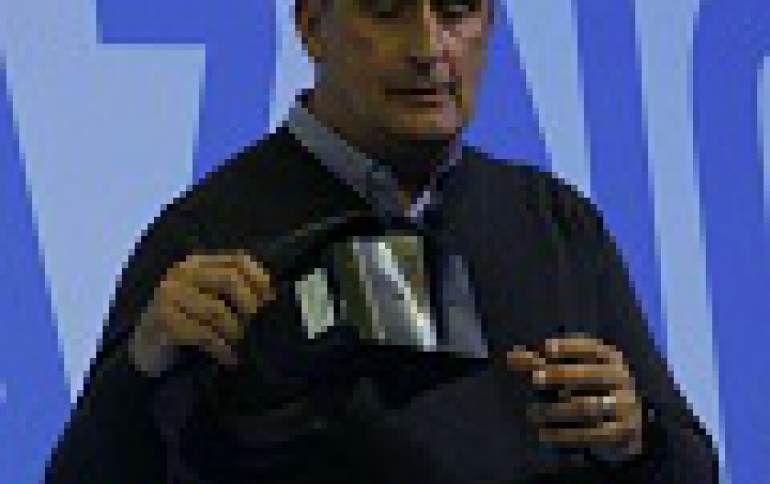 Intel To Bring Standalone Project Alloy VR Headset By The End Of the Year
Intel is bringing its Project Alloy untethered VR headset to the masses. On Wednesday, company CEO Brian Krzanich said at the company's CES press conference that it will be available in the fourth quarter of 2017.
It's still unknown how much a Project Alloy headset will cost, or even which company will make it. Krzanich said the headsets will be made available through Intel's hardware partners, but didn't provide details beyond that.
Project Alloy is designed to provide a way for people to experience high-quality virtual reality without having to tether themselves to a computer. It also has front-facing cameras to analyze the environment that users are in and make that a part of the VR experience as well.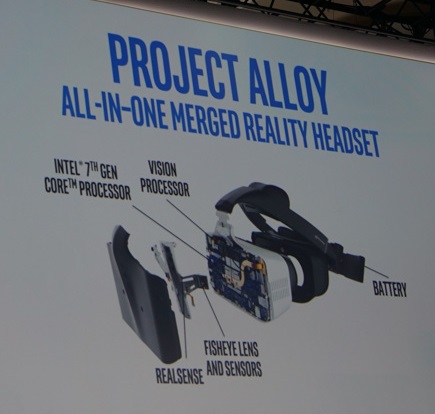 Project Alloy packs an Intel processor, twin RealSense cameras, a battery, display, headphones and more into a single package that users can wear on their heads. Applications built to take advantage of Alloy can be set up in a mixed reality mode, to either overlay digital assets over a feed of a user's surroundings, or replace those surroundings entirely with new digital imagery.
An Intel demo showed two men playing a shooting game inside of a living room set, with their couch and armchair replaced in the game by other digital objects like a bunker.
Krzanich showcased the first demonstration of a live sports event streamed with Intel's virtual reality technology. He disclosed plans to bring VOKE VR to Oculus Rift later this year. Intel will be among the first technology providers to enable the live sports experience on multiple VR devices.
Krzanich led the audience through a series of pre-recorded and live VR experiences, starting with an immersive wingsuit flight over Moab, Utah. Audience members experienced the Ban Gioc waterfall, one of Vietnam's most breathtaking natural sights. They went on a low-altitude drone-powered inspection of a Nevada solar power plant. They sat courtside at an NCAA basketball game. And they experienced a zombie apocalypse in the new "Arizona Sunshine" VR game. All the experiences were powered by 7th Generation Intel Core processor-based PCs and Oculus Rift VR headsets.
Intel and HypeVR, a computer vision company focused on developing ultra-high-resolution live action VR capture and playback with six degrees of freedom, announced that they are looking to partner to bring HypeVR volumetric video content to Project Alloy in 2017.
On Wednesday, Intel also displayed the first 10nm-powered 2 in 1 PC running Intel's next generation processor, codenamed Cannon Lake. The company expects to ship Cannon Lake chips this year.
Intel and New Balance also announced the launch of New Balance RunIQ with Intel Inside. Made for runners, by runners, the smartwatch is designed to power a full range of features that help athletes take performance to the next level with the ability to run, track, and listen untethered. Priced at $299.99, RunIQ is available for pre-order starting Jan. 5, 2017, at NewBalance.com and will be available worldwide at New Balance Stores, NewBalance.com, and other select retailers starting Feb. 1, 2017.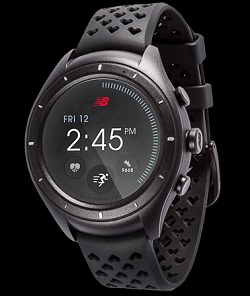 Key features include:
Sync with STRAVA - Enables runners to connect and share workouts with a global community of athletes without a smartphone through built-in capability.
Bring the Music - Sync, store and listen to playlists downloaded from Google Play Music.
Map Every Workout - Track course, pace and distance with built-in GPS.
Track Heart Rate - Monitor heart rate in real time and stay in the target zone.
Keep the Pace - Track run time and intervals with a dedicated one-tap LAP button.
Marathon Battery Life - 24 hours of battery life with typical use or up to 5 hours of continuous life with GPS and heart rate monitoring.
Stay Connected - Get smartphone notifications and reply on-the-go when connected to a smartphone or Wi-Fi network.
New Balance RunIQ is based on the Intel Atom processor Z34XX, runs the Android Wear platform and comes equipped with:
3.9" AMOLED screen
512 MB of DRAM and 4 GB of memory
GPS, optical heart rate monitoring (OHRM), accelerometer and gyroscope
Availability in English, Spanish, German, French, Italian, Korean and Japanese