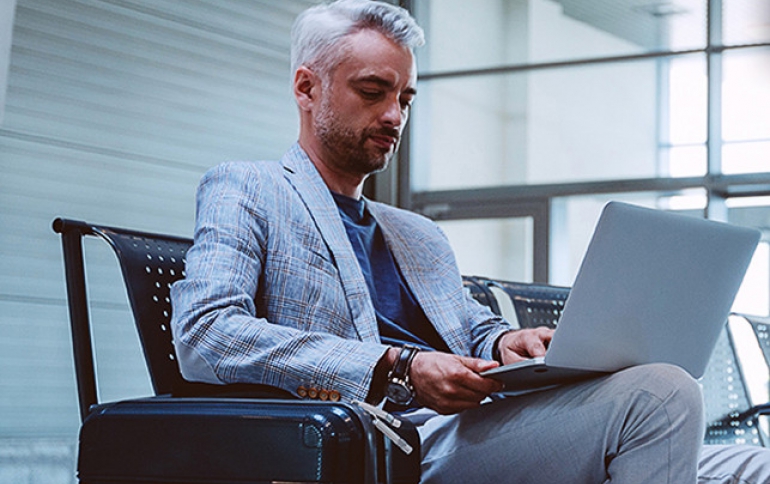 Intel Launches 10th Gen Intel Core vPro Processors For the Modern Workforce
Intel today introduced its new 10th Gen Intel Core vPro processors, built to power the next generation of business computing for the remote workforce.
Intel says that the new mobile and desktop PC processors deliver productivity improvements, connectivity, security features and remote manageability.
For more than a decade, the Intel vPro platform has empowered IT to help businesses, large and small, keep employees productive, help secure company assets and simplify fleet management. That dedication continues to expand through the latest Intel vPro platform, powered by 10th Gen Intel Core vPro processors.
Systems powered by the latest Intel vPro processors give workers the business-class performance and responsiveness, plus integrated Wi-Fi 6 (Gig+) connectivity; more reliable performance; and manageability technologies to address new and emerging challenges for IT and users. All of this can be delivered on a range of form factors: from modern devices based on Intel's Project Athena innovation program to high-performing desktop designs.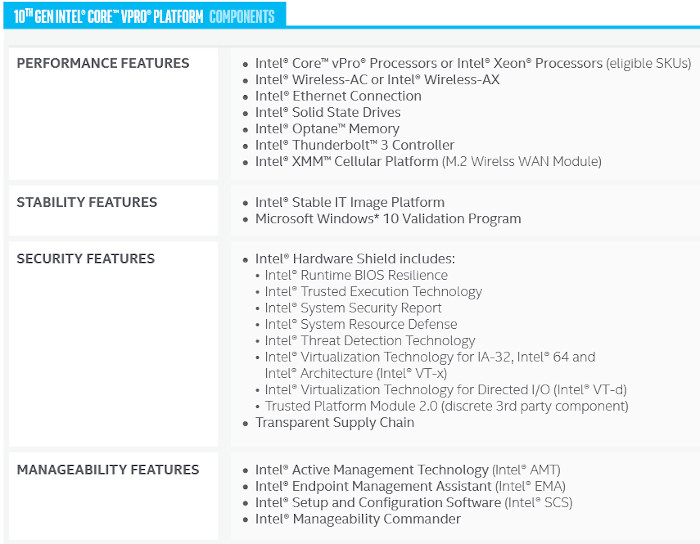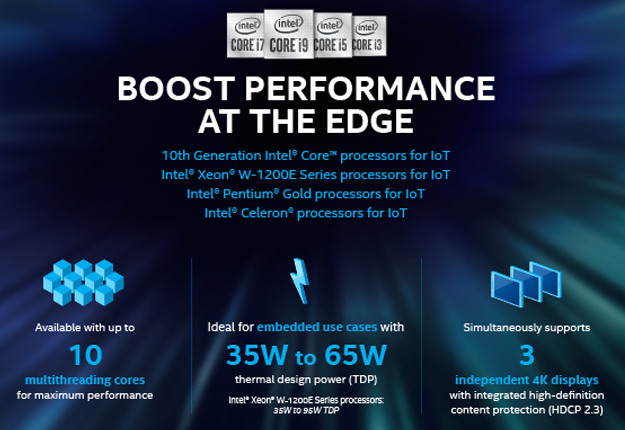 According to Intel, improvements in this generation include:
Up to 40% better overall application performance compared with a 3-year-old laptop (Measured by SYSmark 2018 Overall Score on pre-production 10th Gen Intel Core i7-10810U vs. 8/15/19 testing of 7th Gen Intel Core i7-7600U)
Up to 36% better office productivity compared with a 3-year-old laptop (SYSmark 2018 Productivity Subtest Score on pre-production 10th Gen Intel Core i7-10810U vs. 8/15/19 testing of 7th Gen Intel Core i7-7600U)
Analyze and visualize data up to 44% faster compared with a 5-year-old desktop (MS PowerBI Workload on pre-production 10th Gen Intel Core i7-10700 vs. 6th Gen Intel Core i7-6700. This workload measures the time it takes to change the data source for a Power BI Dashboard, and update the dashboard with the new data)
Nearly 3 times faster Gigabit speeds and improved performance in dense environments with integrated Intel Wi-Fi 6 (Gig+)
Responsiveness, worry-free battery life and instant resume with Project Athena-based laptops.

Intel's new 10th Gen Comet Lake vPro processors come in three flavors: mobile, desktop, and workstation. All of these processors are based on the same Comet Lake silicon launched in other 10th Gen product lines for consumers, with some additional features enabled.
Starting with the mobile CPUs, most of these are H-series class, meaning 45 W, but a few will be 15 W as well.
Desktop parts: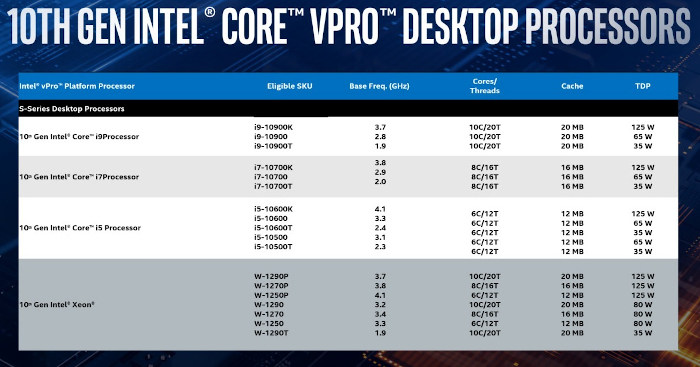 The last section of supported processors are the new W-1200 family workstation parts. Designed for Internet of Things (IoT) developers, 10th Gen Intel Core vPro processors and Intel Xeon W-1200E series based on the Intel vPro platform provide business-class performance, remote management and more – designed for applications in retail, banking, hospitality, education, healthcare, manufacturing and more.
This line of parts have support for dual channel ECC DDR4-2933 memory, up to 128 GB. They will not work in the Z490 motherboards just released onto the market, they will require new W480 motherboards.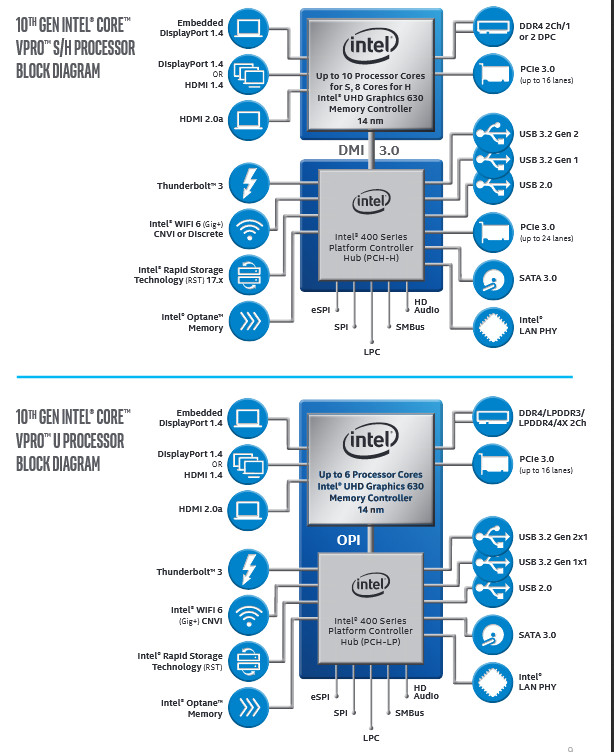 The top of the line W-1290P offers the same specifications as the Core i9-10900K, albeit without overclocking. Each of the W-1200 series have integrated GPUs. Some of the models are labelled 'P', which in this case means 'Performance' – these are the 125 W TDP processors.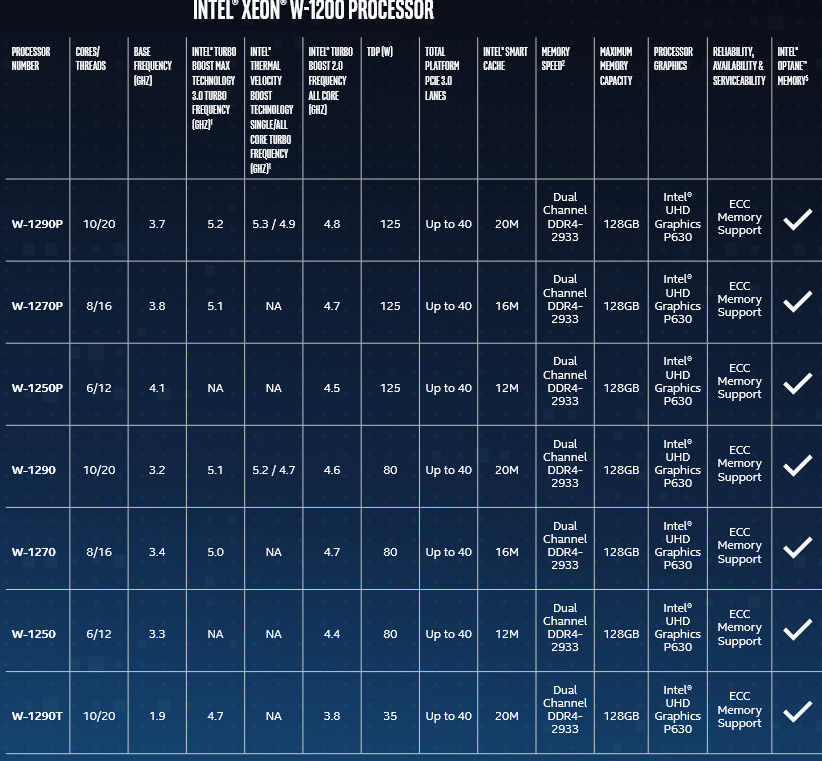 Additional new 10th Gen Intel Core vPro processor developments for security, lifecycle management and operational stability include:
Intel Hardware Shield provides built-in hardware-enhanced security features to help prevent cyber-attacks – now with advanced threat detection and extended below-the-OS protection features to help safeguard system memory resources.
Intel Transparent Supply Chain helps enable the traceability and authenticity of PC components.

Intel Active Management Technology and Intel Endpoint Management Assistance can help businesses save time and money on deskside support, PC maintenance and employee downtime with remote manageability of devices, whether on-premises or in the cloud.
PCs built with the new 10th Gen Intel Core vPro mobile and desktop processors are expected to be available from PC manufacturers over the next several months.