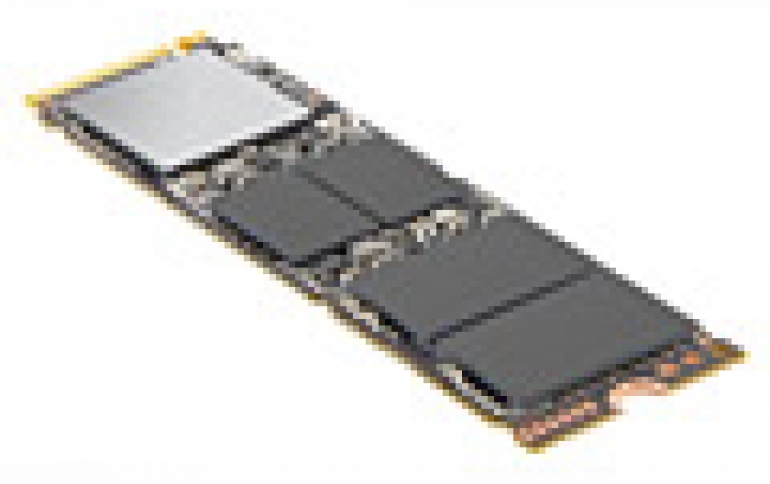 Intel Launches New 7-Series 760p SSD
Intel is introducing a new line of 7-Series SSDs starting with the 760p model. Designed for consumers, the 760p SSD offers 2x the speed with half the power use, according to Intel.
Intel actually today introduces three drives, the consumer 760p, the enterprise 7600p, and the embedded E 6100p. But the latter two will be released later in the quarter.
Compared with the consumer-oriented 760p model, the 7600p business model doesn't have encryption and manageability features, but offfer a lot more overprovisioning.
The E 6100p is also the same controller and flash as the other two but named for endurance rating according to Intel.
The 760p has two major differences from the previous generation 600p series. It uses new 64-layer TLC 3D NAND, compared to 32-layers on the 600p. In addition, it uses the new Silicon Motion SM2262 controller. Combined, the specs for the new series are improved: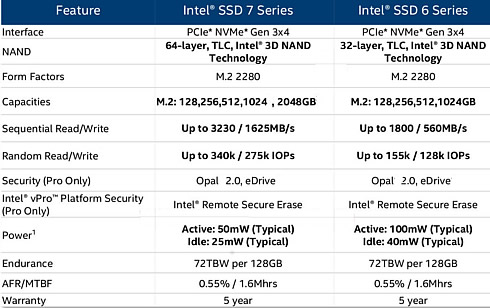 The 760p's has a 3230MBps sequential write rating. Intel rates the 760p NAND endurance at 72TB per 128GB capacity. That ends up being very similar to Samsung's newly released 860 Evo line, which has an endurance rating of 300TB per 250GB capacity.
The 760p seems to not be positioned at the very top of the performance charts, but it certainly offers overall value, compared to current SSD prices. The drives will be released in 128/256/512GB sizes for $74/109/199 respectively. Later on in the quarter Intel will release a 1TB and 2TB version.