Intel Meegopad T01 Is A Bay Trail PC On HDMI Stick
Intel has released the Meegopad T01, a USB thumb drive-sized device that runs running Windows 8.1. The stick includes a Bay Trail-T based Atom Z3735F processor, which is a quad-core part clocked at 1.33GHz with 2MB of L2 cache. It also uses up to 2GB of RAM, 16GB or 32GB of eMMC storage space, a microSD card slot, two micro USB 2.0 ports, 802.11n Wi-Fi, Bluetooth 4.0, and of course HDMI output.
The dongle, which is curently sold online for $110, can run Windows 8.1, Android, or Linux, according to the product description page on Ali Express.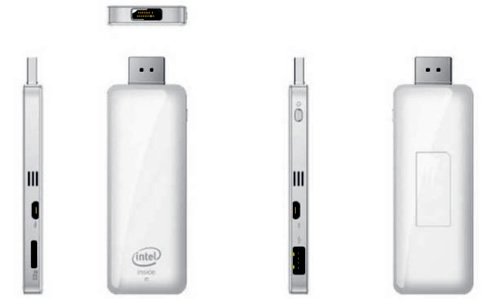 We're starting to see more and more HDMI sticks emerge. Google helped popularize the form factor with its affordable Chromecast dongle, though Google is far from the only player. Roku comes to mind, as does Matchstick, the first HDMI stick based on Firefox OS (and currently on Kickstarter) by Mozilla.
The HDMI stick measures just 3.9" x 1.5" x 0.4" (100 x 38 x 10mm) in size and weighs roughly 1.6 ounces (45g).