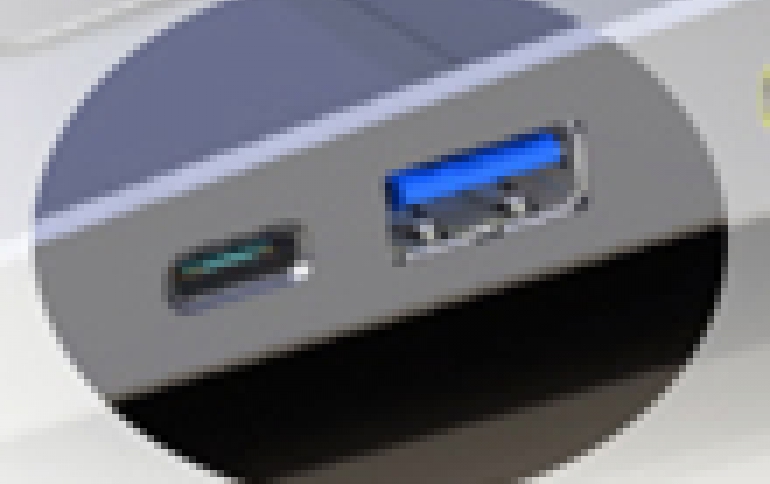 Intel Outlines New USB 3.1 Type-C Connectors, Braswell Chip at IDF 2014
Intel is preparing a new 14nm "Braswell" SoC to succeed its Bay Trail processor for affordable Chrome OS and Android devices. In addition, the company talked about the forthcoming USB Type-C cable for small form-factor platforms at IDF Shenzhen, China. Intel did not provide many details on the 14nm successor to its budget 22nm Bay Trail processors. Dubbed Braswell, this new SoC architecture is mainly aimed at the likes of affordable Chrome OS, Android devices, entry-level desktops, notebooks and convertibles. Intel says that is is working on bringing over 20 Chromebook designs to the market this year.
Braswell is expected to offer better performance and power efficiency than the Bay Trail chips used in today's value-segment PCs and tablets.
Intel is also updating its Bay Trail chips for tablets by reducing the components and the cost of the processors. In this year's second half, the company will add performance upgrades to Bay Trail, including better graphics, and more security features.
Intel also talked about the next generation of USB connector, dubbed USB Type-C connector.
Built initially on existing USB 3.1 (10Gbps) and USB 2.0 technologies, USB Type-C is being developed to help enable thinner and sleeker product designs.
Key characteristics of the USB Type-C connector and cable solution include a new design tailored to work well with emerging product designs; a similar in size to the existing USB 2.0 Micro-B; usability enhancements - users will no longer need to be concerned with plug orientation/cable direction; support for scalable power charging and; scalability - the connector design will scale for future USB bus performance.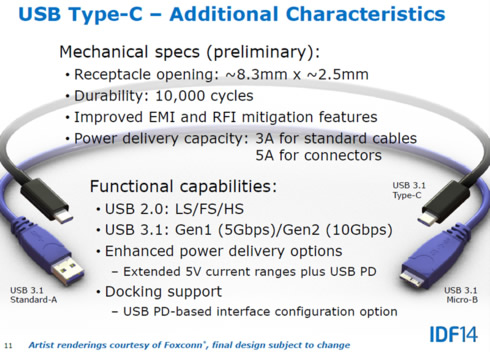 As the new USB Type-C plug and receptacle will not directly mate with existing USB plugs and receptacles (Type-A, Type-B, Micro-B, etc.), the Type-C specification will define passive new-to-existing cables and adapters to allow users to use their existing products.
The USB Type-C connector has an opening of ~ 8.3 x 2.5mm. Its durability is 10,000 cycles and has improved EMI and RFI mitigation features. Its power deilivery capacity will be 3A for standard cables and 5A for the connectors.
The USB Type-C specification is expected to be published by the middle of 2014.
In addition, Intel said that the USB 3.1 protocol will be used for transfering audio and video. Dubbed USB AV, it could e used to replace all the video and audio connectors and cables, for battery charging, enables bi-directional transfer controll and simultaneous streaming. ANd compared to HDMI, the USb cabes are cheaper.
In terms of bandwidth, USB AV 3.1 has the same bandwidth as HDMI 1.4 (10.2 Gbps), meaning it it supports 4K/30p and also packs HDCP.