Intel Promotes Optane And QLC Solutions, World's Densest 'Ruler' SSD
Intel is trying to shake up the memory-and-storage market and igniting a new era of computing with the combination of Intel Optane and Intel QLC 3D NAND technologies.
"Intel Optane and 3D NAND technologies ensure computer and storage architects and developers can access vital data where and when they need it. The two technologies bridge the wide gap that exists between data that's being worked on and data that's waiting to be accessed " said
Rob Crooke, senior vice president and general manager of the Non-Volatile Memory Solutions Group at Intel.
The combination of Intel Optane and Intel QLC 3D NAND technologies allows Intel's customers to accelerate the speed of their most frequently accessed data, while utilizing the value flash technology delivers over HDDs for massive capacity storage.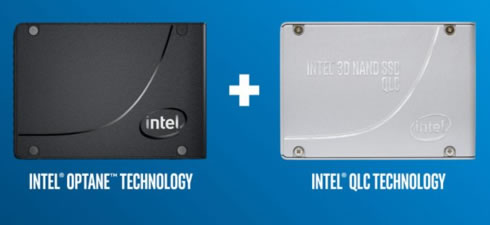 Intel's QLC 3D NAND products announced today at Flash Memory Summit deliver new memory and storage solutions: Tencent, employing the new QLC PCIe Intel SSD D5-P4320 in an initial production environment, increased by 10 times the number of customers served on a per-system basis.
The Intel SSD 660p (for client) and the Intel SSD D5-P4320 (data center) are the world's first QLC PCIe 3D NAND SSDs for their segments, offering the highest PCIe areal density on the market at an affordable price. With up to 2TB of storage in one drive for the 660p and 8TB for the P4320 (larger capacities coming later), these QLC SSDs have the capacity to replace hard drives. The 660p's M.2 80mm form factor provides 2 times more capacity than TLC-based storage. In the data center, the P4320 enables users to store more, save more and do more than legacy solutions.
In addition, Intel's SSD DC P4500, is about the size of an old-fashioned 12-inch ruler, and can store 32 terabytes. That's equivalent to triple the entire printed collection of the U.S. Library of Congress.
The new SSD is Intel's densest drive ever, and is built on Intel 3D NAND technology, which stacks memory cells atop each other in multiple extremely thin layers, instead of just one. Memory cells in the P4500 are stacked 64 layers deep.
Older disk drives produce a great deal of heat. In most data centers today, the single biggest cost is air conditioning to keep them cool. This is one of the reasons some of the world's biggest data companies - IBM, Microsoft, Tencent - are using the new "ruler" SSD to support their cloud and data center operations.
In data centers, the no-moving-parts ruler-shaped SSDs can be lined up 32 side-by-side, to hold up to a petabyte in a single server slot. Compared with a traditional SSD, the "ruler" requires half the airflow to keep cool. And compared with hard disk storage, the new 3D NAND SSD sips one-tenth the power and requires just one-twentieth the space.
The long version (now an industry specification called EDSFF, which includes two other form factors) of the "ruler" is about 12 inches long, 1½ inches wide, and a measly one-third of an inch thick.