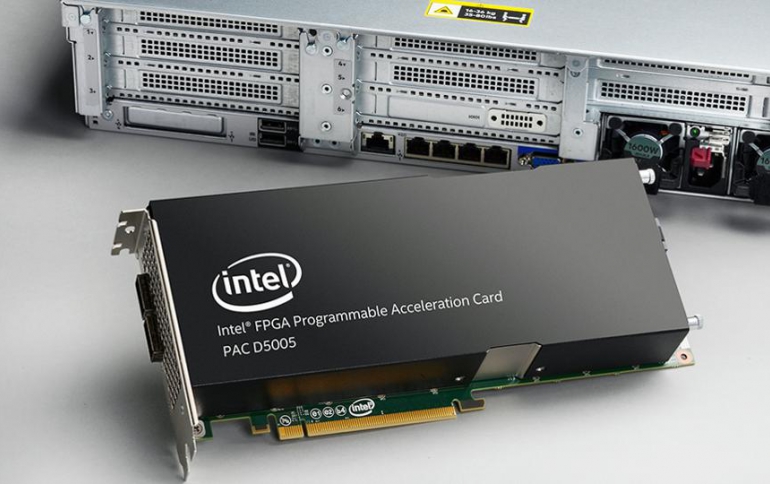 Intel Unveils the FPGA PAC D5005 Accelerator For Compute Intensive Workloads
In collaboration with Hewlett Packard Enterprise, Intel announced the second FPGA Programmable Acceleration Card (PAC) in its line-up, the Intel FPGA PAC D5005.
The two companies are working to provide increased workload acceleration capacity for the HPE ProLiant DL380 Gen10 server. This will address computing-intensive markets – like streaming analytics, media transcoding, financial technology and network security.
The Intel FPGA PAC D5005 is the second card in the Intel PAC Portfolio, which also includes the Intel PAC with Intel Arria® 10 GX FPGA.
Data center often use hardware accelerators for specific workloads that can most benefit from field programmable gate array-based (FPGA) hardware acceleration. Diverting tasks to tailored hardware accelerators offloads suitable workloads and frees a server's CPU cycles for higher value workloads. Offloading appropriate workloads lowers the data center operator's total cost of ownership.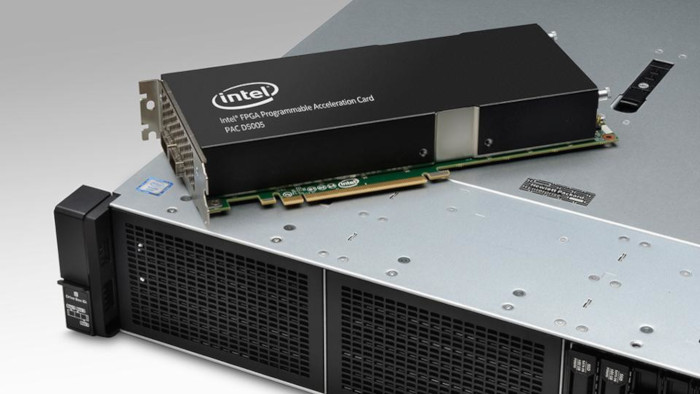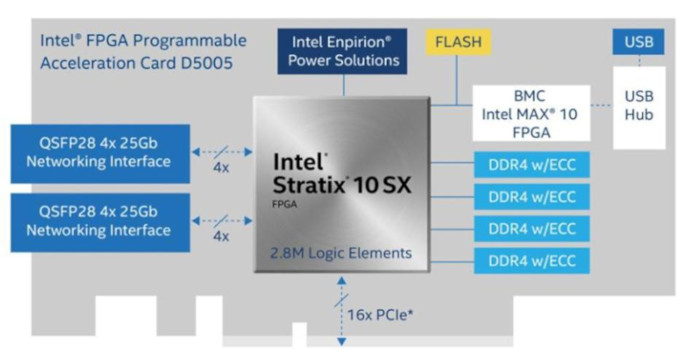 The Intel FPGA PAC D5005 acceleration card, which is based on an Inte Stratix 10 SX FPGA, provides high-performance inline and lookaside workload acceleration to servers based on Intel Xeon Scalable processors using the Intel Acceleration Stack, which includes acceleration libraries and development tools.
Initial workloads specifically developed for the Intel FPGA PAC D5005 accelerator card include:
AI (speech-to-text translation) from Myrtle
Network security from Algo-Logic
Image transcoding from CTAccel
Video transcoding from IBEX
Compared with the Intel programmable acceleration card with Intel Arria 10 GX FPGA, the Intel FPGA PAC D5005 accelerator card offers significantly more resources including three times the amount of programmable logic, as much as 32 GB of DDR4 memory (a 4x increase) and faster Ethernet ports (two 100GE ports versus one 40GE port).
The trade-offs for the Intel FPGA PAC D5005 accelerator's increased capabilities and performance are form factor and power. The Intel PAC with Arria 10 GX FPGA is a full height, 1/2 length, single-slot device with a 70W peak power rating, that will work with a broader range of servers. The Intel PAC D5005 is full height, 3/4 length, double-slot device with a 215W peak power rating.