Iomega Brings External USB 3.0 SSD Flash Drives To the Market
Iomega today announced new host-powered Iomega External USB 3.0 SSD Flash Drives, rugged solid state drives utilizing the fast speed of the USB 3.0 interface and the security of built-in encryption. Leveraging its mother company's EMC expertise in solid state drives, Iomega's new pocket-sized 1.8-inch external USB 3.0 SSD Flash drives will be available in early November in 64GB, 128GB and 256GB capacities.
The drives are encased in a sleek metal enclosure that delivers added protection from drops up to 10 feet, they 256-bit hardware encryption, bundled anti-virus and backup software and a three-year warranty. The new Iomega SSD Flash drives require no external power supply and are completely backward compatible with personal computers and other devices that only have USB 2.0 ports. Iomega also offers USB 3.0 adapter cards (sold separately) to insert into USB 2.0 laptop and desktop computers so users of the new Iomega SSD Flash Drive can experience native USB 3.0 transfer speeds of up to 5 gigabits per second.
Iomega claims that its new external SSD Drive performs twice as fast as a 7200 RPM SATA hard drives utilizing the same USB 3.0 interface.
Included free of charge with Iomega's new External SSD Flash Drives is the Iomega Protection Suite, a portfolio of backup and anti-virus software. The Iomega Protection Suite includes:
v.Clone software, captures a complete virtual image of your PC - including the operating system, all applications, your settings, and all your files to your Iomega hard drive. Access the cloned copy and use it on another computer, just as if you're working from your own PC. When you reconnect, automatically sync your data to your primary PC.
- Trend Micro, a complementary 1-year subscription to Trend Micro Internet Security for the PC, or Trend Micro Smart Surfing software for Mac.
- Iomega QuikProtect: backup software for simple scheduled file-level backup of data to hard drives and network-attached storage devices (for Windows and Mac desktops and notebooks).
- Roxio Retrospect Express software: backup all of your data plus applications and settings (for Windows and Mac desktops and notebooks).
- MozyHome Online Backup service: Online backup service with 2GB of online capacity for free (unlimited online storage for $4.95/month). MozyHome Online service allows Windows and Mac users to restore their most important data from any computer with internet access, at any location in the world. All of the software elements in the Iomega Protection Suite are accessible via download to owners of the Iomega External SSD Flash Drive.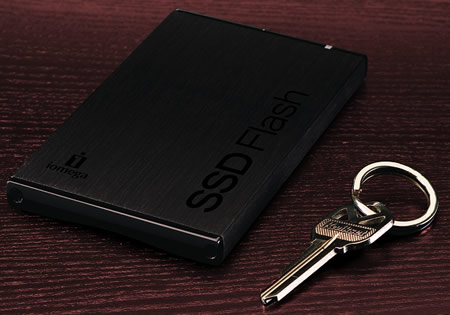 The new Iomega External SSD Flash Drive USB 3.0 will be available worldwide in early November in three capacities: 64GB for $229.00, 128GB for $399.00, and 256GB for $749.00. (All pricing is U.S. suggested retail.)
Tech Specs
* Preformatted and hot plug-and-play
* No AC adapter needed
* Compatible with PC and Mac
* NAND Flash Type? MLC
* Max Read? up to 191MB/s
* Max Write? up to 130MB/s
* Data Transfer Rates? USB 3.0 up to 5 Gbits/s
* MTBF? 1.2 Million Hours
* Hardware Encryption? 256-Bit AES Encrypted Storage Controller
* Three year limited warranty (with product registration)
Dimensions: 4.35" x 2.72" x .37" (L x W x H)
Weight: 0.24 lbs