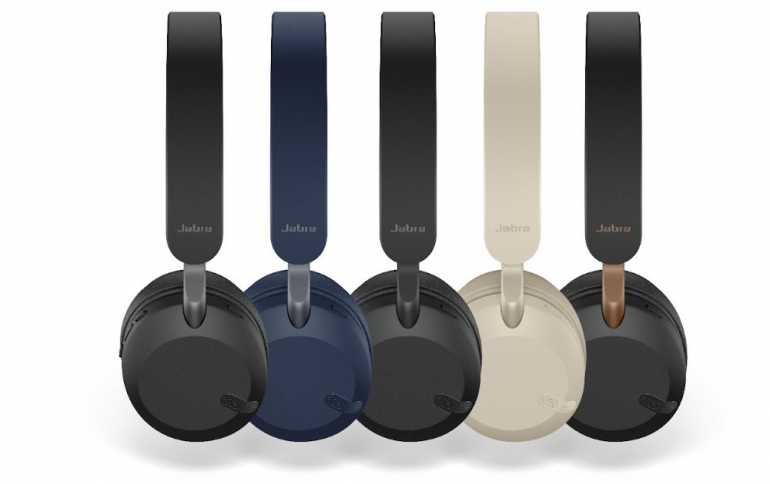 Jabra Elite 45h Headphones and Elite Active 75t Wireless Earbuds Announced at CES 2020
Jabra announced the Jabra Elite 45h on-ear wireless headphones along with the Elite Active 75t earbuds at CES 2020.
Available at the competitive price point of MSRP 99 USD, the Elite 45h headphones offer a long battery life of up to 40 hours on just one charge and large speakers. The Elite 45h features Jabra MySound, a new technology by Jabra and sister company GN Hearing, created to optimize and personalize sound experiences based on individual hearing profiles.
The sleek Jabra Elite 45h feature lightweight headband and soft oval ear cushions for added comfort.
With MySound, the music audio is optimized for a personalized experience. Users will connect the Elite 45h to the Jabra Sound+ app to take a test comprising of beeps. Following the test, the headphones calibrate to each users' unique hearing profile. The Elite 45h are the first headphones to feature MySound, the true wireless Elite 75t and the new Elite Active 75t will receive this feature in Q2 of 2020.
The Elite 45h boasts 40 hours of non-stop usage from one full charge and offer fast charging to get up to 8 hours of listening time from just 15 minutes of charging.
Key features and specifications:
Optimize the music experience to your individual hearing profile with MySound
Over eight hours of battery life with a 15-minute charge, and a total of 40 hours in one complete charge
40mm speakers
Lightweight and portable at just 6 ounces
Single fold allows headphones to lie flat, fitting easily into bags
Supports Bluetooth 5.0 for heightened connectivity
Dual-microphone technology for crystal clear calls even in noisy and windy environments
One-touch access to Amazon Alexa, Siri® and Google Assistant
Jabra Elite 45h will be available in March 2020 at Amazon, Best Buy and Jabra.com for MSRP 99 USD. The headphones will be available in five colors – Titanium Black, Navy, Black (Best Buy US Exclusive), Gold Beige and Copper Black (Amazon Exclusive).
The Elite Active 75t earbuds are the active lifestyle edition of the recently announced Elite 75t true wireless earbuds.
The Jabra Elite Active 75t is 22 percent smaller than its predecessor, the Elite Active 65t, and features an 89 percent increase in battery life (up to 28 hours with the charging case). The earbuds are built with a durable coating for dust and sweat resistance and feature an increased IP rating from IP56 (of the Elite Active 65t) to IP57, making them waterproof, including a warranty of two years.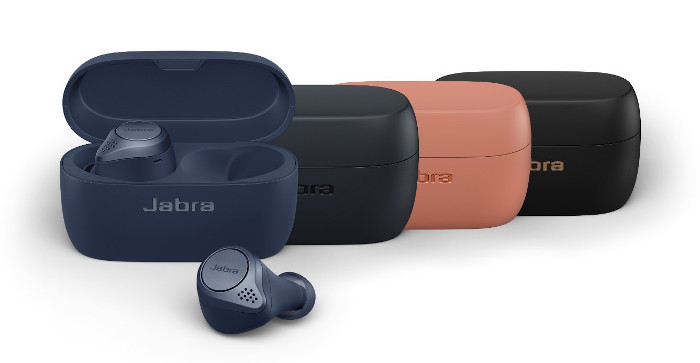 The Elite Active 75t provide noise isolation by utilizing thousands of ear measurements and scans to create the most optimal earbud shape.
The user has the option of being totally immersed in their music or calls. Alternatively, they can use the HearThrough activation to let sound in when needed.
To provide more user choice and convenience, Jabra MyControls will be available in Q2 2020. Users will have the option to use just one earbud, allowing for added freedom and extension of battery time. Through the Jabra Sound+ app, users can configure the functions on the left and right earbud to meet their personal preferences.
Key features and specifications:
Compact earbuds, tested for a secure active fit with optimal noise isolation
Jabra MySound for individualized sound (early Q2, 2020)
Jabra MyControls to define button settings (early Q2, 2020)
Up to 7.5 hours battery life, and 28 hours with the charging case
Four-microphone technology
Charging with USB-C
True wireless connectivity with no audio dropout
IP57-rated durability and two-year warranty against dust and sweat
Jabra Elite Active 75t will be available February 2020 at Amazon, Best Buy and Jabra.com, MSRP 199 USD. The earbuds will be available in six colors: Navy (February), Copper Black (Amazon exclusive, February), Titanium Black (Best Buy US exclusive, February), Grey (April), Sienna (April) and Mint (April).