JDI Unveils the XLP-01 MiOn Music Player With a 3D Display
Japan Display Inc. has developed the "XLP-01 MiOn", a box-type player designed to bring the "excitement of a live performance" featuring simulated stereoscopical movies and audio.
The device uses a high definition display to show simulated stereoscopical videos, along with strreo speakers on its two sides. According to JDI, the LED backlight can dynamically change to adjust the contrast of the display, offering viewers the sense of "a live performance" and "music you can see".

The display technology of the XLP-01 MiOn can be also used to devices such as smartphones, according to the company. The final version of the XLP-01 MiOn is also expected to have WiFi connectivity.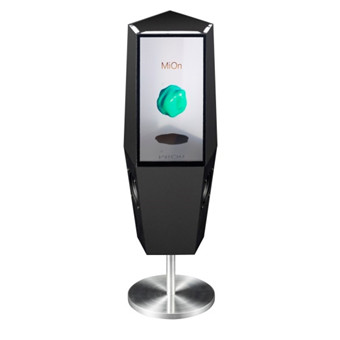 JDI will implement cloud funding for this product in 2019.
JDI Future Trip Project
The announcement is part of the "JDI Future Trip", Japan Display's marketing campaign to promote consumer devices, value added services and solutions in the 5G era.
As part of the project, JDI also announced the following concepts:
The "XAQ-01 AQUARIUS," a collaborative product group to be developed with Narumi, a famous high-grade ceramics maker. The goal is to create ceramic devices featuring embedded displays, as the concept device you see below: the display shows a flower blossoming while the device will "spray" perfume to the environment following the movements of the flower.
The "XHL-01 Halley," an interior display that hangs on a wall and provides movies and aromas, alllowing consumers to create their desirable environment.
The "XHD-02 KAIKEN," a small device that can be attached to a motor bike helmet to tranform it to a small heads up display. The display will bring information such as speed and navigation directly in the line of sight of the biker. JDI expects to bring this technology to the market in fiscal year 2019.