JPR: The Worst is Over For Graphics
Research and consulting firm for graphics
Jon Pedie Research
estimated that the lobal graphics chip shipments for 2009 will see the worst ever year-over-year drop in shipments. However, 2010 promises an amazing comeback. Graphics chip shipments are a leading market indicator - the graphics chips go to the ODMs and OEMs, which then build and ship PCs.
Taking together our data, interviews with suppliers, and world economic forecast models, JPR analysts believe that the worst is over and Q3 will show recovery leading all the way through 2010, subject to seasonal adjustments.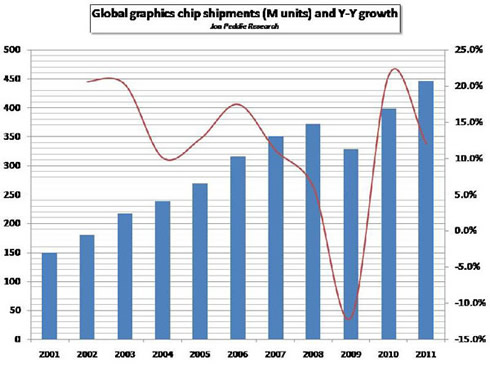 Portable devices such as notebooks, laptops, and netbooks will be the strong, but they will not overwhelm desktops which are still the preferred choice of platform for the power users and professionals, the research firm added.
Architectural changes like Intel's Nehalem and new product introductions from AMD, ATI, Intel, and Nvidia are going to be disruptive to the status quo and traditional market share of the suppliers. The continued expansion and development of heterogeneous computing and GPU compute will stimulate growth in 2010 enabled by Apple's and Microsoft's new operating systems.
New programming capabilities using OpenCL, DirectX 11, and Nvidia's CUDA architecture will remove barriers to the exploitation of the GPU as a serious, economical, and powerful co-processor in all level of PCs, JPR said.
JRP also claims that the net result is a new PC environment starting in Q3, and this new environment will have a beneficial impact on computing in 2010 onward.