Keep Your AMD 3rd Gen Ryzen Threadripper Processor Cool with ARCTIC Freezer 50 TR
ARCTIC supports the release of AMD's 3rd Gen Ryzen Threadripper desktop processors with the Freezer 50 TR CPU cooler.
Compatible with the new AMD Ryzen Threadripper 3960X and 3970X desktop processors, the ARCTIC Freezer 50 TR is a dual-tower CPU cooler with two P-series fans in push-pull configuration. It is ARCTIC's first CPU cooler equipped with fully addressable RGB. The 13 A-RGB LEDs installed in the Freezer 50 TR are autonomously controllable.
The asymmetrical twin-tower CPU cooler offers more cooling surface and, together with its eight U-shaped Direct-Touch Heatpipes, ensures better heat distribution and faster heat dissipation.
The cooler features two P-fans working in push-pull configuration. Combining a 120 mm and a 140 mm fan leads to an increase in airflow for improved cooling, while keeping the noise level and the installation height down.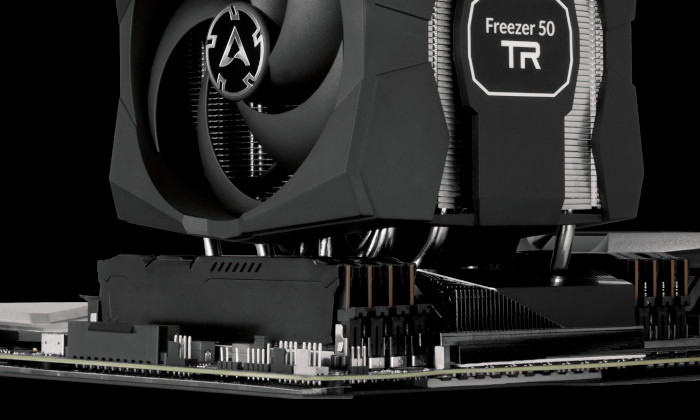 Since the Freezer 50 TR features a massive heatsink, it does not have limitless RAM Clearance. Recommended is a maximum memory module height of 37.5 mm. This stipulation is mainly due to the tip on the underside of the Freezer 50 TR, which means modules that exceed this height could still be compatible if they have V-shaped or centrally recessed heatsinks.
Those who need to cool the top-of-the-line AMD Ryzen 3950X desktop processor with 16 cores and 32 threads can also use the ARCTIC's Liquid Freezer II and Freezer 34 series.
An if you opt in for the budget AMD Athlon 3000G, coming with integrated Radeon Vega graphics, ARCTIC's AM4-coolers, including the smaller Alpine series as well as passive coolers, are compatible with this fancy little desktop processors.