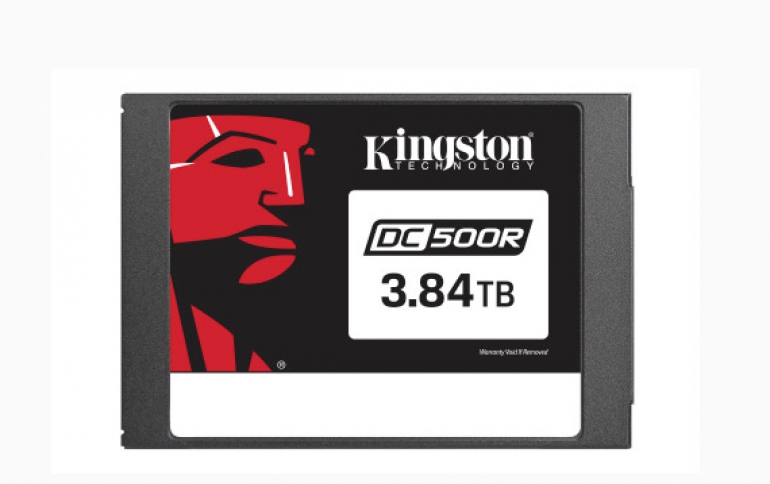 Kingston Launches New Data Center 500 Series SSDs Optimized for Read and Mixed-Use Workloads
Kingston Digital is shipping the Data Center DC500R Enterprise SSD optimized for read-intensive applications.
This is the first drive in the DC500 series that implements Kingston's strict Quality of Service (QoS) requirements to ensure predictable random I/O performance as well as predictable low latencies over a wide range of read and write workloads. Next week, Kingston will also ship its DC500M SSD optimized for mixed-use workloads. At 1.3 DWPD (drive writes per day), DC500M is aimed at the high-volume rack-mount server market for internal drive bay upgrades, hyperscale data center servers and Cloud service providers requiring low-cost, high-performance storage subsystems.
The DC500R hs been designed for read-intensive applications such as boot up, web servers, virtual desktop infrastructure, operational databases and real-time analytics. it is rated at .5 DWPD (drive writes per day) and is available in 480GB, 960GB, 1.92TB and 3.84TB capacities.
Later this week, Kingston will showcase its DC500 series at Data Center World in Phoenix, Ariz. AT the event, Kingston will also exhibit Server Premier memory, which features a locked BOM (Bill of Materials) to ensure a consistent brand and revision of DRAM.
DC500 Enterprise SSD Features & Specifications
Data Integrity Protection: ECC protection with advanced read/disturb management safeguards against data corruption for end-to-end data protection.
On-board (PLP) Power Loss Protection: Reduce the possibility of data loss and/or corruption on ungraceful power fails via power capacitors and firmware.
Form Factor: 2.5 Inch
Interface: SATA Rev. 3.0 (6Gb/s) – with backwards compatibility to SATA Rev. 2.0 (3Gb/s)
Capacities: 480GB, 960GB, 1.92TB, 3.84TB (DC500M 3.84TB capacity available in later Q2)
NAND: 3D TLC
Self-Encrypting Drive (SED): AES 256-bit Encryption
Sequential Read/Write: (DC500R)

480GB – 555MBs/500MBs
960GB – 555MBs/525MBs

1.92TB – 555MBs/525MBs
3.84TB – 555MBs/520MBs

Steady-State 4k Read/Write: (DC500R)

480GB – 98,000/12,000 IOPS
960GB – 98,000/20,000 IOPS
1.92TB – 98,000/24,000 IOPS
3.84TB – 98,000/28,000 IOPS

Sequential Read/Write: (DC500M)

480GB – 555MBs/520MBs
960GB – 555MBs/520MBs
1.92TB – 555MBs/520MBs
3.84TB – 555MBs/520MBs

Steady-State 4k Read/Write: (DC500M)

480GB – 98,000/58,000 IOPS
960GB – 98,000/70,000 IOPS
1.92TB – 98,000/75,000 IOPS
3.84TB – 98,000/75,000 IOPS

Quality of Service (Latency): TYP Read/Write: <500 µs / <2 ms
Hot-Plug Capable
Static and Dynamic Wear Leveling
Enterprise SMART tools: Reliability tracking, usage statistics, life remaining, wear leveling, temperature
Endurance:

DC500R:

480GB — 438TBW5 (0.5 DWPD)
960GB — 876TBW5 (0.5 DWPD)
1.92TB — 1752TBW5 (0.5 DWPD)
3.84TB — 3504TBW5 (0.5 DWPD)

DC500M:

480GB – 1139TBW5 (1.3 DWPD)
960GB – 2278TBW5 (1.3 DWPD)
1.92TB – 4555TBW5 (1.3 DWPD)
3.84TB – 9110TBW5 (1.3 DWPD)

Power Consumption:

Idle: 1.56W
Average: 1.6W
Max Read: 1.8W
Max Write: 7.5W

Storage temperature: -40°C ~ 85°C
Operating temperature: 0°C ~ 70°C
Dimensions: 69.9mm x 100mm x 7mm
Weight: 92.34g
Vibration operating: 2.17G Peak (7–800Hz)
Vibration non-operating: 20G Peak (10–2000Hz)
MTBF: 2 million hours
Warranty/support: Limited 5-year warranty with free technical support