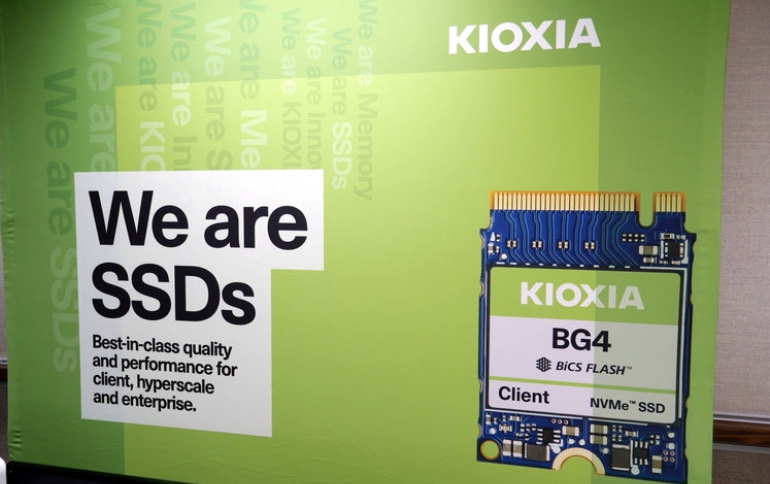 Kioxia's New SSD and Memory Cards Coming in April
KIOXIA, former Toshiba Memory, announced at CES 2020 that it will launch its complete consumer and business SSD and memory card lineup in April 2020.
The company, which acquired LITE-ON Technology's SSD business last September, is focusing on both business and consumer markets.
At CES, KIOXIA had on display the mainstream "XG6" and the high-end "XG6-P" series of SSDs. Featuring a PCIe 3.0 × 4 interface, the XG6 offers a capacity of up to 1TB, while the XG6-P hits the 2TB.
Controllers, firmware and NAND flash memory are all developed in house. However, the company may also use some third-party SSD controllers in some consumer SSD models in order to maintain competitive pricing.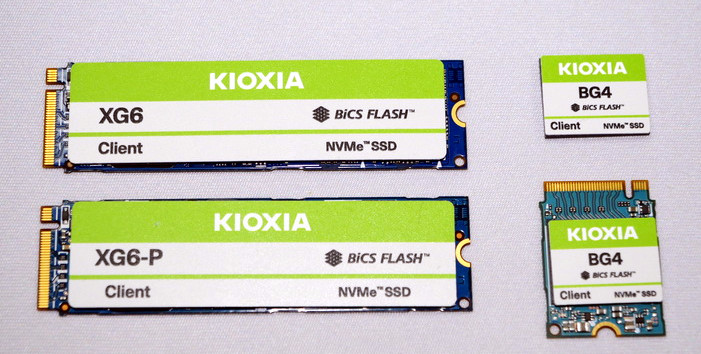 Kioxia's BG4 is an ultra-small form factor storage solution with capacities up to 1TB. The BG4 solutions utilize 96-layer BiCS flash and can be had as an M.2 2230, which is a flash module on an ultra-small M.2 module or as 1620 BGA package. The BG4 series of flash storage operate with an NVMe PCIe gen 3 x4 interface and can achieve performance up to 2,300MB/s sequential read, and 1,800MB/s write (up to 390K IOPS read and 200K IOPS write).
The BG4 is designed for ultra-compact notebooks or other devices.
In an ultra small format the size of an SD card, the CM6 will reach speeds up to 7GB/s and fully supports U3 operation.
KIOXIA has also new PCIe Gen 4 SSD's for enterprise and datacenter with their new CM & CD models. These units are not AIC's or M.2 interface but U.2 (formally SFF-8639).
All of KIOXIA's enterprise SSD's use BiCS flash and can range in capacity up to 30TB+ per unit (for the CM6). Endurance also has a pretty wide span ranging from .5 DWPD (Drive Writes Per Day) up to 3 DWPD.
KIOXIA offering their HK6 series (SATA) supporting data center class flash storage for users who require compatibility with the quickly aging interface. The HK6 series tops out at capacities of 7.6TB.