Lenovo Unveils New Laptop, Monitors and Peripherals
Lenovo has created battle-ready Windows 10 PCs, gaming monitors and accessories that balance the edge of work and play with new PC, monitors and accessories announced at CES.
Lenovo Legion Y740S
With the extra security of a fingerprint reader built into the power button, gamers are just a tap away from filling their 15.6-inch 4K IPS screen with the heroes and villains of all time with 100 percent sRGB color gamut. With a display up to 600 nits bright­, VESA certified, and Dolby Vision, which enhances your viewing experience through brightness, color, contrast and detail, the Lenovo Legion Y740S has a 60 Hz refresh rate so players can kiss washed out images goodbye.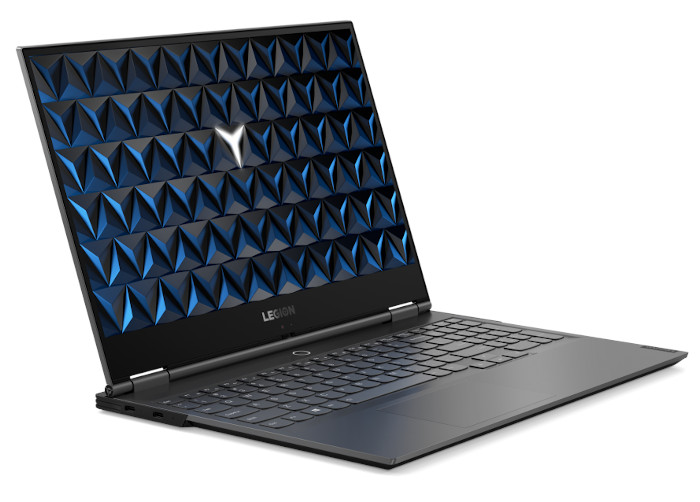 The picture quality is matched with next generation specs including up to 32GB DDR4 of memory, 1TB PCIe SSD2 storage capacity, and an exclusive thermals design with five-point sensor array and quad fan for four times the cooling when playing graphically intensive titles.
Available in Iron Grey with metal finish and illuminated Lenovo Legion Y logo on its cover, the Lenovo Legion Y740S laptop weighs 4.18lbs (1.9kg) and offers rear and side ports including Thunderbolt 3 to allow for easier coupling with Lenovo's first-ever external eGPU companion accessory: the Lenovo Legion BoostStation.
Turn any space into a battle station with backlit keyboard, narrow bezels, and audio with Dolby Atmos Speaker System.
The Lenovo Legion Y740S stays sleek on the outside while supporting savage gameplay when joined with the Lenovo Legion BoostStation. While on-the-go users get the advantages of a slim and light Windows 10 laptop, your performance station remains at the gamer's home ready for the action to begin.
Supporting the gameplay enabled by NVIDIA GeForce or AMD Radeon graphics, the Lenovo Legion BoostStation with aluminum build and cool transparent side panel is compact and fits on virtually any playing surface at just under 20lbs (9.07kg); it's also 100 percent tool-free and allows for super-fast charging. Mixed-reality features (augmented or virtual reality) are supported with applicable specifications via the eGPU.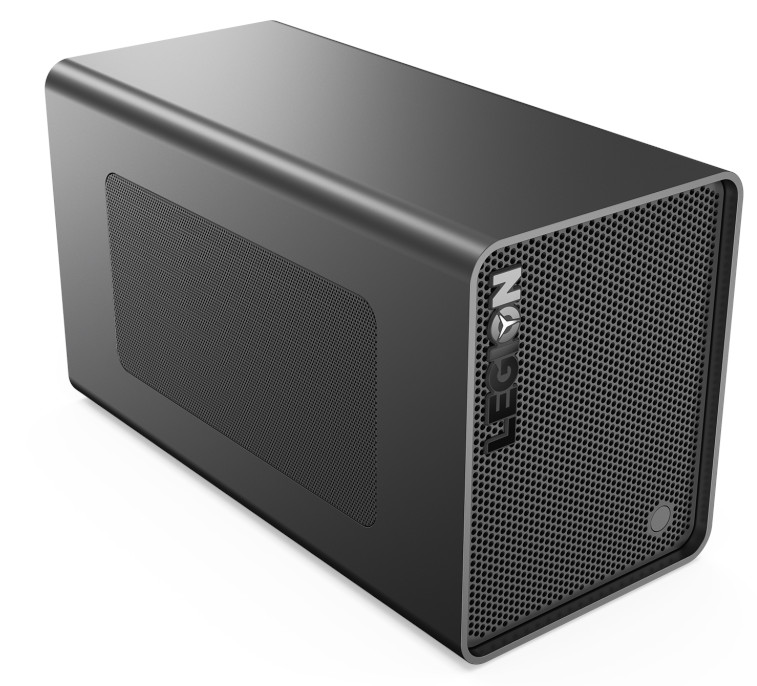 In addition to the new Lenovo Legion Y740S with its BoostStation, the Lenovo Legion Y740 Laptop Studio Edition powered by NVIDIA RTX GPUs and Studio Drivers, offers another option for enthusiast gamers who are also creators.
Users are invited to manage the basic effects and advanced settings of their Legion Y-series gaming monitors with the upgraded 2.0 version of Lenovo Artery software. With Lenovo Artery, users can also customize brightness, contrast, and the scenario mode on their multi-screen displays and audio devices, as well as control the color settings and low blue light function for each game.
Stay focused on the game with the new Lenovo Legion Y25-25 Gaming Monitor with a 24.5-inch, Full HD IPS panel display built into the near-edgeless chassis. Crank up refresh rates all the way to 240Hz—more FPS means that more data flows between the GPU and monitor, helping to eliminate tearing in most multiplayer games boosted with AMD Radeon FreeSync technology.
The Lenovo Legion Y25-25 Gaming Monitor comes with anti-glare panel and up to 400 nits of brightness and is TÜV Rheinland Eye Comfort Certified to reduce eye strain; its ergonomic stand enables a myriad of comfortable playing angles including, tilt, lift, pivot, and swivel, and VESA mount allows for on-wall display.
The new 31.5-inch Lenovo G32qc Gaming Monitor has a near-edgeless bezel QHD (2560 x 1440) screen resolution. Or, choose the heavy-duty yet compact 27-inch Full HD (1920 x 1080) resolution display on the Lenovo G27c Gaming Monitor—both monitors have a curvature of 1500R.
Engineered to deliver virtually tear-free and stutter-free gameplay with AMD Radeon FreeSync technology, the Lenovo G27c is capable of a high refresh rate of up to 165Hz. While the Lenovo G32qc Gaming Monitor offers a speedy 144Hz refresh rate—both monitors give users a high-speed 4ms response time.
Offered in Raven Black hue, both curved gaming monitors are TÜV Rheinland Low Blue Light and Flicker Free Certified. They're available with adjustable stands for ergonomic positioning, as well as a VESA mount if users prefer to affix their displays to the wall. Easy access to HDMI, DisplayPort, and audio out makes for seamless connectivity to gaming rigs.
Lenovo also offers a range of elite gaming accessories.
Starting with the fine-tuned Lenovo Legion M600 Wireless Gaming Mouse that features an extra-long battery life and energetic 1000Hz polling rate to dramatically lessen latency for fast reaction times usually reserved for wired gaming mice.
Focus on the score and not the battery with its clever Rapid Charge USB-C port that allows for up to 10 hours of battery life with five minutes of charge and up to 200 hours of battery life when fully charged. More gameplay advantages of the wireless Lenovo Legion M600 mouse include a smart optical sensor (PixArt 3335) that can be used on multiple surfaces and is capable of reaction speeds as fast as 400 inches per second without skipping.
Get the gaming specs that matter such as extreme sensitivity of up to 16,000 dots per inch (DPI), a maximum acceleration of 40G, plus, it's fully ergonomic with nine left and right buttons. It's ultra-precise – with microswitches good for a lifetime of 50 million clicks and over 16 million RGB color options for game-changing LED lights on the wheel and logo.
Play with the ultra-precision of up to 8,000 DPI with adjustable sensor tracking, solid 1000Hz polling rate, and appreciate the mouse's microswitches good for a lifetime of 10 million clicks for left and right buttons. Discover the customizable RGB LED backlighting on the Lenovo Legion logo and comfortable textured soft side-grips that stay dry even after long sessions.
Play like the best for less with the light and full-size Lenovo Legion K300 RGB Gaming Keyboard with clean minimalist design, curved body, and customizable five-zone RGB illumination and lighting effects. Dominate with anti-ghosting and programmable 24-key rollover membrane that allows for simultaneous commands.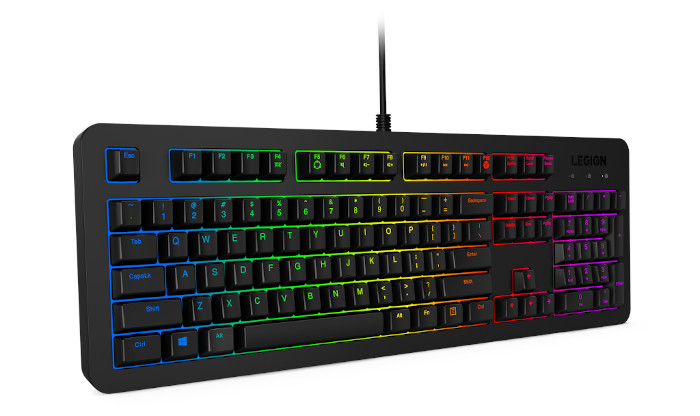 Fully adaptable with programmable keys with great travel for up to 20 million keypresses for lifelong durability and with spill-resistant draining holes to keep the user protected—gamers won't be able to keep their hands off the tactile feel of this new quiet keyboard.
North America Pricing and Availability
The 15-inch Lenovo Legion Y740S starts at $1099.99 as a configure-to-order (CTO) offering, and Lenovo Legion BoostStation eGPU starts at $249.99 as a standalone accessory or option to bundle a NVIDIA GeForce RTX2060 or AMD Radeon RX 5700 XT GPU. Both are expected to be available starting in May 2020.10
The 25-inch Lenovo Legion Y25-25​ gaming monitor will start at $319.99 and is expected to be available starting June 2020.10
The 32-inch Lenovo G32qc Gaming Monitor will start at $319.99 and is expected to be available starting March 2020.10
The 27-inch Lenovo G27c Gaming monitor will start at $219.99 and is expected to be available starting in March 2020.10
The Lenovo Legion M600 Wireless Gaming Mouse will start at $79.99 and is expected to be available starting June 2020.10
The Lenovo Legion M300 RGB Gaming Mouse will start at $29.99 and is expected to be available starting June 2020.10
The Lenovo Legion K300 RGB Gaming Keyboard will start at $49.99 and is expected to be available starting June 2020.10
Lenovo Legion is the Exclusive PC and Monitor of the Apex Legends Global Series
Lenovo, Electronic Arts Inc. (EA) and Respawn Entertainment announced Lenovo Legion as the exclusive PC and monitor for the Apex Legends Global Series – the official esports program for Apex Legends.
Lenovo will provide more than 200 high-performance Lenovo Legion desktops and monitors for all Apex Legends Global Series Majors ensuring the best in the world play on some of the best gaming equipment.
The Lenovo Legion T730 tower serves as a powerhouse with up to 9th Gen Intel Core i7 overclocked 9700K processors and supercharged NVIDIA GeForce RTX 2070 Super GPUs all optimally cooled via Lenovo Coldfront 2.0 with Liquid Cooling. When paired with the Lenovo Legion Y25 Monitor, the Lenovo Legion T730 towers deliver 144Hz refresh rates.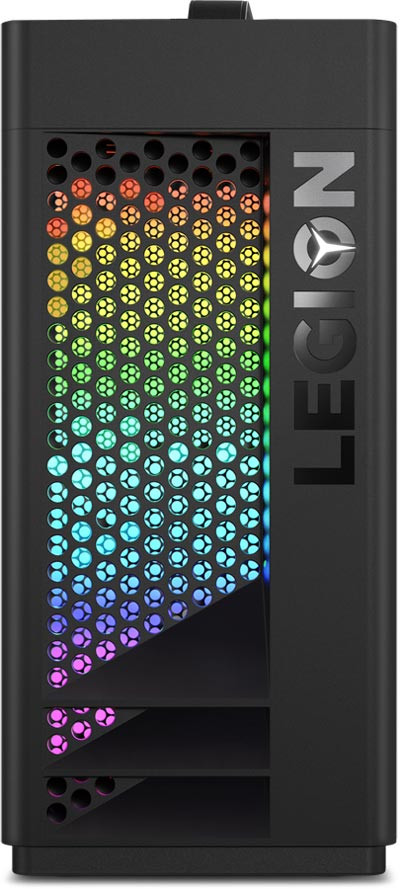 Beyond these powerful esports-ready desktop PCs and monitors, Lenovo will also be providing Lenovo Legion laptops for the caster's desks to spectate and commentate on the live performance.
The exclusive partnership will kick off at the first Apex Legends Global Series Major on March 13-15, 2020 in Arlington, Texas.