LG Showcases Its IPS Digital Signage Lineup At ISE 2013
LG Electronics will unveil its digital signage products at the Integrated Systems Europe (ISE) 2013, the world's largest professional audio visual and integrated systems tradeshow. The show is taking place from January 29 to 31 in Amsterdam.
LG will showcase its next generation display products, many of which feature IPS panels. Under the theme of 'Powerful and Professional,' LG will have on display its business-to-business products, including the first 84-inch Ultra HD Multi-touch Signage, Smart Mirror and new transparent display.
Visitors to LG's stand at ISE 2013 will be welcomed by the 3D Video Wall, which consists of forty-nine 55-inch displays (model 55WV70MD). These products feature one of the world's slimmest bezel-to-bezel measurements at just 5.3mm, giving the viewer the impression that they are viewing a single enormous display. LG will also demonstrate how its 3D displays can be implemented at theme parks or motor shows. These displays use the company's proprietary Film Patterned Retarder (FPR) 3D system.
Unlike conventional TVs, outdoor digital signage must be viewable in all types of lighting, in all types of weather conditions. According to LG, at 2,000 nits, the WX50MF IPS signage stays bright up to 110°C. It also promises a wide viewing angle, zero distortion with perfect color consistency and contrast. Additionally, LG's IPS based digital signage products reduce the total cost of ownership with up to 30 percent improvement in energy efficiency. Local dimming and Smart Energy Saving functions optimally adjust the LED backlight to match the brightness of the content.
LG's flagship product at this year?s ISE, the 84-inch model 84WS70, an Ultra HD signage with four times the screen resolution (3840 x 2160 pixels) of traditional HD displays. Three of these products will be arranged side-by-side. A multi-touch version of the 84-inch Ultra HD signage (model 84WT70) will demonstrate its interactive capabilities using Google Maps. Visitors to LG?s booth will be able to take a virtual tour of their favorite destinations via Street View in ultra high definition mode.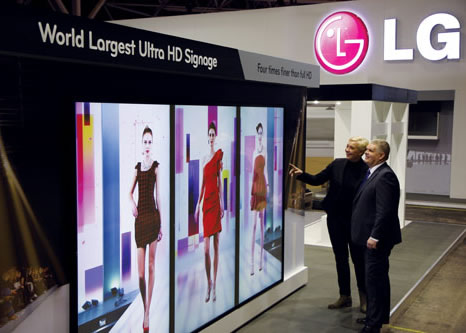 LG's model 47TS50MF transparent display has been designed for installation in vending machines, where it can show product images and promotional videos.
LG will also introduce a number of real-life scenarios in which the 21:9 aspect ratio of its ultrawide signage (model 29WR30) can be used. This new product functions as a media pole to display news and advertising as well as a virtual banner, providing up-to-the-minute information at bus stops, movie theaters or restaurants.