LG Signature OLED TV W Pushes TV Design Into A New Dimension
LG Electronics took the stage at CES 2017 to unveil its newest top-of-the-line LG SIGNATURE OLED TV W as the pinnacle of its new lineup of flat-panel TVs at CES 2017.
Featuring Dolby Vision and Dolby Atmos sound, the new lineup includes a total of ten different models, highlighted by the 77-inch LG SIGNATURE OLED TV W exemplified by its Picture-on-Wall design.
LG says that the its 2017 OLED TV lineup, consisting of models 77/65W7, 77/65G7, 65/55E7, 65/55C7 and 65/55B7, reproduce "the most lifelike images of any TV product with perfect blacks, infinite contrast and an expanded color gamut."
The company's latest OLED TVs come with a number of new features designed to transform the TV into an entertainment hub. LG's 2017 OLED TVs feature the blade-slim design of the B7 and C7 series, Picture-on-Glass design of the E7 and G7 series and the unique Picture-on-Wall design of the newest W7 series.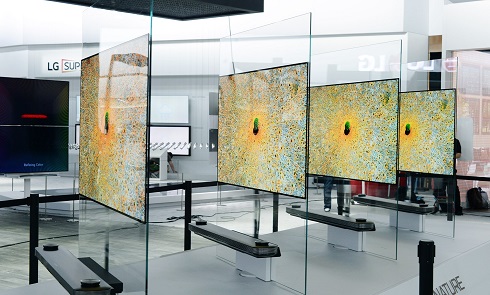 The design of the W7 series follows LG's "less is more" philosophy. The W7's razor-thin profile makes the TV appear to be levitating in mid-air. The OLED panel, measuring only 2.57mm thin in the 65-inch model, can be mounted directly on the wall with only magnetic brackets, eliminating any gap between the TV and the wall. The sense of immersion is completed by up-firing speakers and Dolby Atmos sound.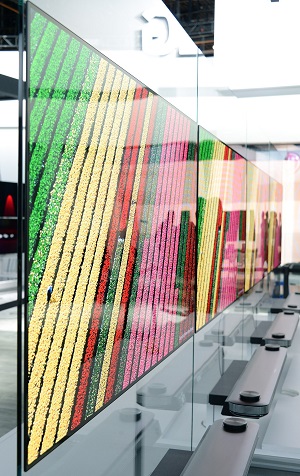 The W7 OLED TV series builds on LG OLED's pixel dimming control technology, which renders perfect black without any light leakage to offer a limitless contrast ratio, with one billion possible colors. What's more, all LG's 2017 OLED TVs use ULTRA Luminance technology to deliver greater brightness where needed.
Leveraging the high dynamic range (HDR) technology that powers Dolby's advanced cinemas around the world, Dolby Vision is delivering greater brightness and contrast as well as a fuller palette of rich colors. Dolby Atmos puts viewers inside the action with rich sound that fills the entire room - even the space overhead - with powerful audio that flows around the audience.
The W7 series and all LG 2017 OLED TVs feature Active HDR for displaying next-generation HDR content. Active HDR allows LG TVs to process the picture frame by frame, inserting dynamic data where needed. This technology allows the TV to offer the best picture even if the original HDR content contains static or no metadata at all. And all of LG's 2017 OLED TVs support the full palette of HDR formats, including Dolby Vision, HDR10, HLG (Hybrid Log Gamma) and are ready to support Advanced HDR by Technicolor technology.
Featuring the latest version of LG's webOS smart TV platform, version 3.5, viewers will have no trouble accessing HDR content online. LG has partnered with digital content providers such as Amazon, Netflix and Vudu.
The new LG OLED TVs also embed technology and color science expertise from Technicolor.
Best Buy is one of the first places U.S. consumers can get a sneak peek of the new LG SIGNATURE W7 OLED TV in person, beginning tomorrow. The new TV will be on display in seven Magnolia locations at Best Buy across the country, in cities including San Francisco, Los Angeles, Las Vegas, Houston, Dallas, Boca Raton, FL, and Paramus, NJ.