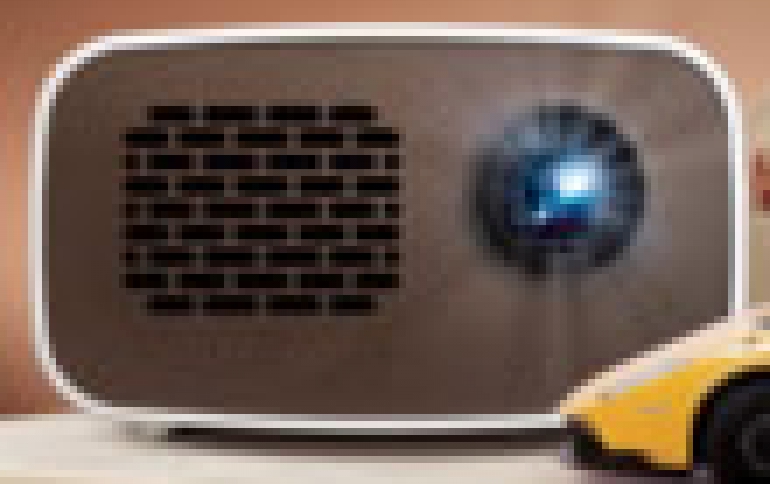 LG Ultra-Portable HD MiniBeam Projector Features Built-in Battery
LG Electronics will be rolling out the HD MiniBeam (model PH300), its smallest portable projection unit yet in countries around the world starting this month. The portable HD projector uses a LED light source and is able to operate for up to two and half hours on a single charge.
The LG PH300 employs an RGB LED light source that delivers a brightness of 300 ANSI lumens and contrast ratio of 100,000:1 in HD resolution (1280 x 720). It uses a LED light source with an estimated lifespan of 30,000 hours - equivalent of ten years watching eight hours a day.
LG says the projector is able to operate for up to two and half hours on a single charge. Additionally, LG's Auto Vertical Keystone (AVK) technology makes the HD MiniBeam convenient to operate. AVK simplifies setup and removes the need for constant lens adjustment, automatically selecting the optimal projection angle and minimizing image distortion.
The portable display solution provides several connectivity options that enable the viewing of content stored on other devices such as smartphones, laptops, tablets and USB drives.
The PH300 will be available this month in key markets in Latin America, North America, Asia and the Middle East followed by additional countries including France, Germany, Portugal, Spain and Turkey in November.

Specifications:
Native Resolution: 1280 x 720 (HD)
Brightness: 300 ANSI lumens
Contrast Ratio: 100,000:1 (Full On / Full Off)
Illumination: RGB LED (Lifespan: up to 30,000 hours)
Image Size: 100 inches (Wall-to-Lens distance: 3.75m)
Throw Ratio: 1.66 (Normal throw)
Dimensions (W/D/H): 103-113mm x 85mm x 54-64mm
Weight: 430g
Screen Share: MHL
USB Support: HD DivX / Office Viewer
Power Source: AC and 3,000mAh battery (Up to 2.5 hours use on single charge)
HDMI: Supports up to Full HD content