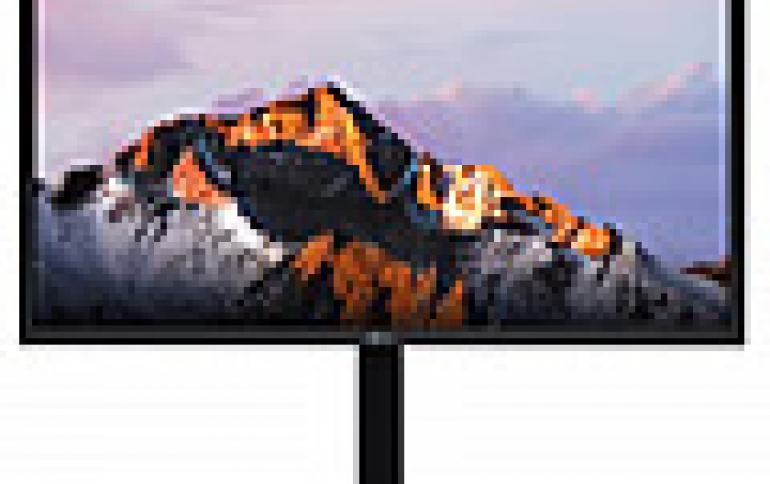 LG ULtrafine 5K/4K Displays Offer Performance and Integration With MacBook And New MacBook Pro
LG Electronic is introducing two new displays designed specifically to integrate with the newest MacBook and MacBook Pro models.
Apple embraced a new strategy for selling external monitors to professional users on Thursday by launching new large, high-resolution screens with LG Electronics. The new UltraFine 27-inch 5K display and its 21.5-inch 4K displays from LG were highlighted by Apple Senior Vice President Phil Schiller on stage during Apple's Mac-focused press conference at its Cupertino, California, headquarters.
Designed and optimized for the new MacBook Pro with Thunderbolt 3 running macOS 10.12 and later, the 27-inch UltraFine 5K display has a resolution of 5120 x 2880 and 218 pixels per inch (ppi). Its color reproduction capabilities of the UltraFine 5K display allow it to cover 99 percent of the P3 color space. What's more, the monitor's IPS display technology minimizes color shift and color loss from any viewing angle.
As the first 5K display with Thunderbolt 3, LG's UltraFine 5K display has the capability to receive and transfer 5K video, audio and data from the new MacBook Pro while simultaneously charging it through a single Thunderbolt 3 cable. The UltraFine 5K display features three downstream USB Type-C ports for additional connectivity and power with compatible accessories. macOS integration enables brightness and volume control like built-in display without the need for physical buttons on the display.
The front-facing camera and microphone works with FaceTime. In addition, the display features high fidelity integrated speakers enhanced by LG's Rich Bass technology and a height and tilt-adjustable stand.
With a density of 219ppi that gives this display the ability to present sharp 4K resolution (4096 x 2304) image quality, the UltraFine 4K display is a good companion for the MacBook while also supporting the new MacBook Pro. The 21.5-inch model covers 99 percent of the P3 spectrum. Featuring USB Type-C connectivity for video, data and power over a single cable and macOS integration for display control, the LG UltraFine 4K display offers three downstream USB Type-C slots, a Rich Bass Speaker and an adjustable stand for enhanced ergonomics.
The LG 21.5-inch UltraFine 4K display will be available starting in November while the LG 27-inch UltraFine 5K model will be available in early December starting in the United States.
Apple exited the external monitor business earlier this year with the discontinuation of the Thunderbolt Display. With the new LG monitors, Apple is outsourcing the development of an accessory that doesn't contribute much to the company's bottom line.