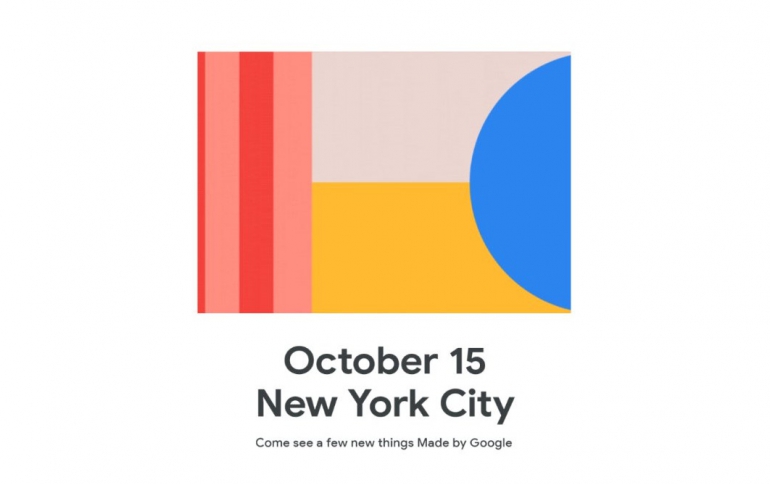 Made by Google Event to be Held on October 15
Google's October event will be held on October 15th in New York City, the company has confirmed.
"Come see a few new things Made by Google", says Google's invitation sent to the media.
Google is expected to announce a bunch of new products, including the new Pixel 4 line. Both the Pixel 4 and Pixel 4 XL devices are expected to arrive at the event. Thanks to the recently leaked hands-on videos of the devices, we know some of the important features of the device, including the specs, the face unlock feature, the motion sensor feature, as well as things like Smooth Display.
The new smartphones are said to both be powered by the Snapdragon 855 processor, 6GB of RAM, and up to 128GB of storage. The battery on the Pixel 4 is expcetdd to be a 2,800mAh battery, while the Pixel 4 XL will feature a 3,700mAh battery. Both the devices will also feature stereo speakers, and some new Assistant features exclusive to the new Pixel 4, too. The 5.7-inch FHD+ display on the Pixel 4 and the 6.3-inch Quad HD+ display on the Pixel 4 XL will come with a refresh rate of 90Hz.
The company has also already confirmed the Pixel 4 will include touchless gesture support via its Soli radar chip. Further augmenting the touchless design, the phone will feature Face ID like biometric security.
Google is also reportedly developing a "DSLR-like" attachment for the camera that will be sold separately, possibly allowing for more professional pictures. As for the cameras themselves, both the Pixel 4 and Pixel 4 XL will come with a 16MP telephoto lens and a 12MP lens with phase-detect auto-focus on the back.
Besides the new smartphones, Google is expected to introduce new Google Home speakers, including a new Nest Mini speaker that's expected to feature a built-in wall mount and improved sound quality.
The company might also have new Pixel laptops, including the new Pixelbook 2.