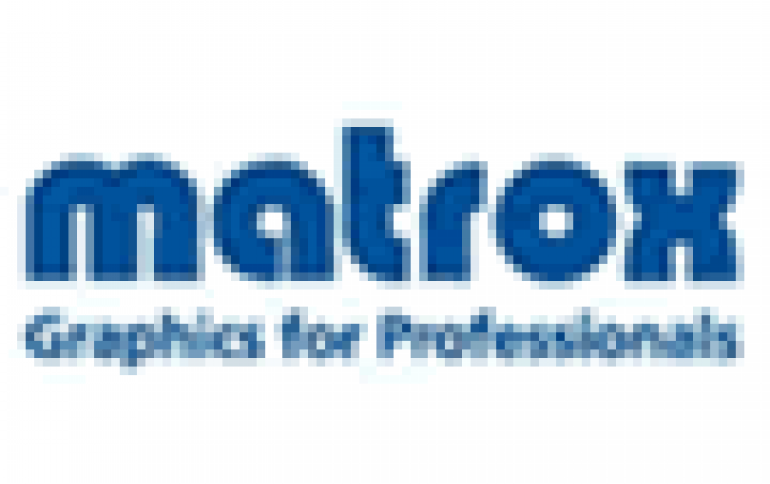 Matrox DualHead2Go Offers New Way to Add Multi-display Support
Canadian Matrox Graphics unveiled the new Matrox DualHead2Go, an external upgrade capable of adding multiple monitor support to compatible laptop and integrated graphics-based desktop PCs. DualHead2Go is a palm-sized box that connects to the existing single monitor output (i.e. external VGA output) of a computer and appears to the system as a single ultra-widescreen monitor with native support for resolutions up to 2560 x 1024, which are twice as wide as standard resolutions. Using Matrox patent-pending technology, DualHead2Go splits the 2560 x 1024 Microsoft Windows desktop into a right and left half, each of which is then sent to two separate analog monitors.
"DualHead2Go is a breakthrough product that solves this need by creating a cost-effective, space-saving, multi-display docking station for a laptop. Since DualHead2Go is an external upgrade, it's also ideal for adding an extra display to a closed, already validated, mission-critical system or to computers with no available expansion slots."
DualHead2Go harnesses the capabilities of the system's existing GPU or integrated graphics for acceleration of all 2D, 3D and video rendering. There is no image distortion and no scaling to the original raw pixels generated from the existing graphics accelerator. By using DualHead2Go in conjunction with the built-in display of a laptop, users can benefit with up to three displays of independent information at a time. The wide range of desktop computers with only one video output can now be upgraded to dual-display without requiring users to open up the shell of the computer or install new graphics drivers.
DualHead2Go is compatible with a wide range of laptop models. Desktop PC support for DualHead2Go is limited to certain PCs based on integrated graphics. A complete list of compatible systems is posted on the Matrox website and will be regularly updated to reflect new system support. Additionally, a free DualHead2Go online compatibility utility is available allowing users to pre-validate that their system is compatible with DualHead2Go prior to purchase.
Available in mid-November 2005, DualHead2Go ? Dual Analog Edition, has a suggested retail price of $169USD.