Meet The New HTC One M8
HTC today unveiled the highly anticipated new HTC One (M8), the evolution of the HTC One (M7). HTC today unveiled the highly anticipated new HTC One (M8), the evolution of the HTC One (M7).
Launching in Gunmetal Gray with the all-new HTC Sense 6, the new HTC One (M8), boasts a metal unibody with a Smart Sensor Hub that uses Motion Launch controls.
The device features a 5-inch, full HD (1080p) display, a Qualcomm Snapdragon 801 processor with 2.3 GHz quad-core Krait CPUs and 4G LTE, and it is running Android 4.4, KitKat.
The new HTC Sense 6, available on the device and as an upgrade from the Google Play store, features customisable colour themes. For those who prefer the stock Android experience, the HTC One (M8) Google Play edition will be available for pre-order from today and for purchase on the Google Play store in the coming weeks.
The new HTC One (M8) also comes equipped with a Duo Camera that features HTC's HTC UltraPixel module, a dual flash and full 1080p HD video recording. A 5-MP wide-angle front facing camera also captures selfies with ease.
The Duo Camera boasts a depth sensor in addition to the main HTC UltraPixel module, capturing detailed depth information from a scene and enabling a range of creative effects.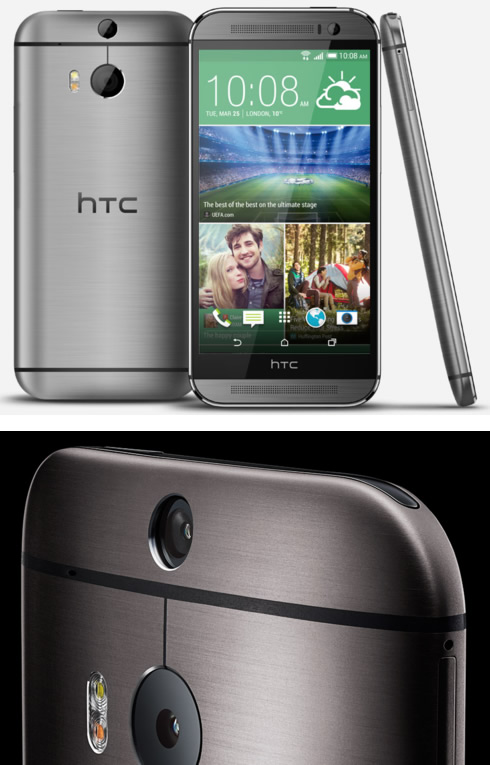 You can instantly create portraits by altering the focus of your image after the photo has been taken with UFocus or make your subject stand out in a more surprising way by altering the background with creative effects using Foregrounder. You can also give your shots a seasonal flavour using the Seasons animations. Copy & Paste lets you place your family and friends in a different photo entirely, while Dimension Plus presents a new perspective on your photos by letting you view your image from a different angle by simply tilting the screen.
The camera technology also works behind-the-scenes capturing images right from launch, so that when the shutter is activated, the sharpest possible image is instantly displayed. The camera autofocus operates at a speed of 300msec and when the flash is required, the intelligent LED Dual Flash automatically selects the exact colour tone and light for more natural skin tones.
Gallery organisation has also been a priority for the designers of HTC Sense, who have introduced Image match, a visual search tool that moves all the photos containing a particular subject into one album.
Finally the new HTC One (M8) has also integrated Slow Motion mode, which lets you shoot HD slo-mo video and then edit that video.
In 2014, Zoe will evolve into a cloud-based service. Upload Zoe Videos for all to see, and invite friends to add their own photos, videos and music to share highlight reels of your moments. The new Zoe app will be available for download through Google Play in the summer.
With the introduction of HTC Sense 6, the new HTC One (M8) boasts capabilities that give the product a sixth sense. For example, Motion Launch is immediately able to detect its position and movement, thanks to built-in motion sensors that allow you to interact with the phone without turning on the screen. A wipe will activate the device, Auto Answer allows you to answer a call by putting the phone to your ear without touching the screen and a double tap turns the lock screen on and off.
You can extend Motion Launch by double tapping the dot view case ($50), in addition to checking the time, weather, new texts, emails and calls – without touching or revealing the screen. Optimised by HTC Sense 6, the new HTC Dot View phone case protects the screen, whilst displaying notifications and interactions in a retro, dot-matrix style.
With the original HTC One (M7), HTC optimised power consumption. The new HTC One (M8) is making the battery power last 40% longer. HTC has also included an Extreme power saving mode that makes your battery last even longer. Fully charged it will deliver 14 days' worth of battery power, whilst still allowing you to receive calls, texts and emails. Activated either manually or automatically, it delivers 60 hours of extra standby time at 20% power, 30 hours at 10% power and 15 hours at 5% power.
The smartphone also packs the latest HTC BoomSound technology. Delivering sound that is 25% louder than the HTC One (M7), the new HTC One (M8) has dual frontal stereo speakers with a new amplifier, redesigned speaker chambers and a tailored audio profile.
HTC BlinkFeed is now more intuitive, with continuous scrolling, adaptable tiles and a new layout that presents articles in a clean way. With the introduction of a new SDK, users can more easily find and subscribe to new media sources, in addition to instantly creating custom feeds on any topic. News Bundles also bring all articles and tweets on the same topic together for reading and over 1000+ content providers now categorised on one page.
With the new HTC One (M8), you can also get healthier and stay motivated by combining its power-saving sensor hub with the preloaded Fitbit app. Alternatively, use the phone in conjunction with one of Fitbit's range of trackers to access features such as sleep tracking and smart alarm or to capture data when exercising without your phone. You can set your fitness goals and see your achievements brought straight to your HTC BlinkFeed home screen with no additional effort.
The only remote you need on the new HTC One (M8) has been redesigned to provide an interactive second screen. You can follow the conversation about the programme online with integrated official Facebook and Twitter streams along with all the latest fan commentary from your social circles. HTC Sense TV now also brings live sports statistics for the 10 most popular sports in the world, with sports fans now able to access the latest scores, match statistics and live updates from unmissable games while they watch another game on the main TV screen.
Pre-orders for the One M8 start today at Verizon Communications Inc., Sprint Corp. and AT&T Inc., which is selling the phone at $199.99 on a two-year contract. The device will be available at all major carriers in April.

Specifications
Size: 146.36 x 70.6 x 9.35 mm
CPU Speed: Qualcomm Snapdragon 801, quad-core CPUs
Memory:

16GB/32GB, available capacity varies
RAM: 2GB
Expansion card slot supports microSD memory card for up to 128GB additional storage (card not included)

 

Sensors:Accelerometer, Proximity sensor, Ambient light sensor, Gyro sensor, Barometer sensor
Duo camera
Primary camera: HTC UltraPixel camera , BSI sensor, pixel size 2.0 um, sensor size 1/3", f/2.0, 28mm lens, HTC ImageChip 2. 1080p Full HD video recording with HDR video
Secondary camera: capture depth information

Front camera
5MP, BSI sensor, wide angle lens. with HDR capability, 1080p Full HD video recording, Gallery with UFocus, Dimension Plus, Seasons, Foregrounder, Image match
AC Adapter:

Voltage range/frequency: 100 ~ 240 V AC, 50/60 Hz
DC output: 5 V and 1.5 A

 

Weight: 160g
Platform: Android with HTC Sense, HTC BlinkFeed
Network

850/900/1800/1900 MHz

EMEA: 850/900/1900/2100 MHz with HSPA+ up to 42 Mbps

Asia: 850/900/1900/2100 MHz with HSPA+ up to 42 Mbps

AT&T: 850/1900/2100 MHz with HSPA+ up to 21 Mbps

Sprint: 850/1900/2100 MHz with HSPA up to 14.4 Mbps

Verizon: 850/900/1900/2100 MHz with HSPA+ up to 14.4 Mbps

TMUS: 850/AWS/1900/2100 MHz with HSPA+ up to 42 Mbps

Sprint: 800/1900

Verizon: 800/1900

EMEA: 800/900/1800/2600 MHz

Asia: 700/900/1800/2100/2600 MHz

AT&T: 700/850/AWS/1800/1900/2600 MHz

Sprint: FDD 800/1900 MHz , TDD 2600 MHz

Verizon: 700/AWS/1800/2600 MHz

TMUS: 700/AWS MHz

Connectivity:

3.5 mm stereo audio jack
NFC
Bluetooth 4.0 with aptX enabled
Wi-Fi: IEEE 802.11 a/b/g/n/ac (2.4 & 5 GHz)
DLNA for wirelessly streaming media from the phone to a compatible TV or computer
HTC Connect micro-USB 2.0 (5-pin) port with mobile high-definition video link (MHL) for USB or HDMI connection (Special cable required for HDMI connection.)
Support consumer infrared remote control

 

Audio supported formats:
Playback: .aac, .amr, .ogg, .m4a, .mid, .mp3, .wav, .wma (Windows Media Audio 10)
Recording: .aac
Video supported formats:
Playback:.3gp, .3g2, .mp4, .wmv (Windows Media Video 10), .avi (MP4 ASP and MP3)
Recording: .mp4

Display: 5.0 inch, Full HD 1080p
SIM Card Type: nano SIM
GPS: Internal GPS antenna + GLONASS, Digital Compass
HTC BoomSound: Dual frontal stereo speakers with built-in amplifiers, Sense Voice
Battery:

Embedded rechargeable Li-polymer battery
Capacity: 2600 mAh
Talk time: Up to 20 hours for 3G
Standby time: Up to 496 hours for 3G